May 2, 2019 – Table of contents
UAP candidates demonstrate the definition of insanity
A guide to strategic voting for blue, red and green progressives in safe Coalition seats
Jessica Whelan flees the media
Wrangling over climate change policy costings continues
Know thyself: Angus Taylor lampooned for liking himself on social media
Qld LNP is a division of the Liberal Party
The senators trying to save themselves
Doongmabulla springs and the Adani mine
UAP candidates demonstrate the definition of insanity
A guide to strategic voting for blue, red and green progressives in safe Coalition seats
Margo Kingston writes, "Now that pre-polling stations have opened nationwide, voting in the 2019 federal election has begun, so here's my strategic voting guide in our #IndependentsDay seats." Strategic voting for blue, red and green progressives in safe Coalition seats.
Jessica Whelan flees the media
The Tasmanian Liberal Party candidate for Lyons, Jessica Whelan, has received the 'embattled' status by the media after a series of anti-Islamic Facebook posts were revealed under her account. Ms Whelan has denied she made them.
James Weir reported, "A Liberal candidate accused of making offensive comments about Muslims online has done a runner from the media at an election event with the PM." Embattled Liberal candidate Jessica Whelan flees from media at event with Scott Morrison
At a later press conference, Prime Minister Scott Morrison revealed that the offensive material appeared "doctored" and that the matter is being referred to the Australian Federal Police.
Wrangling over climate change policy costings continues
An updated report which outlines the economic costs of Labor's climate policy by Dr Brian Fisher of BAEconomics has the media excited about numbers again. Economic consequences of Labor's Climate Change Action Plan.
In an interview with Andrew Probyn, Dr Fisher admitted his report made assumptions which he listed in the report. He said the report was self-funded and he was not a climate change sceptic. Having reviewed the Coalition climate policy also, he said Australia must expect some cost to the economy from whichever plan was used.
However, opposition leader Bill Shorten dismissed the report as "propaganda" and likened it to big tobacco companies employing doctors in the Seventies to tell people smoking was good for them.
As the media continued to pound Labor for an exact figure for their policy, Greg Jericho questioned that approach in a series of Tweets.
Katharine Murphy also commented, "It's been a strange campaign in some respects, and the so-called debate about climate policy has been deeply strange. With new numbers doing the rounds about the cost of Labor's climate policy, it's a useful time to work through the issues step by step." Shorten's climate policy and why we don't need to fear the Coalition's 'big scary numbers'.
Know thyself: Angus Taylor lampooned for liking himself on social media
There were more Facebook dramas for the Liberals yesterday when Energy Minister Angus Taylor congratulated himself on a post about new "carparks" for his electorate of Hume, in New South Wales.
Naaman Zhou reported, "The energy minister, Angus Taylor, was caught out after his official Facebook page was spotted replying to its own post, telling the minister he was 'fantastic' and saying 'well done Angus'." Well done me: Angus Taylor praises himself as 'fantastic' in Facebook fail.

On the Watergate front, Mr Taylor decided he would answer a few questions today. Last month, he refused to respond to the saga and threatened two journalists with legal action over the matter.
Anne Davies reported, "The energy minister, Angus Taylor, has denied he played a role in structuring the company which received an $80m government buy-back of its water rights through the tax haven of the Cayman Islands." Angus Taylor says he did not set up Caymans structure on $80m water buy-back. Energy minister was a director of Eastern Australia Agriculture but says he only advised on the agricultural side.
Qld LNP is a division of the Liberal Party
The Queensland Liberal National Party (LNP) is a division of the Liberal Party, according to their constitution. So why does Prime Minister Scott Morrison repeatedly avoid commenting on the preference swap deal made with Pauline Hanson's One Nation (PHON) party in some Queensland seats? That's the question Peter van Onselen has been asking on Twitter and in his nightly report.
In March, the PM decreed that the Liberal Party would place Labor above PHON on how-to-vote cards (HTV). However, he has refused to make any comment on the approach the National Party might take.
Some candidates in Queensland are following the PM's decision but others are placing PHON above Labor. All are carrying the LNP logo.
In Dawson, George Christensen's HTV prefers Debra Lawson at number 4 over the Labor candidate, Belinda Hassan at 7.
In Dickson, Peter Dutton prefers Labor candidate Ali France over PHON's Carrol Halliwell.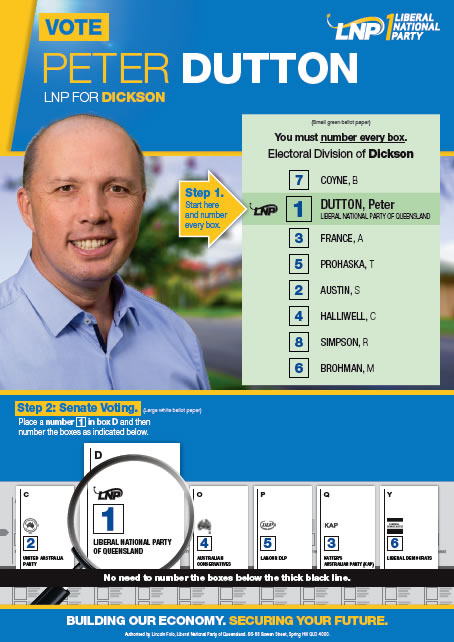 The senators trying to save themselves
It's unusual for senate candidates to break ranks with their parties and put out their own version of how-to-vote (HTV) cards. It usually happens when the party drops them down the senate order. At the 2016 federal election, Labor's Tasmanian senator Lisa Singh managed to mount a grassroots campaign to defy the odds. Labor senator Lisa Singh re-elected after grassroots campaign overcomes low ticket spot.
Queensland LNP Senator Ian Macdonald has found himself in a similar position and is attempting to retain his seat. Federal election candidate Ian Macdonald moves to save Senate seat with call to ignore LNP how-to-vote cards.
It follows Liberal Party NSW Senator Jim Molan issuing different HTV cards from the party recommendations. Liberal senator Jim Molan tells voters to ignore party's voting instructions.
The senator is running on a boat-stopping, Iraq Coalition-leading and fuel-securing platform. However, analysis by Australian Associated Press shows most of the claims on his HTV cards are mostly false. Senator admits how-to-vote card is false.
Senator Molan distanced himself from the HTV cards.
Doongmabulla Springs and the Adani mine
As with the 2017 Queensland state election, Adani is featuring strongly in this federal one.
This week,Josh Robertson and the ABC crew were the first media outlet to be invited onto the Doongmabulla Springs country. Adani coal mine poses 'alarming' risk to sacred wetlands, traditional owners say.
Michael Rowland today also caught up with Townsville advocates for and against the mine.