May 13, 2019 – Table of contents
Liberal candidate Steve Martin won't come clean on dirty coal, collusion
Qld UAP senate candidate Yodie Batzke may not be whom she says she is
Attempted arson attack on Labor's Belinda Hassan in Dawson
Ray Kingston closes in on the nation's safest seat
Scott Morrison campaigns on housing in Lindsay
Liberal candidate Steve Martin won't come clean on dirty coal, collusion
Wayne Jansson reported, "The Liberal candidate for Indi Steve Martin has refused to answer questions about his campaign's collusion with Cory Bernardi's far right Australian Conservatives, or his support for brown coal power stations, when asked at Wodonga pre-poll on Saturday." Liberal candidate Steve Martin won't come clean on dirty coal, collusion.
Qld UAP senate candidate Yodie Batzke may not be whom she says she is
Pastor Yodie Batzke holds Clive Palmer's third spot on the Queensland senate ticket behind himself and his nephew, Martin Brewster.
Christopher Knaus reported, "A prominent Clive Palmer candidate posted pictures of a heavily pregnant woman with a noose around her belly and a warning that abortion rates were "Australia's great shame. The post, and another comparing anti-abortionists to gun control campaigners, appears to have been scrubbed from the Facebook page of Yodie Batzke, a Queensland pastor and United Australia party Senate candidate for Queensland. They were posted in late January and February, before Batzke announced her candidacy in April." Clive Palmer candidate posts anti-abortion picture of pregnant woman with noose.
Now it seems the adjunct lecturer may not be that at all.
Christopher Knaus reported, "James Cook University says one of Clive Palmer's prominent Senate candidates does not work there despite her claiming to be an "adjunct lecturer" at its Cairns campus. "Yodie Batzke has delivered guest lectures at JCU but is not an adjunct lecturer at JCU," a university spokesman said." University says Clive Palmer candidate who claims to be 'adjunct lecturer' does not work there.
Attempted arson attack on Labor's Belinda Hassan in Dawson
Labor candidate for Dawson, Belinda Hassan, has endured an attempted arson attack on her car which was parked outside her home.
In a Facebook post, incumbent LNP MP for Dawson, George Christensen, labeled the attack as "cowardly".
Mr Christensen has declined to engage with Ms Hassan over Twitter in the past.
Ray Kingston closes in on the nation's safest seat
Margo Kingston reports, "The electorate of Mallee, until now, has been the safest seat in the nation." Ray Kingston closes in on the nation's safest seat.
Scott Morrison campaigns on housing in Lindsay
Prime Minister Scott Morrison went hammer and nail on housing policy in the seat of Lindsay today.
It was revealed through a freedom of information request that Mr Morrison had considered similar changes to Labor on negative gearing. Dan Conifer reported, "Mr Morrison in February 2016 said there were "excesses" in negative gearing and that the government was considering changes." Scott Morrison expressed interest in overhauling negative gearing, according to official documents.
"We looked at all those issues all those years ago and decided not to do it. I mean, that's quite plain," the PM told reporters.
The PM also used today's housing blitz to champion the government's first home buyers scheme which would allow people to pay five percent of a deposit on a home loan and the government picking up the difference on an industry standard twenty percent deposit. Opposition leader Bill Shorten pledged bipartisan support for the policy saying it was modest and would help up to ten thousand people.
News Corp attack in Gladstone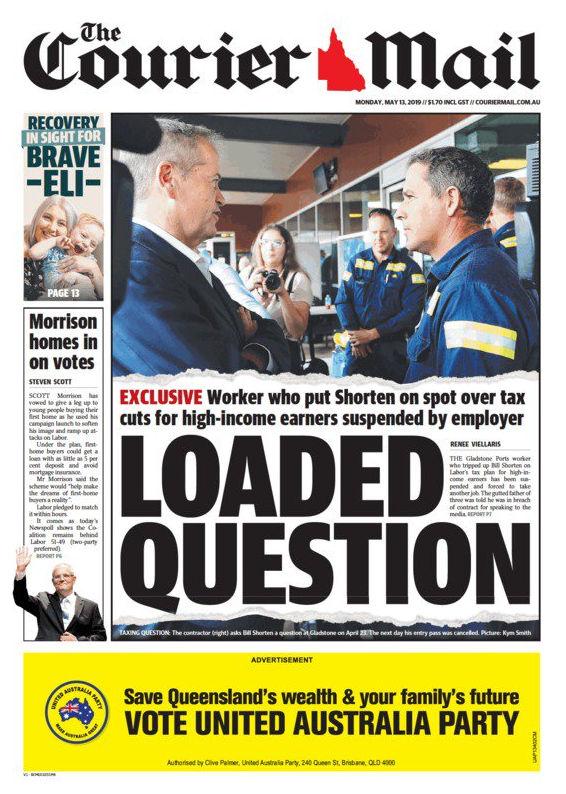 News Corp has launched another attack on opposition leader Bill Shorten inferring that there was something suspicious after a worker was suspended for asking a taxation question in Gladstone last month. In the front page splash, Renee Viellaris falsely reported that the man was a "Gladstone Ports worker". Sky News also falsely tweeted this after an interview with Ms Viellaris on Chris Kenny's report.
Gladstone Ports Corporation (GPC) released a statement to clarify that the man was not their employee and was a sub-contractor.
"The port worker, a sub-contractor, is still employed by the contractor and carrying out work for their employer. The worker is a sub-contractor, and as such GPC cannot comment on any decisions made by their employers." Shorten defends port worker's free speech.
Shannon Molloy also confirmed that the man worked for a company called Welcon Technologies and reported, "After The Courier-Mail began chasing the story on Friday, Welcon Technologies back flipped and reinstated the man's employment." Tradie dumped from job after bailing up Bill Shorten on tax cuts.
However, it wasn't long before Queensland Liberal National Party (LNP) opposition leader, Deb Frecklington, launched an attack on Queensland Premier Annastacia Palaszczuk demanding answers on the state-owned GPC. It was clear Ms Frecklington had not read all of the reports or she had chosen to ignore the fact that the man was an employee of a private company.
The LNP's shadow minister for education, Jarrod Bleijie, also piled in with false outrage and added to the conspiracy.
Noely wrote a good thread about the situation explaining why we should care about such misleading front pages.
After publishing the above, The Courier Mail's Damien Tomlinson responded to the blog and defended the front page story. He alleged that the Queensland government had intervened in the matter.
Labeling NoFibs as "Murdoch haters" and "one-eyed News haters", Mr Tomlinson supplied a link to a news clip featuring Queensland Minister for Transport and Main Roads, Mark Bailey, as evidence of the conspiracy. The 7News Brisbane journalist, Patrick Lion, is a former The Courier Mail reporter.
Minister Bailey has been contacted for comment.