Follow the week in Queensland politics and news at NoFibs blogazine.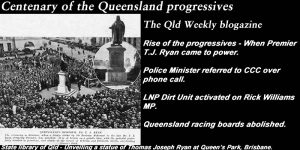 Table of contents
Centenary of the Queensland progressives
One hundred years has elapsed since the swearing in of Thomas Joseph Ryan as Queensland Premier, Chief Secretary, and Attorney-General. Born in Victoria in 1876, T.J. Ryan became a teacher and barrister. Much of his work revolved around workers compensation cases which brought him in contact with many union and shearer clients. This triggered his political interest and he joined the Labor Party in 1904. Simplicity in law was his goal for clients; "words should be used that would not only be understood, but which could not be misunderstood".
He saw the "natural allies" of the Labor Party as the community's most disadvantaged and sought public policy to overcome the entrenched interests of capitalism and its exploitation of the population by the wealthy. Under the Ryan Government the Labor Party found its feet in Australia. There had been a previous Queensland Labor government but not with a majority to rule in its own right. The state and country were run by a loose arrangement of parties, sometimes groups of conservatives granting support to Labor and vice versa.
However, under Ryan, Queensland and Australia start to see emerge the real progressive movement. The spark ignites those big  Labor social and workplace reforms. Occupational health and safety, Workcover and safe work practices are all policies that can be traced back to Ryan initiatives. He also ensured that women were allowed to become MPs. A multitude of platforms sets up Labor to govern Queensland from 1915 to 1929.
Ryan was also the national voice challenging the World War I conscription policy of Labor Prime Minster Billy Hughes (later National Labor Party and yet later Nationalist Party). Bitter verbal battles between the two ensued over 1916-17. Hughes even went so far as to trial Ryan on a conspiracy charge. Ryan simply met this with contempt of parliament charges. Ryan was frequently accused by his enemies as "a stooge of the Industrial Workers of the World, a tool of Sinn Fein, a friend of Germany (and later of the Bolsheviks)."
By 1919, Ryan had resigned his premiership and set his sights on federal leadership. However, a bout of Spanish flu contracted in the same year finally caught up with him in 1921 on the campaign trail. Dead at 45, some reports say he literally worked himself to death, not allowing himself time to recover from his illness, giving too much of himself to public life. His body was carried past crowds from his place of death in Barcaldine to Brisbane for burial in Toowong cemetery.
A three metre bronze statue of Ryan was unveiled in 1925 and stands in Queen's Park in Brisbane city. The federal seat of Ryan in Queensland is named after him. The Ryan medal is awarded to the highest pass in the state's scholarship examination.
Ryan's reformation touches Queensland today. The TJ Ryan Foundation was established as a progressive think tank to research public policy and includes board members such as Professor  John Quiggin and Emeritus Professor Tom Cochrane. In the lead up to the centenary, Cochrane wrote a paper exploring Ryan's dramatic push for change and his difficulties with the now defunct Queensland Legislative Council: T.J. Ryan – A Centenary Note.
Wonderful to address the @TJRyanFdn on the 100th anniversary of the election of the Ryan Labor Govt. #qldpol pic.twitter.com/502VyPodhI

— AnnastaciaPalaszczuk (@AnnastaciaMP) June 1, 2015
Federal Opposition Leader Bill Shorten at the celebration of TJ Ryan Centenary. @TJRyanFdn pic.twitter.com/VUZNZjGoTU

— Donna Weeks (@psephy) June 1, 2015
(June 6, 2015) – Turbulent times
Carmody and the seat of Ferny Grove
Rick Feneley wrote, "It should have been a glorious moment for Tim Carmody, the housing commission kid, high-school dropout and meatworker who had risen to become policeman, lawyer and chief magistrate. It was August 1, 2014, and he was addressing a ceremony to welcome him as the new Chief Justice of Queensland. And yet he was not welcomed by his 25 fellow judges of the Supreme Court, who boycotted the ceremony. Carmody choked back tears as he told his family: "I am sorry that my appointment has caused you distress."": Queensland's Chief Justice Tim Carmody, the tainted LNP and the shrinking government of Annastacia Palaszczuk.
Joshua Robertson reported, "Queensland chief justice Tim Carmody quietly arranged for a fellow judge to be kept out of the loop on any legal challenges from the state election in a controversial attempt to assert control of who would possibly decide government. Documents obtained under Right to Information (RTI) laws reveal that Carmody blindsided his colleagues with a public statement that he would decide who sat in the court of disputed returns (CDR) during a cliffhanger election result in February.": Queensland chief justice state election manoeuvring revealed in documents.
Dirt Unit – Langbroek's sources

October 13, 2011, Daniel Hurst reported, "A Liberal National Party dirt sheet detailing a minister's epilepsy and childhood adoption reflect the attitudes of the 1950s and have no place in political campaigns, Premier Anna Bligh says. The government today stepped up its calls for the LNP to sack the party officials who commissioned research on Labor MPs by former ALP staffer Robert Hough, whose work reportedly included claims about some politicians' sexuality, sex lives, drinking habits and health matters.": LNP's dirty deed docs 'belong in the 1950s'.

October 23, 2011, Francis Tapim reported, "A former Federal Liberal MP has revealed more damaging allegations about the internal running of the Liberal National Party (LNP). Former Member for Ryan Michael Johnson says recent reports about dirt files, secret recordings and intimidation within the party are the tip of the iceberg.": LNP dirt files the 'tip of the iceberg'.
(June 5, 2015) – Reverse Newmanism
Undo CanDo's IR laws
Amy Remeikis reported, "The former Newman government's industrial relations changes have been reversed by Queensland's parliament. The Liberal National Party's crackdown required the state's Industrial Relations Commission to consider the government's fiscal strategy, which involved significant belt-tightening, in making determinations. It also curtailed the rights of unions to enter work sites and opened the door to the contracting out of government services. The Industrial Relations (Restoring Fairness) and Other Legislation Amendment Bill, which passed state parliament on Thursday evening, scrapped all of the changes.": Queensland industrial relations law changes pass parliament.
Gail Burke reported, "The Queensland Government has used cross-bench support to reverse the Newman government's industrial relations crackdown on public servants.The Government last night reinstated employment security for public servants and protection against the outsourcing of government services.": Labor reverses controversial Newman government industrial relations changes with cross-bench help.
Amy Remeikis reported, "Depending on which side of the chamber a MP sat, the rights of public servants at work have either been "unfairly diminished" or had "fairness restored". The government passed its industrial relations bill overnight, with both Katter Party MPs and Member for Cook Billy Gordon voting with Labor.": Queensland government passes 'urgent' industrial relations bill.
Directors-General appointments
Access denied – Carmody crisis
Michael McKinnon and Matt Wordsworth reported, "An audio recording of Queensland's Chief Justice Tim Carmody reportedly in an expletive-ridden tirade has been kept secret by the State Government. The ABC applied for the smartphone recording and other documents showing the bitter relationship between Queensland's most senior judges through the Right to Information process, but was refused. The decision-maker said release would breach the Chief Justice's privacy and risk undermining public confidence in the judiciary.": Government refuses to release recorded comments by Chief Justice Tim Carmody.
The dirt files – Day 3
Top cop refers allegations to CCC
Melinda Howells reported, "Jurisdictional issues need to be resolved before a complaint against Police Minister Jo-Ann Miller can be assessed, the Queensland Police Service (QPS) says. The Opposition has asked both the QPS and the Crime and Corruption Commission (CCC) to investigate Ms Miller, after she contacted a man who has made complaints about Government MP Rick Williams. Ms Miller yesterday conceded she should not have called her friend and constituent Bruce McLean. Premier Annastacia Palaszczuk called it an "error of judgement" and said it would not happen again.": Issues need to be resolved before complaint against Jo-Ann Miller can be assessed: QPS.
Police Commissioner has referred Police Minister to CCC over her phone call to witness at centre of MP investigation. pic.twitter.com/q6f1PjI58r

— Josh Bavas (@JoshBavas) June 4, 2015
Bleijie goes the by-election
In for a penny … @JarrodBleijieMP tips by-election #9News #qldpol pic.twitter.com/FZcHompvCx

— Shane Doherty (@ShaneDoherty9) June 5, 2015
'If @AnnastaciaMP applied the same test to Williams and @JoAnnMillerMP as she did to Billy Gordon they'd be sacked' pic.twitter.com/sEKi0JeyGs

— Shane Doherty (@ShaneDoherty9) June 5, 2015
Bulldozers continue clearing Olive Vale
Nine News Brisbane reported, "Bulldozers can continue clearing a Cape York property after the Queensland government said it has no powers to revoke the planning permit. Federal Environment Minister Greg Hunt has launched an investigation into whether the clearing of 35,000 hectares on Olive Vale/Fairview Station is in breach of commonwealth law after the state government requested it. Deputy Premier Jackie Trad said the state has no legal power under existing laws to stop the bulldozers. "The Crown law advice is that the Queensland government has no power to suspend or revoke the permit," the deputy premier told AAP on Friday.": Bulldozers go on after Qld govt steps back.
Joshua Robertson reported, "The Queensland Labor government has called on federal environment minister Greg Hunt to halt Cape York land clearing it claims should never have been approved by its Liberal National party predecessor. An investigation ordered by deputy premier Jackie Trad found the former Newman government wrongly applied its own relaxed tree clearing laws when it approved the razing of more than 300 sq km of woodlands on the Olive Vale property days before the state election.": Queensland government calls on Greg Hunt to stop Cape York land clearing.
Springborg in Goondiwindi
Great to catch up with @_LachlanBrennan at the newly opened Goondiwindi cinema. #qldpol pic.twitter.com/YQYvfad2gC

— Lawrence Springborg (@SpringborgMP) June 5, 2015
Adani the dud
Michael West reported, "The best-performing infrastructure venture during the reign of Australia's "Infrastructure Prime Minister" Tony Abbott has indubitably been the Clean Energy Finance Corporation. The CEFC, which now finances $3 billion of renewable infrastructure projects, made a profit of $25 million for the Commonwealth last year. This must be why our self-confessed Infrastructure PM has been striving so valiantly to kill it. Why on earth would the Coalition support some namby-pamby bunch of green ventures that make a profit when they could plunge taxpayers' money into a suite of fossil-fuel forays for the benefit of a billionaire or a foreign multinational – and rack up some decent losses? It just defies logic; and it is definitely Labor's fault.": Adani dud prime candidate for government support.
Campbell Newman's Tower of Power
I'm assuming that this is Campbell's Tower of Power #qldpol? pic.twitter.com/hwtye5eAZi

— Shane McNamara (@smaccaroo) June 5, 2015
.
(June 4, 2015) – Bad call
Jo-Ann Miller accused of interfering in police matter
Jo-Ann Miller made mistake
Melinda Howells reported, "Police Minister Jo-Ann Miller made an error in judgement by contacting a man who has made complaints about Labor MP Rick Williams, Queensland Premier Annastacia Palaszczuk says. Ms Miller phoned Bruce McLean on Wednesday, after his allegations against his former employer Mr Williams were published in The Courier-Mail. The newspaper has now referred the claims against the first-term Pumicestone MP to police. In State Parliament, Opposition Leader Lawrence Springborg accused Ms Miller of interfering in an investigation.": Police Minister 'made mistake' in contacting man who complained about Labor MP Rick Williams.
Jarrod Bleijie refers Jo-Ann Miller to CCC
Amy Remeikis reported, "Queensland Shadow Police Minister Jarrod Bleijie has written to the Police Commissioner and acting Chair of the Crime and Corruption Committee over Police Minister Jo-Ann Miller's phone call to a whistleblower. Ms Miller admitted in Parliament she called Bruce McLean, who has gone public with allegations relating to Labor MP Rick Williams, "instinctively" wanting to check if her "long term friend" was OK.": Police Minister Jo-Ann Miller referred to Crime and Corruption Committee.
@JarrodBleijieMP sics the CCC and the police commissioner on @JoAnnMillerMP #9News #qldpol pic.twitter.com/5AHsbb7teQ

— Shane Doherty (@ShaneDoherty9) June 4, 2015
Rick Williams stood aside from Legal Committee
Amy Remeikis reported, "Pumicestone MP Rick Williams has been stood aside from the Legal Affairs and Community Safety parliamentary committee, pending the outcome of any police investigation into his past. Premier Annastacia Palaszczuk told Parliament on Thursday she had made the decision after News Corp followed her advice and forwarded statutory declarations they had obtained to police. The allegations against Mr Williams are a decade old and largely involve claims arisen during his time as a financial planner.": MP Rick Williams stood down from committee as police probe past.
Rick Williams Day 2: @AnnastaciaMP has stood him aside from a Parlt Legal Committee. @abcnews #qldpol

— Chris O'Brien (@COBrienBris) June 3, 2015
Gilbert River deal
Dominique Schwartz reported, "The Queensland Government has confirmed that it has signed an agreement with the backers of a controversial $2 billion irrigation project proposed for the state's far north. The memorandum of understanding ties up unallocated water in the Gilbert River until the project has been through an environmental assessment process. Natural Resources Minister Anthony Lynham told Parliament he signed a memorandum of understanding with Integrated Food and Energy Developments (IFED)." Queensland Government confirms agreement for controversial $2b irrigated agriculture project.
More Indigenous MPs
Amy Remeikis reported, "Political parties have a responsibility to begin setting minimum targets and preselecting Aboriginal and Torres Strait Islander candidates into "winnable seats", Queensland's Indigenous female minister believes, to help ensure seeing Indigenous MPs "is regarded as normal or expected". Minister for Public Works, Leeanne Enoch, said while 30 Indigenous Australians have sat in parliaments across the nation since Neville Bonner became the first Indigenous MP to take office 44 years ago, more needed to be done. Mr Neville's great-niece, Joanna Lindgren became the first Aboriginal woman to serve as a Queensland Senator two weeks ago. Speaking on Mabo Day in the Queensland Parliament on Wednesday, Ms Enoch, who delivered the 2015 Mabo lecture at James Cook University in north Queensland last week, said political parties "should set minimum targets for the number of Aboriginal and Torres Strait Islander candidates they preselect".": Leeanne Enoch suggests step for more Indigenous MPs.
TC Marcia – Sunwater failure over Callide Dam
Destruction of Olive Vale
Mark Willacy and Mark Solomons reported, "The Queensland Government has referred the clearing of tens of thousands of hectares of bushland on Cape York to the Commonwealth, calling on it to stop the bulldozers. Last month the ABC revealed that just days before the January election Campbell Newman's LNP government approved the clearing of nearly 32,000 hectares of land on Olive Vale station, in a decision that was not publicly announced. In response to the ABC's story, Queensland deputy premier Jackie Trad ordered her department to investigate the approval, saying the authorisation "while the caretaker conventions were in place is a matter of great concern to me".": Olive Vale: Queensland Government asks Commonwealth to stop bulldozers clearing land on Cape York property.
They took my freedom of speech
#qldpol Dr Christian Rowan diagnoses Drs Davis & Douglas with sleeping sickness & details battle with a cyber troll. pic.twitter.com/yZxdmK5H7q

— David Marler (@Qldaah) June 5, 2015
Medicinal cannabis given therapeutic approval
On June 1, medicinal cannabis was rescheduled by the TGA from a schedule 9 poison to a schedule 4 medicine for therapeutic use only #qldpol

— Cameron Dick (@camerondickqld) June 4, 2015
#qldpol Medicinal cannabis now moved to a schedule 4 medicine: Full #qqt answer from Health Min @camerondickqld. pic.twitter.com/jQdoNpcWFU

— David Marler (@Qldaah) June 4, 2015
Federal funding show down
#qldpol @AnnastaciaMP on the Abbott Govt over lack of supply for infrastructure. Bound to be a Fed election issue. pic.twitter.com/vzlEPdEfTd

— David Marler (@Qldaah) June 4, 2015
Language of the misogynists
@MarkMcArdleMP labels the Qld Minster for Women @ShannonFentiman a "banshee". #qldpol pic.twitter.com/l81XaT732q

— David Marler (@Qldaah) June 4, 2015
#qldpol Motion: Abbott Govt, infrastructure funding, full text by @jackietrad – @SpringborgMP labels her "shrill". pic.twitter.com/OlvQ0i5GUE

— David Marler (@Qldaah) June 4, 2015
Wet lettuce attack
In which OL @SpringborgMP attacks Premier @AnnastaciaMP with a wet lettuce. #qldpol pic.twitter.com/vFzcq7SIIY

— David Marler (@Qldaah) June 5, 2015
The day in Queensland Parliament
(June 3, 2015) – The Rick Williams dirt files
Allegations made against Rick Williams handed to police commissioner
Kelmeny Fraser and David Murray reported, "Allegations Rick Williams forged financial documents, tried to have a rival "done over" and sexually harassed a teenage employee, were last night formally handed to police. When asked in Parliament about the serious allegations against Mr Williams, Premier Annastacia Palaszczuk yesterday said anyone with evidence needed to refer it to police. "Refer it to the police immediately," she said. "I do not have any evidence. If the Leader of the Opposition has any evidence, refer it to the police today. "If The Courier-Mail has statutory declarations from people, refer it to the police today. "Because … we will stand up for integrity and accountability in this state."
The Courier-Mail last night forwarded to Police Commissioner Ian Stewart's office the statements from key witnesses, sworn under oath, about Mr Williams' allegedly improper conduct before he was an MP.": Allegations Rick Williams forged financial documents, tried to have rival 'done over and sexually harassed teen employee handed to police.
Trial by media of another Labor MP
Kelmeny Fraser and David Murray reported, "Pumicestone MP Rick Williams was allegedly involved in repeated dodgy dealings while operating a financial services firm, pursued a terrifying vendetta against his ex-wife's new partner and was accused in a court document of dealing drugs when he was young. The accusations, which call into question his fitness to sit in Parliament and on the Legal Affairs and Community Safety Committee, were uncovered in a four-month investigation by The Courier-Mail.": Rick Williams: Labor's man in hell of a 'fix'.
Go to police with Rick Williams evidence
Brisbane Times reported, "Annastacia Palaszcuk has issued a stern direction to anyone with "serious evidence" against one of her MPs. "Refer it to police". Allegations of wrongdoing against the Labor Member for Pumicestone Rick Williams were published by The Courier-Mail on Wednesday, with the caveat that no claims made against the MP following its "four-month investigation" had been proven.": If evidence against Rick Williams exists, go to police: Premier.
Safety in … Latest besieged MP 'runs' the camera gauntlet #9News #qldpol pic.twitter.com/s06kJZOfqu

— Shane Doherty (@ShaneDoherty9) June 3, 2015
Gold Coast unshackled from Newmanism
Newman Government referred to CCC
Jarrod Bleijie ridiculed
Amy Remeikis reported, "On Wednesdays, the Plastics wear pink. And so does former Attorney-General Jarrod Bleijie. And donning her best Regina George persona, Queensland Police Minister Jo-Ann Miller reached into her hair of secrets and pulled out an attack on Mr Bleijie's scuttled plan to have the state's prosecuted bikies wear pink jumpsuits. Labor announced its plan to auction off the much-maligned pink jumpsuits to charity shortly after coming to power.": Queensland Parliament goes Mean Girls crazy.
Undo CanDo: Tenancy service restored
Minister for Housing Leeanne Enoch announced, "A new interim tenant's advisory phone service has gone live today, providing Queensland tenants with independent help and advice and delivering on a Palaszczuk Government election commitment. Speaking in State Parliament, Minister for Housing and Public Works Leeanne Enoch said the service will help thousands of Queensland tenants in both the public and private sectors. "After the last Government cut funding to the previous Tenant Advice and Advocacy Service, tenants were left without an independent body to provide advice and support services in an area where disputes can be complex, confusing, and intimidating," Ms Enoch said.": New Independent Tenants Advisory Service Up and Running.
Tenants Queensland wrote, "Today the Minister for Housing and Public Works, Hon Leeanne Enoch, announced an interim telephone advice service for Queensland tenants": Minister for Housing Announces Interim Telephone Advice Service.
Queensland out of technical recession
Amy Remeikis reported, "Just two weeks ago the 'r' word was being dropped. But now, Treasurer Curtis Pitt has announced a "turnaround" for the state's economy, with Queensland recording a 0.1 per cent growth, in seasonally adjusted terms, for the March quarter.": Queensland is no longer in recession, allegedly.
Mark Ludlow reported, "Queensland, the other big mining state that has been struggling following the end of the mining boom, managed to return to positive economic growth – just – with the state's economy growing by 0.1 per cent. This follows a 0.9 per cent fall in the final quarter of last year.": GDP: WA goes backwards, Qld struggles.
Newman's VLAD laws net one person who isn't a bikie
Joshua Robertson reported, "The first person convicted under Queensland's contentious criminal gang laws has been spared the punishment of an extra 15 years' jail after cooperating with police. Joshua Robin Rohl, convicted under the Vicious Lawless Association Disestablishment Act (Vlad), was handed what legal experts said appeared to be a conventional sentence for large-scale cannabis trafficking. Rohl, 31, was part of a syndicate that smuggled $16m worth of cannabis on Virgin commercial flights from Melbourne to Brisbane. He was sentenced to five years' jail, suspended after 18 months, in the supreme court on Wednesday. He will be free in a matter of months, given time already served.": Bikie gang laws: first person convicted under Vlad act is spared longer jail term.
(June 2, 2015) – Qld Racing boards abolished
Palaszczuk takes no prisoners over live baiting
Beth Newman reported, "The Queensland Government has responded to a report into the greyhound racing industry.": Greyhound live baiting: How it unfolded.
Joshua Robertson reported, "Premier Annastacia Palaszczuk acts on 'vile allegations' of cruelty raised in inquiry and says blame starts with racing industry boards. The animal cruelty scandal enveloping greyhound racing has led the Queensland government to announce a wave of sackings of administrators responsible for overseeing the sport. The government has stood down the chief executive of Racing Queensland, who a commission of inquiry found had "routinely ignored" requests by Animal Liberation Queensland to act on evidence of widespread live baiting and inhumane killings of thousands of unwanted dogs.": MacSporran greyhound inquiry triggers sacking of all Queensland racing boards.
Rego up after 3 year Newman Govt price freeze
Amy Remeikis reported, "Queensland regos are going up, but drivers will be able to pay quarterly. Transport Minister Mark Bailey confirmed the 3.5 per cent increase in Parliament on Tuesday, which will mean registration of a four-cylinder car increases by about $12, the bill for six-cylinder vehicles jumping by $17 and eight-cylinder car drivers paying an extra $23. The LNP froze car registration during its term in office and says Labor has ushered in increases at twice the inflation rate.": Queensland car registration cost to rise.
Man fined for obeying speed limit
Patrick Williams reported, "A Queensland man has been issued a speeding ticket for driving 100 kilometres per hour in a 100kph zone on the Sunshine Coast. Zac Murray was travelling along the Sunshine Motorway at Mooloolaba, north of Brisbane, on his way to work in his father's car when he was unknowingly snapped by a mobile police unit. The $151 fine for the May 14 trip arrived this week, accusing the 24-year-old of travelling at an alleged speed of 100kph in an 100kph zone.": Queensland man fined $151 for driving 100kph in 100kph zone.
Union encouragement laws like metadata laws
Amy Remeikis reported, "The state LNP has compared concerns over the federal government's metadata laws to the Labor Government's union encouragement policy. Opposition Leader Lawrence Springborg said the government's reinstatement of the policy, which sees public service bosses actively encourage employees to join unions, raised valid privacy concerns.": Labor's public service union push compared to metadata laws.
Wanted for selfies
Amy Remeikis reported, "Labor MP Leanne Donaldson is all about democracy – but first, let her take a selfie. The Bundaberg MP is threatening to take the most selfied Labor MP title from former Prime Minister Kevin Rudd, launching a "selfie competition" on Tuesday. The best "selfie with Leanne", as judged by Ms Donaldson and her staff, will win an iPad at the end of the year. Monthly winners get movie tickets.": Labor MP Leanne Donaldson wants selfies.
Queensland Question time
(June 1, 2015) – House of Newman clothing range up for sale
Newman's pink clothing for bikies
First majority Labor Government sworn-in 100 years ago
#qldpol June 1, 1915: First majority Qld Labor Government sworn in 100 years go this week. pic.twitter.com/c5xOiuRf9W

— David Marler (@Qldaah) June 5, 2015
Legacy Way march
Patrick Williams reported, "The opportunity to snap selfies on a stroll through a Brisbane traffic tunnel was one more than 20,000 people were not willing to pass up this weekend. The one time only offer to walk through the Legacy Way tunnel ahead of its opening to traffic sometime in June was jumped at by pedestrians eager to see how the $1.5 billion project came together. The 4.6-kilometre tunnel will connect the Western Freeway at Toowong with the Inner City Bypass at Kelvin Grove.": Legacy Way: More than 20,000 pedestrians take to Brisbane's new $1.5 billion tunnel ahead of opening.
(May 31, 2015) – Qld Koalas on vulnerable list
Vulnerable status across the state
ABC News Queensland reported, "Australia's iconic marsupial mascot the koala will soon be listed as a "vulnerable species" across all of Queensland in a move that will bring renewed focus to their plight. The State Government has accepted a recommendation by the Species Technical Committee, an independent panel of scientists, to lift the conservation status of the koala. It will mean greater scrutiny for potential impacts on koala populations from development and resource projects. Premier Annastacia Palaszczuk said Queensland's animal emblem is too precious not to act. "This means that now the State Government will work very closely with the councils, with local government agencies to make sure that we are mapping, and doing everything we can to protect the koala," she said.": Koalas to be listed as vulnerable species across Queensland.
-Ends