The week in Queensland politics.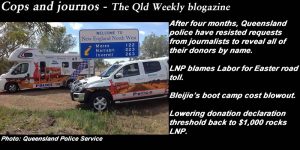 Table of contents
Cops and journos
Much of the week in Queensland politics was dominated by the Billy Gordon case. We've covered that at a separate @NoFibs blog, "The media trial of Billy Gordon". So, what else happened on the weekly political landscape?
People were very unhappy over revelations that the Queensland police service had received donations from multiple corporations, including The Courier Mail. Four months ago, derision erupted over the Twitterverse when photos emerged of Queensland police vehicles with Santos decals on their panels parked in front of a Northern New South Wales road sign. Since then, journalists have been trying to find out the extent of all corporate donations to the Queensland police service.
However, a full and frank disclosure was thwarted this week with the release of a dossier showing money received but without the corporate names to match the amounts. The document did show sponsorship where the name of the corporation was included in the title, for example, "The Courier Mail Police Scholarship".
New Queensland Police Minister Jo-Ann Miller took a moderate approach to the cops and journos dispute and ordered that all future sponsorship be fully declared. However, police command will not have to reveal anything further on past transactions.
@Qldaah That's right David.

— Josh Bavas (@JoshBavas) April 8, 2015
(April 11, 2015) – LNP fear donation declaration repeal
Lowering the threshold back to $1,000 rocks LNP
Not now, not ever – Make domestic violence a crime
#qldpol #NotNowNotEver Letter to @AnnastaciaMP – Make domestic violence a crime, writes @IanLeaversQPU: http://t.co/9maeDAQfKq

— David Marler (@Qldaah) April 10, 2015
(April 10, 2015) – Banana crisis
 Panama TR4 disease threatens $600m banana industry
Queensland Treasurer attends COAG
Commission of inquiry into greyhound racing industry
Road safety forum
After horrific Easter road toll, Qld Govt is meeting with road safety groups in bid to reduce crashes. #QldPol #9News pic.twitter.com/LMKGC0qqIS

— Nine News Brisbane (@9NewsBrisbane) April 10, 2015
Police minister @JoAnnMillerMP says town planning, road worker safety, number plate tracking and mobile phone use were discussed at forum

— Katherine Feeney (@katherinefeeney) April 10, 2015
Police minister @JoAnnMillerMP says double demerit points were discussed but wasn't a popular idea #qldpol

— Katherine Feeney (@katherinefeeney) April 10, 2015
Labor blamed for Easter Road toll
The LNP opposition says the ALP "dropped the ball" on road safety ahead of Easter #qldpol pic.twitter.com/adlVmrjQlJ

— Katherine Feeney (@katherinefeeney) April 10, 2015
And here @scottemerson proves (yet again) there is no depth low enough the @QLDLNP won't sink to. #qldpol http://t.co/RKsTBmP9ZY

— Jackie Trad (@jackietrad) April 10, 2015
The dirt files
LNP ARE MEAN AND NASTY but just 'sometimes' (by accident) they are funny! http://t.co/iwjeuKQshg @jackietradmp @MarkBaileyMP @snailtraill

— Rob Pyne (@RobJPyne) April 9, 2015
Newman quitting before election, no difference to result says confident Palaszczuk
(April 9, 2015) – Bleijie's boot camps a waste finds Auditor-General
Auditor-General Report 13: 2014-15 Procurement of youth boot camps
Sack Bleijie
Premier says @Jarrod BleijieMP should stand aside after 'atrocious' auditor's report #9News #qldpol pic.twitter.com/0LggpCUNZe

— Shane Doherty (@ShaneDoherty9) April 9, 2015
Auditor-General finds huge cost over-runs in boy camp contracts – over $7m #9News #qldpol pic.twitter.com/l3SeHzbtip

— Shane Doherty (@ShaneDoherty9) April 9, 2015
.@JarrodBleijieMP overruled his own Dept to ensure boot camp was run by LNP donor, report found. #QldPol #9News pic.twitter.com/UQZo6ZNdCF

— Nine News Brisbane (@9NewsBrisbane) April 9, 2015
Bleijie defends boot camps
I stand by my decision on boot camps and I'm for outcomes. They're working to help hundreds of young Qlders. #Qldpol pic.twitter.com/r5FOmQcgpt

— Jarrod Bleijie (@JarrodBleijieMP) April 9, 2015
Stats @JarrodBleijieMP says shows his boot camp operator better #9News #qldpol pic.twitter.com/S3HGBlHz6z

— Shane Doherty (@ShaneDoherty9) April 9, 2015
Bleijie is using old figures. Sadly as at 7/4/15, 56% of sentenced boot camp youths have since been charged with new offences.

— Yvette D'Ath (@YvetteDAth) April 9, 2015
Newman offered to quit twice
(April 8, 2015) – Stop the librarians
VLAD fine for having a beer at the pub, charges dropped
The Carmody Crisis continues
Cops ordered to reveal donation sources
(April 7, 2015) – Crisis talks after tragic Easter road toll
Terrible loss of life on Queensland roads
Queensland Police Service refuses to name sponsors
Qld Government boots funding for Pyjama Foundation
-Ends