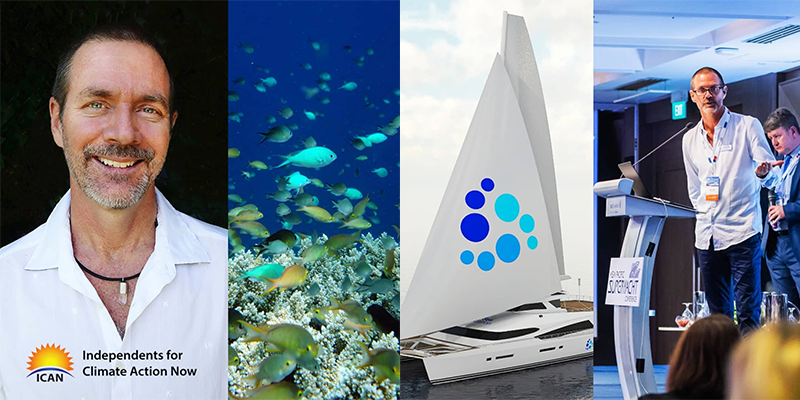 Dr Andy Lewis has lived in North Queensland for the past 32 years while working as a marine scientist, small business owner, and CEO of the not-for-profit Coral Sea Foundation. He has raised four children on Magnetic Island and is a passionate advocate for sustainable management of our natural environment and building long-term economic and ecological prosperity for Australia.
The Queensland senate candidate for Independents for Climate Action Now (ICAN) spoke with Margo Kingston for the No Fibs podcast series, and shared the story of how his daughter's reaction to environmental changes on Lizard Island influenced his decision to run for the senate.
There is so little choice in the Australian two-party political system at the moment, there are so few leaders with vision.

Dr Andy Lewis
This is the climate election. The issue is running higher than it has ever been before, we are running out of time.

Dr Andy Lewis
This is really the major issue of our time. We either get this right over the next few decades, or we are heading for really, really difficult times.

Dr Andy Lewis
A central part of our policy is to say let's do everything we can to drive the renewable energy transition, and to drive it as quick as we can.

Dr Andy Lewis
Recognising the fact that if we are going to actually meet the Paris targets, we need to be thinking about getting carbon out of the atmosphere. It's not enough to be just pulling our emissions down, we need to actually be getting a significant amount of carbon out of the atmosphere.

Dr Andy Lewis
If we are elected and have positions in the Senate, we're going be pushing hard to make sure the elected government is working hard to fix the climate change problem — or at least doing what Australia can and should be doing to show some leadership on the issue.

Dr Andy Lewis

If you'd like to find out more about Dr Andy Lewis's policies click here and you can show your support by following and sharing Andy's content across the below social media platforms.
You can also show your support by donating to ICAN to assist with their campaign.

Listen to the podcast via the below links:-



Podcast: Play in new window | Download
Subscribe: RSS