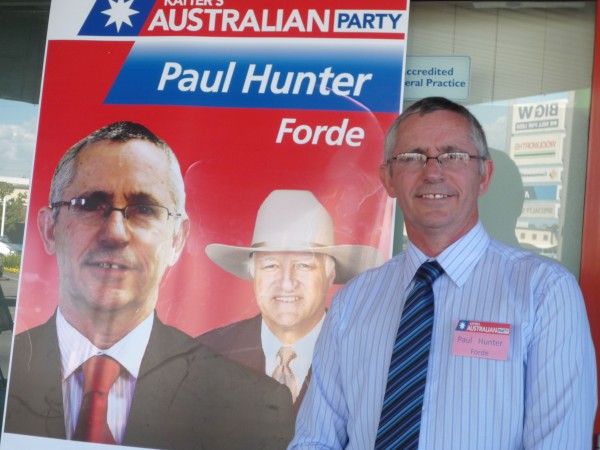 28 August 2013
Paul Hunter is a hard political nut to crack.
I put it down to the fact he's a disciplined man, an army man, a focussed-on-the-upcoming-election man.
We meet outside the pre-polling booth in Beenleigh's George Street, where Hunter splits his time between me and the pre-pollsters wandering in to cast an early vote.
I find it remarkable that not once in 40 minutes is he distracted enough by our conversation to miss an opportunity to introduce himself to a potential voter.
Unlike other newbie Forde candidates, Hunter's not chatty about his own life, not past, present or future – unless the conversation relates to jobs, farms and small business.
And like another Forde candidate, more famous than he, Hunter does not live in the electorate – not yet. Like former Queensland Premier Peter Beattie he plans to move in if he's elected.
At the moment Hunter – who is Bob Katter's man in Forde – lives in Enoggera, 40 minutes up the M1 in suburban Brisbane.
Hunter resigned from the army three weeks ago to give the election everything he's got.
I ask why he chose Forde for his candidacy.
"Demographics," he says simply.
"My primary concern is youth unemployment – jobs and hope for the future.
"Katter already had a candidate for Ryan (his home electorate). Forde has really high unemployment, particularly among young people, and that's the area where I want to make a difference."
Hunter has harboured a desire to enter politics for years. This year, he knew his time had come.
"I decided to run about four months ago," he says.
"I had no interest in either of the major parties – their policies are threatening our entire social fabric.
"I was talking to a slaughterman the other day who went for a job at an abattoir – he was told they weren't hiring Australians.
"Our farms are being sold off, our factories are closing down and young jobseekers have a look of desperation in their eyes.
"The major parties sign free trade agreements that allow people and corporations in other countries equal rights to purchase our businesses and farms.
"The future wealth of Australia lies in food production, not mining."
And that brings us to 'why Katter'?
"I looked about for the party that best matched my beliefs," he says.
"Katter had the best policies. And even though a small party makes it a lot harder to get elected, I had to go with what I believed.
"I don't want to be a career politician for someone else's beliefs."
Hunter darts off to hand a flyer to a potential voter.
He's right on message:  ". . . save Australian farms and jobs before there's nothing left to feed ourselves with," he says.
A pair of bright young sparks handing out ALP how-to-vote cards mumble under their breath: "If you're interested in food security you might wanna address climate change," says one.
His friend replies: "When the seas swallow us up we might be glad we bought those Indonesian boats."
Hunter returns to our conversation and his themes: Australian jobs, Australian land in Australian hands.
"People don't realise that Katter has urban policies as well as rural policies," he says.
"Small business is the biggest employer in the country – we'll be reintroducing tariffs to protect Australian manufacturing and farming."
I cast about for personal insights into the man who wants to win the trust of the people of Forde, but the Katter candidate is by nature resolute, private, a man with a mission.
I ask if he has any pets: "A dog and two birds I inherited when my daughter moved home again."
I ask what he does on weekends: "Gardening, ball sports, fishing."
He volunteers that he loves soccer, but 'gave up at 50 because bits got too old'.
"Which bit," I quip.
"My hip," he replies.
I ask how he rates his chances of winning the seat.
"I'm confident we (the Katter Party) are going to boost our numbers in the House of Representatives – and we'll pick up a couple of Senate seats," he says.
"This year, the major parties shouldn't be counting on more than two seats in the Senate."
He grins as we shake hands to end the interview.
"You didn't ask about my wife," he says.
I laugh: 'That's your call," I say. "Why do you think I asked about your pets?"
"Well I've been happily married for 28 years and my wife's been campaigning with me.
"We're a two-man band on the campaign trail in Forde."
More Forde Stories