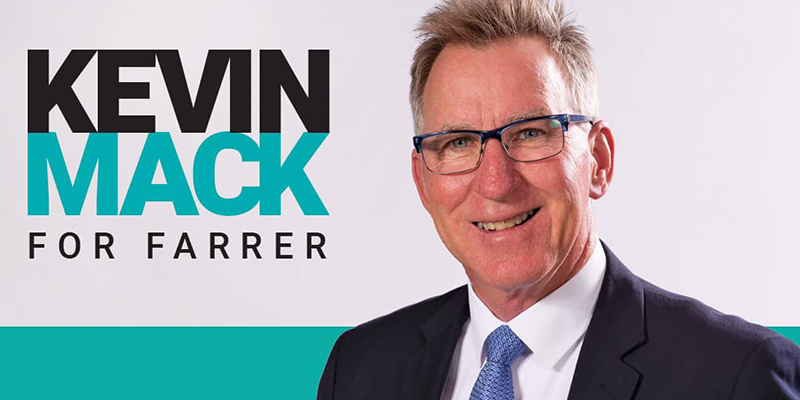 Margo Kingston (@margokingston1) interviews current Mayor of Albury and Independent candidate for Farrer Kevin Mack (@Mack4Farrer), who has travelled more than 16,500 kilometres in recent weeks just to cover the vast Farrer electorate in south-western NSW.
Kevin makes a comment on the "interesting" campaign, claiming that Farrer incumbent Sussan Ley has been acting aggressively and singling him out at every opportunity.
Like many independents running, Kevin was inspired by Cathy McGowan's campaign in the seat of Indi, and as a consequence the Voices for Farrer started in mid-December, leading to an exciting ride with a very small but committed team.
People are very frustrated with both major political parties and they just want to see someone stand up for them and give them a voice.

Kevin Mack
Mack — who was a local policeman for forty two years — mentioned how he finds it difficult to see people struggle in his electorate.
That's why I took it on and I can't afford to see people struggling and upset, and my job for the last 42 years has been to keep people happy.

Kevin Mack
He pointed out his dissatisfaction with the lack of leadership and vision around opportunities that could come from solving the many environmental challenges in Asia.
The big opportunity for us as a country is we've got Asia that is busting at the seams with recycling issues, they just pollute the seas and we could do as Sweden have done and build a significant waste-to-energy generator. As a bipartisan approach to a big problem, we could reverse that export trade in China and say to China — we're your solution!

Kevin Mack
Albury looks a picture, and I think Farrer could look a picture too if it had a few more services that people in the city take for granted.

Kevin Mack
Health is a basic need, and the people of Farrer aren't getting what they need. It really bothers me that we can provide general practitioners for the health needs of our ageing and most needy in our community — I mean where are we at as a country?

Kevin Mack
In the 18 years since the incumbent has been in power, she's never had to fight for anything.

Kevin Mack
In my time on council, I've learnt that if you make a seat so safe, basically the needs of the community are neglected.

Kevin Mack
Forty per cent of Australia's food bowl comes from the Farrer electorate — what are we going to do? Starting buying in food from other countries?

Kevin Mack
Their solution is bringing in food, bring in energy — it looks like a BYO Australia. Let's bring it all in so we don't have anything to live for.

Kevin Mack
I've found as a councillor in this city, people are happy to pay higher rates if they see a return for those rates. In this country, people have indicated they'd pay a higher Medicare levy if our most vulnerable people on the NDIS got a return for their service.

Kevin Mack
They spend money on ridiculous projects and ridiculous services and they waste money all over the place, and they don't really want to fix our problems — they want to keep building tunnels or bridges in Sydney or Melbourne and Brisbane.

Kevin Mack
Sussan guaranteeing $1.3m to the local hospital, and the local hospital — that's the first they'd heard of it.

Kevin Mack
We need an integrity commission at the highest level. As a former policeman, why are they resisting that approach?

Kevin Mack
Podcast: Play in new window | Download
Subscribe: RSS