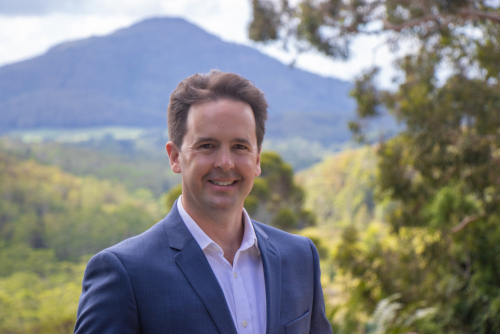 Jeremy Miller (@JeremyforLyne) is the independent candidate for Lyne and comes from a background in media.
Miller began his campaign travelling across the electorate 'holding kitchen table conversations', pioneered by Voices For Indi (@voicesforindi) in 2013.
Rob Oakeshott held the seat between 2008 and 2013 and has been held by National David Gillespie since 2013.
11.6% margin
Area: 16,099 sq km
Location: Mid-North Coast NSW
Australian Electoral Commission seat profile
Divison of Lyne on Wikipedia
Jeremy Miller: website
Independent @Jeremyforlyne taking on The Nationals for the seat of #LyneVotes: @margokingston1 #Podcast
In the latest episode of the No Fibs podcast Margo Kingston (@margokingston1) meets Jeremy Miller (@JeremyforLyne) in person to catch up on how his campaign as an Independent candidate for Lyne has progressed. Recorded live at the Wauchope Country Club, Jeremy explains that he is running to win, largely inspired by former Indi Independent Cathy […]
Margo Kingston interviews Independent candidate Jeremy Miller to discuss the safe seat of Lyne and his approach to replacing Dr David Gillespie, who this week announced his support for a government-backed coal-fired power plant.
Posted in

#auspol, #ausvotes, #IndependentsDay, #KingstonReports, #LyneVotes, #NoFibsPodcasts, #RecentlyPopular, election2019, Federal Election, Margo Kingston, Monthly Newsletter, Podcast
Comments Off

on Jeremy Miller on his bid to represent Lyne: @margokingston1 #LyneVotes #podcast
The way I see it, every safe Coalition seat must be in play in the sense that quality indies ask tough questions incumbents are forced to answer. That requires courageous indies & committed, creative citizens because a weakened local media can't do it. Ready to play? #ausvotes — Margo Kingston (@margokingston1) February 22, 2019 Hi. […]
Posted in

#ActiveDemocracy, #auspol, #ausvotes, #ausvotes2016, #CanningVotes, #ClimateElection, #Columns, #CowperVotes, #CurtinVotes, #FarrerVotes, #HumeVotes, #IndependentsDay, #IndiStory, #IndiVotes, #KingstonReports, #KooyongVotes, #LyneVotes, #MackellarVotes, #MalleeVotes, #MayoVotes, #NewEnglandVotes, #NichollsVotes, #Qgame, #RecentlyPopular, #SenateVotes, #SmashingAvocado, #TheReefReport, #ViewFromTheCrossbench, #WarringahVotes, #WentworthVotes, Asylum Seekers, Climate Change, election2019, Front Page, ICAC, Indi, Margo Kingston, MargoFrontPagePin, NoFibs, Refugees
Tagged

#ausvotes. #cowpervotes, #IndiVotes, #Kooyongvotes, #MackellerVotes, #malleevotes, #mayovotes, #NewEnglandVotes, #WarringahVotes, #wentworthvotes
1 Comment