Covering the Australian election campaign for 2016.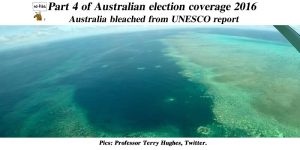 Table of contents
.
(May 27, 2016) Day 20 – Politics on the Reef
Australia bleached from UNESCO report
Morrison Vs Bowen treasurer debate
ReachTel 2PP to Labor
Refugees
Duncan Storrar story continues
Mal's advice for Bill on Trump
Malcolm Turnbull has lectured Bill Shorten on foreign policy after he described US presidential candidate Donald Trump as 'barking mad'. However, Turnbull freely expressed his opinion yesterday on Britain remaining in the European Union.
In March 2016, Christopher Pyne said of Donald Trump, "Donald Trump is "terrifying" and is making American democracy look "kind of weird."
In 2007, Prime Minister John Howard commented on US presidential candidate, Barack Obama, saying, "If I was running al-Qaeda in Iraq, I would put a circle around March 2008 and pray, as many times as possible, for a victory not only for Obama, but also for the Democrats."
Earlier this year, Howard said he 'trembles' at the thought of Trump becoming president and yesterday described described him as 'unstable'.
Bad, Bill. What's gone wrong? #ausvoteshttps://t.co/Mj9jny22rU

— Margo Kingston (@margokingston1) May 27, 2016
Many disputing my view Bill bad calling Trump mad. Needs to act as next PM. Trump could be next Prez & if mad more reason to be discrete..

— Margo Kingston (@margokingston1) May 27, 2016
Insight into Turnbull spinners
An insight into @TurnbullMalcolm's election strategy #ausvotes @abcnews pic.twitter.com/GSvlb6TMR2

— Eliza Borrello (@ElizaBorrello) May 27, 2016
Bulk billing rates rise under Coalition
Cambodia refugee deal falling down
Green energy, red tape
Government hurdles and obstacles across the country are holding up green energy projects. A campaign is underway to target marginal seats to make politicians take notice.
Labor's Jamie Clements before the courts
House price growth to slow under Labor
Mal in Brisbane
Protesters target @TurnbullMalcolm in Brisbane. #7News #ausvotes pic.twitter.com/GYiqZInbIN

— Amelia Brace (@AmeliaBrace) May 26, 2016
Cartoons
"Mending Fences…" @davpope @smh https://t.co/c91D1eC8Ew pic.twitter.com/PISAtoouhx

— John (@John_Hanna) May 26, 2016
.
(May 26, 2016) Day 19 – Bumbling Barnaby
Asylum seekers sent after live cattle exports frozen
Bumbling Barnaby Joyce has gone a bit too far in making a point on the live animal trade by linking it to asylum seeker boats.
No feasibility study for promises
Millions have been promised for dams across marginal Coalition seats in Queensland without any feasibility studies having been completed.
National's "Confence"
Nationals leader Barnaby Joyce and deputy Fiona Nash are all set to hold the annual NSW "confence".
The Nationals have deleted their "confence" Tweet but we've saved a copy. #ausvotes #nswpol pic.twitter.com/Eb4w83dkXp

— David Marler (@Qldaah) May 27, 2016
Barnaby's advice for Johnny
Question avoidance
ABC political journalist, Eliza Borrello has reported that at this morning's Rockhampton press conference with Malcolm Turnbull and Barnaby Joyce, the journalists were segregated into regional and national groups. They then took questions from the regionals to avoid questions on Joyce's increased asylum seeker boats from Indonesia due to the 2011 live export trade suspension. Federal MP for Capricornia, Michelle Landry, can be seen conferring with Joyce behind Turnbull before names of journalists on their right are shouted out above follow up questions.
Nationals senator Matt Canavan directing questions at Prime Minister's media conference (via @Riley7News) #ausvotes pic.twitter.com/yOuHEMg5vM

— Dan Conifer (@DanConifer) May 26, 2016
Australians mostly opposed to foreign ownership
Mazoe Ford from the ABC's Vote Compass election coverage team has found that despite the success of foreign investment for Queensland's cotton farm, Cubbie Station, up to 80 percent of Australians think the Federal Government should restrict foreign ownership.
Still seeing black holes
Mal's advice on Brexit
Donor dodger vows a fresh start
Trouble in Lindsay
Nova Peris breaks down
Nova Peris getting a stern bit of support from one of the aunties. "You've got to live your own life." @murpharoo pic.twitter.com/DNMMYbsSKn

— Helen Davidson (@heldavidson) May 26, 2016
Opposition Leader Bill Shorten comforts Senator Nova Peris after she spoke on her departure from politics pic.twitter.com/plDH7Y9Htl

— ellinghausen (@ellinghausen) May 26, 2016
Superannuation
Telstra to manage health records
David Feeney saga
Good morning from Rockhampton @JoeHockey #ausvotes @abcnews @BreakfastNews pic.twitter.com/gNStZEKMka

— Eliza Borrello (@ElizaBorrello) May 25, 2016
You can take it home to Lucy: @fjkeany captures the PM and his Deputy digging for potatoes https://t.co/jDAmNB3OQ7https://t.co/eUAlfZULJD

— Stephanie Anderson (@stephanieando) May 26, 2016
Turnbull beefs up his cattle knowledge in Rockhampton (via @fjkeany) https://t.co/jDAmNB3OQ7 #ausvoteshttps://t.co/R3pluJPbJo

— Stephanie Anderson (@stephanieando) May 25, 2016
Malcolm Turnbull not the first PM to visit Paradise Lagoons near Rockhampton #ausvotes pic.twitter.com/RqZflFXqLP

— Nick Haggarty (@NickHaggarty) May 25, 2016
Bill in Darwin
My current view. Press pack slightly bigger than normal for Darwin @murpharoo pic.twitter.com/XoDKDd4EcV

— Helen Davidson (@heldavidson) May 26, 2016
.
(May 25, 2016) Day 18 – Carping on with Barnaby
Tomato Barnaby Joyce
No wonder people across the world think Barnaby is about to explode with his recent performance in the Australian parliament yelling, "carp!" at the Labor Party. The new Deputy Prime Minister also aggressively attacked the opposition during question time by yelling, "disgusting, mud-sucking creatures!" in their direction. Now, in the ongoing saga over his dogs, Johnny Depp has told a US chat show that Joyce looks like he's been crossed with a tomato and might explode.
In response, Joyce has told the media he is Hannibal Lecter.
'I'm Depp's Hannibal Lecter' says 'inbred tomato' @Barnaby_Joyce — the battle has re-ignited https://t.co/4LFsRWe2swhttps://t.co/b9xtW4aGdo

— ABC News (@abcnews) May 25, 2016
I'm inside his head: Joyce on Depp #ausvotes #waronterrier https://t.co/WZuVDDb9VR

— Stephanie Anderson (@stephanieando) May 24, 2016
Tony Abbott troubles
Black holes within black holes
Scare campaign terminated
Mathias Cormann has botched his lines this morning by telling the media that Bill Shorten is what the country needs.
Return of the Zinger: OL says Cormann "has officially terminated Mr Turnbull's scare campaign" #ausvotes #TenNews pic.twitter.com/lr9pIY4uOS

— Catalina Florez (@florezcata) May 25, 2016
Andrew Hastie defies orders
Mal in the Dandenongs
? I had to climb halfway up a light pole to get this shot but it was worth it #auspol #ausvotes #steamtrain #steam ? pic.twitter.com/fU89Ao7AkF

— Tim Stevens (@TdotStevens) May 25, 2016
Tourism here in the Dandenongs is steaming ahead ?? https://t.co/8Tq66Zpzm4 @JasonWood_MP pic.twitter.com/ehNUke7ucy

— Malcolm Turnbull (@TurnbullMalcolm) May 25, 2016
Bill in Melbourne
Bill Shorten campaigns in my old stomping ground, Puckle St, Moonee Ponds #flashbacktohighschool #ausvotes #TenNews pic.twitter.com/udUbMlyabl

— Catalina Florez (@florezcata) May 25, 2016
OL has morning tea with cancer survivors in Melb, ahead of $8 million pledge to ovarian cancer research #ausvotes pic.twitter.com/4UpSMV7von

— Catalina Florez (@florezcata) May 24, 2016
Fizza
The designer behind @TurnbullMalcolm 'Fizza' posters pressured by the AEC: https://t.co/XLtYO13ruK @TheNewDailyAu pic.twitter.com/xDbN57hmnS

— Rose Donohoe (@rosedonohoe) May 24, 2016
Bullet Train Party
.
(May 24, 2016) Day 17 – Spendometers and black hole politics
There's a black hole in your black hole, Treasurer
Fact check: you cannot have a black hole in a black hole. But you *can* have Hawking radiation, which cuts mass and energy of black holes.

— David Crowe (@CroweDM) May 24, 2016
The chart of death. Is there a black hole in your black hole? Not at all, says @ScottMorrisonMP and @MathiasCormann pic.twitter.com/Tz6fYF3YRI

— Gabrielle Chan (@gabriellechan) May 24, 2016
ScoMo behind the lines
The spendometer
Mal in Geelong
PM Malcolm Turnbull lifts up a carbon fibre rim at a factory in Geelong #auspol #ausvotes #ausvotes2016 pic.twitter.com/TudkGGx5tA

— Lukas Coch (@cochl) May 24, 2016
Labor candidates not allowed to wear uniforms
Labor candidate for Brisbane Pat O'Neill has been told by the Department of Defence to take down three billboards of him wearing his army uniform. However, there was no complaint when Liberal candidate Andie Hastie used his army career in the campaign for Canning.
Nova Peris calls it a day
Pauline Hanson
Pauline Hanson has popped up yet again for the election hoping to scrape enough votes together to make the senate. Whether to scare us or inspire, as perennial as the shock-polli herself, the media loves to trot out the story of her comeback at every election. Hanson last contested the 2015 Queensland election as a candidate for the seat of Lockyer.
Pauline Hanson has ran unsuccessfully in state and federal elections in 1998, 2001, 2003, 2004, 2007, 2009 and 2013. https://t.co/4uTP1vYl2L

— Tom McIlroy (@TomMcIlroy) May 23, 2016
.
(May 23, 2016) Day 16 – Donations and the Mob
Mafia link to Liberals

From 2014, Nick McKenzie, Richard Baker and Royce Millar reported, "The suspected Mafia godfather of Melbourne helped bankroll a Liberal Party marginal federal seat campaign in the 2013 election, raising the prospect that the proceeds of crime have flowed into Liberal coffers.": Libs take money off Mafia man.
From 2015, William PJ Kulich reported, "McMillan's Liberal MP Russell Broadbent has said claims made by Fairfax and the ABC that he arranged meetings between Mafia figures and federal ministers are incorrect.": Broadbent denies Mafia ties.
From 2015, Nick McKenzie, Richard Baker, Michael Bachelard and Sean Nicholls reported, "Mafia figures donated tens of thousands of dollars to the discredited NSW Liberal Party fundraising vehicle, the Millennium Forum, as part of an ultimately successful campaign to allow a known criminal to stay in Australia.": Key Liberal fundraising body took Mafia money for access.
From 2015, Nick McKenzie, Clay Hichens and Klaus Toft reported on Amanda Vanstone, Phillip Ruddock and Russell Broadbent in, The Mafia in Australia: Drugs, Murder and Politics.
Mafia figure and Liberal donor Tony Madafferi with Lib MP Russell Broadbent in Parliament House 2005. #ausvotes pic.twitter.com/sO26vulE8Q

— David Marler (@Qldaah) May 23, 2016
Reporter @QuentinMcDermot goes inside the shadowy world of political #donations next on #4Corners #auspol #ausvotes pic.twitter.com/TIB3LxIlqJ

— 4corners (@4corners) May 19, 2016
Bill in Perth
Changing the rules
Former NSW Premier Kristina Keneally asks
Sussan Ley frozen at the wheel
Palaszczuks respond to Dutton comments
Granddaughter of Polish refugees fleeing the Nazis, Queensland Premier Annastacia Palaszczuk has visited her home electorate of Inala with father Henry to respond to Federal Immigration Minister Peter Dutton's comments that refugees are illiterate, take Australian jobs, live on welfare and use up Medicare. The pair also comment on the recent plan by SBS to film the next season of 'Struggle Street' in Inala. Brisbane's LNP Mayor Graham Quirk has banned SBS from filming on council property which the premier supports.
Young Annastacia and Bill
A photo of younger Annastacia Palaszczuk and Bill Shorten has been released.
Mal in Merimbula
Good to meet Jenny & Carol with Peter Hendy today after announcing upgrades to Merimbula airport & the Port of Eden pic.twitter.com/qxYgI4TR1i

— Malcolm Turnbull (@TurnbullMalcolm) May 23, 2016
PM and Mike Baird serenaded by local man playing gum leaf #ausvotes pic.twitter.com/IrnVqysdMq

— Rob Harris (@rharris334) May 23, 2016
Cartoons
Those invaluable refugees.
My @smh cartoon. pic.twitter.com/8EVgTIohQw

— The Cathy Wilcox (@cathywilcox1) May 22, 2016
-Ends