View Larger Map This @NoFibs Electoral Map is kindly provided by Paul Davis
By Jack Sumner
1 July 2013
I never knew the grandfather who died down a Barnsley mine but I do remember fondly the Grandpa who had spun cotton, breathed its dust and died of byssinosis age 61. My Dad was a grocer and then a rent collector. My Mum worked in factories, shops and warehouses from leaving school to retirement age. None of them were at school beyond the age of fourteen.
I went to grammar school and then on to university. I was no more intelligent than those who raised me but a beneficiary of an enlightened education reform introduced by Attlee's Labour government.
I have never forgotten that benefit and the providers of it. My degree facilitated a management career in which most of my executive colleagues were of another political persuasion. It was a career that also required long and often frustrating encounters with trade unions.
It could be said I had a successful career in spite of a readiness to give a political opinion. I voted for Wilson and Callaghan but was disappointed by the failings of their governments. My recognition that many of the changes made by Mrs Thatcher were necessary wasn't accompanied by an appreciation of her methods of achieving those changes.
When asked to leave Thatcher's England to head an ailing Australian company I didn't hesitate, and in July 1983 landed in Sydney with my wife and two young sons.
Australia's condition needed treatment too, and it was applied not by Thatcher's savage cut and confrontation but by the Hawke/Keating accord and consultation.
During the next thirteen years, PJ Keating became and remains my political hero. The country voting in 1996 to replace a visionary with a conservative Conservative led me for the first time to join a political party.
I worked hard for Labor, concentrating my efforts on the Parramatta electorate. In 2001 the ship Tampa denied David Borger, but in 2004 Julie Owens prevailed, unseating Ross Cameron. Despite this local battle being won Howard's forces continued to comfortably occupy the low ground.
In 2007 Mr and Mrs Sumner downsized to Eastwood in the centre of Bennelong just as a celebrity journalist was pre-selected to take on the Prime Minister in a seat he had held for 33 years. I offered my services to Maxine but wasn't needed so I again did my little bit to support Julie Owens.
In 2007 Labor turned 10 years of electoral despair into hope and then success. Work choices helped, but in my opinion it was Rudd's leadership that made the difference. When he was unceremoniously ditched I resigned from the ALP.
I'm still a Bennelong voter and political tragic. I'll keep readers abreast of the candidates, their policies and their campaigns, doing my best to be fair to all of them. Doing my best, but read the above to understand where I come from.
A safe seat and then there was Rudd
From the formation of Bennelong in 1949 its voters were shielded from electoral uncertainty and denied excitement for 55 years, with Sir John Cramer, and then, from 1974, John Winston Howard returned with comfortable margins.
Changes in boundaries and demography did little to challenge this predictability. In 2001 53% voted for Howard and only 31% for the Labor candidate.
In the 2004 election, however, Prime Ministerial incumbency was more seriously challenged – Howard's share of the vote dropped below 50% and the Green vote rose from 4% in 2001 to over 16% in 2004. This result showed how a well-chosen candidate, Andrew Wilkie, could attract voters away from the incumbent. A rising National antipathy to Howard captured and inspired by Margo Kingston's Not happy, John also began to impact in this election.
Psephologist Antony Green says that Bennelong "is a representative slice of Australia; it's a particularly representative slice of Sydney. It straddles that boundary between the Liberal-voting North Shore and the Labor-voting western suburbs."
However its ethnic mix is not typical and electorally very significant. Bennelong is the Australian electorate with the highest proportion (17.4%) of residents born in China, Korea or Vietnam. In his blog Mumble, Peter Brent details the electorate's demography and analyses its bearing on past elections. Margot Saville in her book The Battle for Bennelong also describes the positive impact of celebrity candidate Maxine McKew's engagement with Asian voters.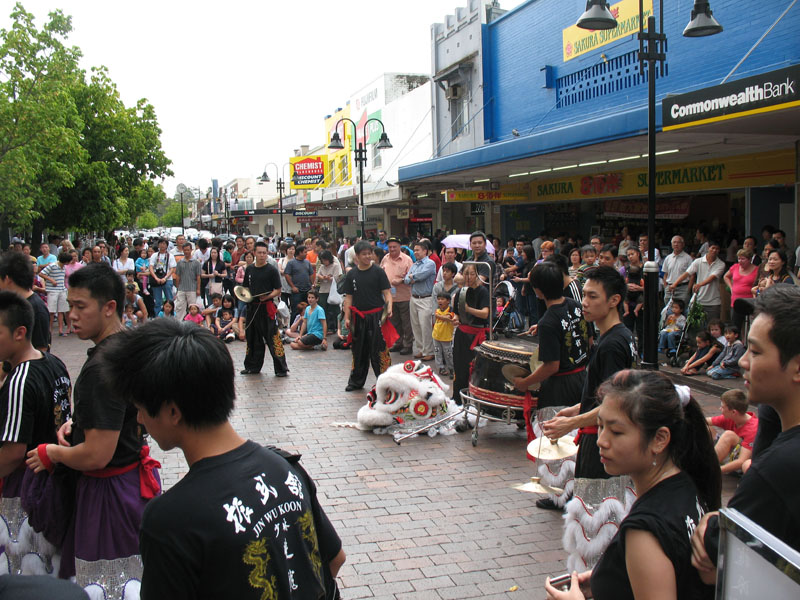 Changes in the electorate made little difference to the outcome until on 24 November 2007, the voters of Bennelong rejected a Prime Minister who had held Government for 11 years and his seat for 33.
The reasons why have been canvassed widely. It was time, work choices did for him, at last Labor selected an electable candidate and changes in boundaries and demographics. And there was Kevin Rudd too.
On becoming Labor leader Rudd galvanised the party faithful disheartened and frustrated by his predecessors, Beazley, Crean and Latham. He interested the swinging voter and challenged the Liberal complacency.
Maxine McKew, already in his thrall, asked for and was given Bennelong pre-selection, bringing with her, from near and far, admirers who morphed into a battalion of campaign workers.
The electorate's large Asian community which had previously predominantly voted respectfully for the Prime Minister and his Government's pro business credentials were wooed by a vivacious candidate supported by a leader who spoke their language. Redistribution brought 7500 working class Ermington voters into the electoral mix who, urged on by intensive trade union canvassing, were converted from Howard's battlers to Work Choices rejectionists. In 2007 Bennelong became a Labor seat, but not for long.
On 21 August 2010 the Liberals, from their perspective at least, righted a wrong when John Alexander won Bennelong comfortably. It could be argued that this result was written a few weeks earlier on 24 June when a hero became a redundant, indecisive, non-consultative disappointment. Maxine McKew lost her inspiration, most of her support battalion and gave in easily.

ALP's submissive attitude persisted, and the 2013 election appeared destined to be a straight sets victory for Alexander. NSW Labor, its donations in free-fall, needed to focus on saving sitting members and waved through the pre-selection of Jeff Salvestro-Martin. He had a sound CV – Ryde councillor, ex-Naval Officer, Sales Manager, married to a GP – but a low profile in the electorate and not a strong local campaigner. There is no sign of a Green or Independent who could have any impact on the result. No doubt at all then that Bennelong would be an easy retain for the Liberals.
No doubt, that is, until Thursday 27 June.
The disappointment became the messiah again. Kevin07 led the tilt that unseated Prime Minister Howard, so surely the despatch of a backbench political ingénue shouldn't be that difficult?
Will Sam Dastyari and NSW Labor see things that way and re-categorise Bennelong as a winnable seat, allocate funds accordingly and insert a candidate with the wherewithal to win?
I'll keep you advised.