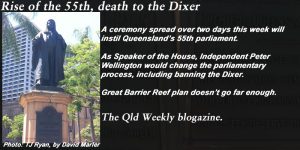 Blogging the week
Check back with us as we blog the week in Queensland politics and news.
Rise of the 55th Queensland Parliament
Queensland's 55th parliament will commence this week over a two day ceremony. MPs will meet at the house on Tuesday, March 24, 2015 to elect a Speaker. Once the parliament has decided, the candidate will travel to the Queensland Governor at Government House for Royal Approbation. This involves the Parliamentary Clerk, Deputy Clerk, the Sergeant at-Arms and members who nominated and seconded the nomination presenting the Speaker.
It is expected that long serving Independent MP for Nicklin, Peter Wellington will be elected to the role. Wellington was also instrumental in pledging support for Annastacia Palaszczuk's minority government. As Speaker, he carries the deciding vote for the government but has stated he will vote down bills should they be detrimental to his electorate.
Escorted by the Police horse guard, the Governor will return to Parliament House on Wednesday, March 25, 2015 at 1:40 pm (local time) to open the parliament. A 19 gun salute will be sound from across the Brisbane River at Kangaroo Point.
The Queensland Parliament website has more details, "Opening of Queensland's 55th Parliament".
Footage of on 1899 opening of Parliament by Queensland Governor Lord Lamington.
(March 28, 2015) – Cook by-election on the cards
(March 27, 2015) – Question time
(March 26, 2015) – Vote of confidence
Opposition vote no in confidence motion
Retiring Justice Alan Wilson condemns Chief Justice Tim Carmody
(March 25, 2015) – Opening day
55th Queensland Parliament officially ready to go
There's something you don't see everyday @QldGovernor rolls rolling. I have a lime cordial for you Excellency #9News pic.twitter.com/s5tkeQVbd0

— Shane Doherty (@ShaneDoherty9) March 25, 2015
The Queensland Governor's Tweets
The Governor departs #Qld Parliament House following the official opening of 55th Parliament #qldpol pic.twitter.com/VlaSYJHGIF

— Queensland Governor (@QldGovernor) March 25, 2015
With the Murri School Acacia Ridge dancers at #qldpol Parl Opening @Curtis_Pitt_MP & Indigenous MPs pic.twitter.com/OShf9ly5qs

— Queensland Governor (@QldGovernor) March 25, 2015
The Governor delivers the opening speech of 55th Parl #qldpol pic.twitter.com/IjwqflhUPC

— Queensland Governor (@QldGovernor) March 25, 2015
The Red Chair was probs made by Brisbane's James Bryden for 1st #qldpol Parl in 1860 & is reserved for Governor's use pic.twitter.com/xty8cc3h4S

— Queensland Governor (@QldGovernor) March 25, 2015
Under Parl convention Governor doesn't enter Green Chamber & asks Speaker permission to enter Red Chamber #qldpol pic.twitter.com/VtXKcGJDcR

— Queensland Governor (@QldGovernor) March 25, 2015
The Governor inspects the Mounted @QPSmedia Police which escorted His Excellency upon arrival #qldpol pic.twitter.com/TZyHnXa3Yt

— Queensland Governor (@QldGovernor) March 25, 2015
The Governor receives a Royal Salute from & proceeds to inspect the #YourADF Australian Federation Guard #qldpol pic.twitter.com/i1rnPkFWCE

— Queensland Governor (@QldGovernor) March 25, 2015
(March 24, 2015) – Speaker elected
Royal Approbation
The formal presentation to the Governor of the Speaker of the 55th Parliament #qldpol pic.twitter.com/gQYKJpcqds

— Queensland Governor (@QldGovernor) March 24, 2015
The Governor with the Speaker and Members of the 55th #Qld Parliament #qldpol pic.twitter.com/DtN7CICMGC

— Queensland Governor (@QldGovernor) March 24, 2015
The 55th begins
Pomp & ceremony this week as Qld Parliament finally resumes! @tennewsqld #qldpol #gardenparty pic.twitter.com/nwb4QJ6I3B

— Tegan George (@tegangeorge) March 23, 2015
.@QLDLabor Caucus heading into the Legislative Assembly to be sworn-in in the 55th Queensland Parliament. #qldpol pic.twitter.com/dMp3QikCye

— AnnastaciaPalaszczuk (@AnnastaciaMP) March 23, 2015
It's official! @pwellingtonmp 'dragged' to Speaker's chair by @AnnastaciaMP & @jackietrad. #qldpols @9NewsBrisbane pic.twitter.com/JOIX6YQ4cb

— Kate Limon (@KateLimon9) March 24, 2015
Congratulations to the 44 @QLDLabor MPs – who have officially been sworn in today in the 55th Qld Parliament. #qldpol pic.twitter.com/9PmLNtRTcc

— AnnastaciaPalaszczuk (@AnnastaciaMP) March 24, 2015
LS being sworn in for the 55th Queensland Parliament and now presiding officer for the election of speaker #qldpol pic.twitter.com/XVu0BM0ViC

— Lawrence Springborg (@SpringborgMP) March 24, 2015
LS chats to @PatrickCondren on @NewsTalk4BC – we will be a positive Opposition holding Govt to account #qldpol pic.twitter.com/AupDI8tI6S

— Lawrence Springborg (@SpringborgMP) March 23, 2015
Chalk one up for democracy – Qlders get uncensored TV pictures from their parliament. Hooray #9News #qldpol pic.twitter.com/5rpVyUx7UX

— Shane Doherty (@ShaneDoherty9) March 24, 2015
Indigenous blessing
Proud to join @BillyGordonMP as we're sworn into the 55th parliament #qldpol pic.twitter.com/pPFtLkWaps

— Leeanne Enoch MP (@LeeanneEnoch) March 24, 2015
1st Indigenous Minister @LeeanneEnoch receives blessing as Parliament resumes @tennewsqld #qldpol pic.twitter.com/rdcsdU5dzk

— Tegan George (@tegangeorge) March 23, 2015
Minister @LeeanneEnoch wearing these special shoes hand painted by her cousin for Parliament opening @tennewsqld pic.twitter.com/KNARUJiskg

— Tegan George (@tegangeorge) March 23, 2015
Thank u 2 my cousin for the shoes. I was proud to wear them 4 parliament opening 2day #deadly pic.twitter.com/tVNCqsEUfQ

— Leeanne Enoch MP (@LeeanneEnoch) March 24, 2015
A woman's place is in the House
.@QLDLabor ladies in the house #qldpol @tennewsqld pic.twitter.com/jtxtEIk6wL

— Tegan George (@tegangeorge) March 24, 2015
@QLDLabor women of the 55th parliament #awomansplaceisinthehouse #qldpol pic.twitter.com/JceAZbrzFZ

— Shannon Fentiman (@ShannonFentiman) March 24, 2015
VLAD laws still in use
Fiona Simpson's ghost tour of the Queensland Parliament
(March 23, 2015) – Death of the Dixer
Independent Peter Wellington as Speaker would end theatrics
Likely new Speaker aims I end parliament's 'waffle' #9News #qldpol pic.twitter.com/UBKwLnbRu7

— Shane Doherty (@ShaneDoherty9) March 23, 2015
Caucus meets ahead of Parliament opening
Premier addressing the @QLDLabor Caucus ahead of the first sitting of the Parliament this week. #qldpol pic.twitter.com/iwiFSN6ci6

— AnnastaciaPalaszczuk (@AnnastaciaMP) March 23, 2015
Premier @AnnastaciaMP addresses Labor caucus #qldpol @NewsTalk4BC pic.twitter.com/j1p1L3KJsC

— Nick Wiggins (@nick__w) March 23, 2015
Queensland politicians looking at things – caucus edition #qldpol pic.twitter.com/3jlyTZ2257

— Amy Remeikis (@AmyRemeikis) March 23, 2015
Any room you can book I can book bigger … Opposition gets the room usually reserved for the party in gov #9News pic.twitter.com/980B5cnXVh

— Shane Doherty (@ShaneDoherty9) March 23, 2015
All ready for the opening of Parliament this week with #the44 @QLDLabor members #qldpol pic.twitter.com/aYu5HDt1fJ

— Chris Whiting (@WhitingMurrumba) March 23, 2015
TC Marcia and aftermath
.@jackietrad announces new recovery plan for Cyclone Marcia victims #qldpol pic.twitter.com/KauIjHEULh

— Pamela Frost (@pamela_frost) March 23, 2015
Opposition meets ahead of Parliament opening
LS looking forward to Parliament resuming this week. Says Parl is place where govt held to account #qldpol pic.twitter.com/ubY6cWVVhF

— Lawrence Springborg (@SpringborgMP) March 23, 2015
LNP ready for battle – a less combative, more consensus based battle – ahead of 1st parly sitting. #7NewsQ #qldpol pic.twitter.com/AGmZ6T0rMD

— Geoff Breusch (@gbreusch) March 23, 2015
Anna Bligh on Newman's defeat
Queensland media still not happy with ministry doorstops
Still no ministers ahead of cabinet #backdoor #openess #wehavequestions @NewsTalk4BC pic.twitter.com/f3wWPB0ol3

— Nick Wiggins (@nick__w) March 22, 2015
Three out of 14 this morning – Enoch, Bailey and Dick. #Qldpol

— Amy Remeikis (@AmyRemeikis) March 23, 2015
(March 22, 2015) – Reef plan not good enough
Plan doesn't address climate change
#Reef2050 Plan fails on #climate, dredging, dumping &shipping. Tiny $, #coal as usual. Tinkering won't assuage UNESCO http://t.co/xhUpGebR94

— Larissa Waters (@larissawaters) March 21, 2015
BFFs on backing #coal over #GreatBarrierReef. Qld's new Enviro Min stands with PM Abbott on mining Galilee coal Basin pic.twitter.com/IJZykR5af9

— Larissa Waters (@larissawaters) March 21, 2015
-Ends