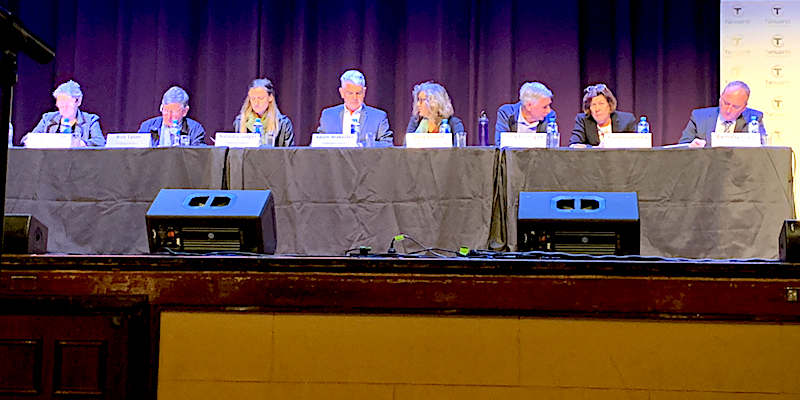 The stark difference between Independent and party-bound electoral candidates came into sharp focus at the Tamworth's meet the candidates forum on Monday, May 6, with all eight candidates facing members of the New England constituency.
The forum was reasonably well patronised, with over 400 people reported to have attended. ABC New England North West radio host Caitlin Furlong facilitated the evening. 
Candidates responded to questions pre-selected and compiled by the Tamworth Business Chamber. Given the current drought conditions, it wasn't surprising that there were questions about climate change and water security. Other questions covered power policies, childcare, employment, and womens' issues.
Disappointly, due to the format of the evening, there was no opportunity for the candidates to debate policies or for the audience to challenge candidate statements.
The five non-independent candidates appeared constrained by their party's messaging and their 'one-size-fits-every-electorate' policy approach.
The three Independent candidates, on the other hand, had the flexibility of answering with strategies and policies that echoed the needs of the electorate: it wasn't about them or the party, it was about the people of New England.
Climate Change and water security
The majority of candidates agreed that climate change is a serious issue for Australia and has been one of the topics consistently raised by constituents.
United Australia Party candidate, Cindy Duncan, didn't impress the audience when she stated that a non-political organisation needs to step up and inform the public regarding climate change.
All candidates agreed that water and water security is a real concern for the New England electorate as well as Australia.
Independent candidate Rob Taber raised a question regarding the suitability of growing cotton on the black soil of the Liverpool Basin.
In response to the water security question, Independent candidate Adam Blakester raised the water issues surrounding the Murray-Darling Basin saying: "Commissioner Mick Kelty, appointed to look after the northern basin in our electorate, has concluded that it is rife with vested interests."
Power and renewables
All candidates agreed that Australia's future power supply needs to include renewables, but the candidates had differing views to what extent.
Mr Joyce's opening response to the question regarding the Coalition's energy policy was to claim that 125,000 families are without power as they can't pay their electricity bills, and that Australia now has the most expensive energy within the OECD.
It was an interesting opening statement, given the Coalition has been in government for the past six years and has failed to address the cost of electricity in Australia.
Mr Joyce stated his policy on power is to make sure we have a proper mix of power, that is both baseload and renewables. He doesn't support 100 per cent renewables because he believes the number of families without power will grow.
Mr Blakester linked energy policy to the protection of water resources:-
We need to generate energy in a way that doesn't threaten our water systems and our farming lands, that means projects like Shenhua, on the edge of this electorate, need to be canned.

Adam Blakester
Childcare
In responding to the question regarding childcare as a legitimate work expense and possible tax deduction, Mr Blakester agreed with Mr Joyce regarding the importance of balancing the budget, which he said is critical to responsible economic management and keeping costs down for future generations.
During his response, Mr Blakester, a former tax specialist, said:-
We have foreign offshore companies, including some that recently benefitted from water buy-backs that are moving money in the [tax] havens like the Cayman and the Virgin Islands, and we need to close those because that's tax revenue that can go back into central services like childcare. We also need to look at community-based options like family day care.

Adam Blakester
Women and conservatives
Several candidates felt one minute wasn't sufficient to address the question regarding the significant issues currently facing Australian women and how a federal government will address these in the coming term.
The appalling treatment of Julia Gillard was one example of how women are treated in parliament, as well as the reasons given for the recent resignations of female politicians. Domestic violence was another of the major issues facing Australian women that candidates raised.
I would be deeply honoured to work with you, to work for you, take your voice and take our future to Canberra.

Adam Blakester
Some of the candidates appeared to suffer from a case of nerves, which no doubt impacted audience opinion. Barnaby Joyce naturally spoke about the Coalition's economic measures and "return to surplus", and at times looked uncomfortable with comments.
Based on the audience responses to Mr Blakester during the night it seemed he appealed to a large percentage of attendees. His comments regarding the Shenhua project certainly pleased the audience.
Perhaps some rust is finally being removed in New England?