September 1, 2013
I played a game of phone tag with the Liberal Party's Sarah Henderson and her office trying to tee up a time to meet. I was keen to get an in person interview, but her schedule had been chock-a-block. Now with the election just a week away, I was beginning to think I wouldn't get an interview.
Then I received an email from her saying she would call me. Ten minutes later she rang. I knew it would be unsuccessful if I had to do a phone interview with no recording. Out of the corner of my eye I saw my husband's phone on the bench and suggested I put her on loud speaker on my phone and record our chat. She agreed. I still would have preferred to have met in person but this seemed like a fair compromise. She was driving, or being driven. I've seen her car around town; it's hard to miss, so in my mind's eye I could visualise her.
Why do you want to be a politician?
I grew up in a very political family, my mother was the member for Geelong so I guess politics has always been in my DNA. I'm really passionate about serving my community; I'm passionate about Corangamite and about the Geelong region. I grew up in Geelong so I'm quite proud and parochial in wanting to do a better job to represent this region and to deliver the infrastructure projects that we need and turn around the economy locally with a very big focus on jobs.
I want to ask you about climate change. Everyone knows that the Liberal Party plans to abolish the carbon tax but there are a lot of people who don't know how Direct Action works and how it lowers emissions. Can you give me a brief explanation as to how Direct Action works?
There's a pretty good overview in our policy documents, but in a nutshell, we've got a suite of policies designed to lower emissions without a carbon tax and our approach is based on incentive rather than penalty. The carbon tax is a tax on electricity and what we have seen, and what the Labor party have now conceded, is that it is driving up the cost of living and it's also going to result in emissions going up, not down.
So we are going to tackle carbon emissions by planting 20 million trees, by establishing an emissions reduction fund where companies can apply for Government support to lower their emissions and an example of that is that there might be a timber mill that wants to move to a biomass, a power generator and they can apply to the fund for support to assist with the reduction of their emissions.
We've got a very strong focus on the environment through our green army and other obviously important programs like carbon sequestration. So, we're taking a responsible approach. We've agreed with the Labor party on our target, to reduce 5% emissions by 2020. We introduced the renewable energy target and that promises to provide a transition to renewable energy but we don't believe in a carbon tax.
I've been speaking to a lot of people as part of this project and one lady I spoke to was a bit dismayed about the paid parental leave scheme being paid to a woman with no means test, and including superannuation for a choice they make to have a baby. She has been diagnosed with multiple sclerosis and she has to take unpaid leave from her job. She gets no superannuation and she receives the disability pension but it is means tested and she wonders why PPL is not means tested like her benefit is.
We are very proud of our paid parental leave policy because unlike Labor's it is a genuine policy. It reflects our commitment to a workforce entitlement not a welfare benefit. We believe it is very important especially for families in rural and regional areas because it gives more women access to paid parental leave.
At the moment if you are working in the public sector you get paid parental leave and we don't think that's fair. We believe everyone should be entitled to paid parental leave. This is a particularly important policy for small business because it allows small business to offer their employees paid parental leave, put them on an equal playing field and compete more adequately than they can at the moment.
So we're very proud of our policy, which is going to be a great boost for families and for workplace productivity. In relation to the particular example you raised: you're raising a range of different issues because it's in relation to someone on a disability. Well, we will be introducing the NDIS, with the trial being rolled out here, so that's going to revolutionise the support for people with a disability. You've raised issues that are obviously not relevant to paid parental leave.
I guess in talking to her, she feels like she hasn't got a choice to take leave from her job and someone who has a child does have a choice, they've made that choice, usually to have a child. She's looking at that policy and feeling a bit like a slap in the face I guess.
Without understanding someone's individual circumstances I really couldn't comment on a person's individual circumstances. As I say, we are revolutionising the support for people with a disability and we are also revolutionising paid parental leave in this country.
With regard to the NBN and I know that the Coalitions plan will bring the NBN to Corangamite sooner than the current plan, but the Coalition plan only brings fibre to the node and not fibre to the home and there will be a reliance on the old copper technology and a cost of $5000 if a resident wants it right to their home rather than the node. Shouldn't the people of Corangamite get the best technology, that won't require updating, even if it does take longer?
Michelle, there are a couple of aspects to your question that aren't correct. The first point is that we are delivering fibre to the premise to about 22% of premises around the country. There will be fibre to the premise at universities, business parks, shopping centres and the like where that high speed fibre optic cable is needed. But to a normal residential street we are delivering fibre to the node and for those that do want a fibre optic cable to their home it won't cost anything like $5000.
Isn't that the figure that Malcolm Turnbull has quoted*?
No, that's the figure the Labor party is quoting. We think it is something around $2000 – $2500.
How would that work if someone was renting?
The issue for the NBN, and the reason that we have gone down that path Michelle is because we believe in delivering an NBN which is economically responsible and will deliver broadband faster and cheaper.
And at the moment what's important to understand is that for half of Geelong there is a great NBN divide, because under Labor's current roll out, some suburbs of Geelong including Belmont, Highton, Grovedale, Waurn Ponds, and some important parts of the region like Colac are being left out in the dark. Those areas are being excluded from Labor's roll out and we don't think that's fair because frankly, businesses and people living in southern Geelong and parts of Colac and the western parts of Corangamite matter too. We are prioritising rural and regional Australia.
It's a very important point to note that on the current roll out, only 16% of people are taking up the NBN. In a number of years it's going to be 3 times the price it is now. For many people it is too expensive and we're very proud of our NBN which prioritises people in rural and regional areas and gets the NBN rolled out quickly.
Under Labor we've seen a monumental failure over its roll out of the NBN. The infrastructure project has been hampered by terrible issues; with asbestos, with contractors who have been unpaid, with the program that has had no business case and we are very proud to be rolling out an NBN as soon as possible and tailored for people's needs.
People I speak to seem to be crying out for a positive approach from politicians where they focus on their own vision and policies. You seem to be making some quite personal attacks on Darren Cheeseman. Is this a deliberate strategy?
Look the last 3 questions you have asked me, they've all had a negative tone to them and I've obviously been putting my best foot forward and explaining what we are going to do. We've run a very positive campaign Michelle.
We've talked about the importance of jobs. Jobs is my number one priority and building the infrastructure for the future. We're very proud of our commitment to deliver $25 million to the Great Ocean Road. We're duplicating the Princes Hwy, we're committing $1.5 billion to the East West link and we are very focused on the economic reforms that are so critical to turning the economy around.
We have seen under Labor an increase in unemployment and a massive failure when it comes to the number of people who have lost their jobs in this region. In manufacturing, over a hundred and forty thousand people have lost their job under Labor over the last six years.
I certainly am not reluctant in holding Darren Cheeseman to account when he does not tell the truth. Mr Cheeseman has released a range of material which is dishonest; making false claims about Coalition policies and I think having integrity in politics is very important so when someone does tell a deliberate mistruth I will hold them to account and I don't resile from that.
I'm new to this citizen journalism. I'm obviously not trained in journalism and I'm quite overwhelmed by everything you have to deal with and the hours you have to put in and the fact that you have to think on your feet and speak in public. You have a media background. Has that helped you in doing this role?
Michelle, I think the Liberal party takes great pride in bringing people together from all walks of life, so we are a party, as John Howard has always said, we are a broad church. I certainly think my background in journalism and law is an asset when it comes to moving into politics but essentially I believe there is strong belief that politics should be all about looking after people. So no matter if you are a journalist or a pharmacist or a farmer or a tradesman, if you care about people, then that should be the number one job description when it comes to becoming a member of parliament.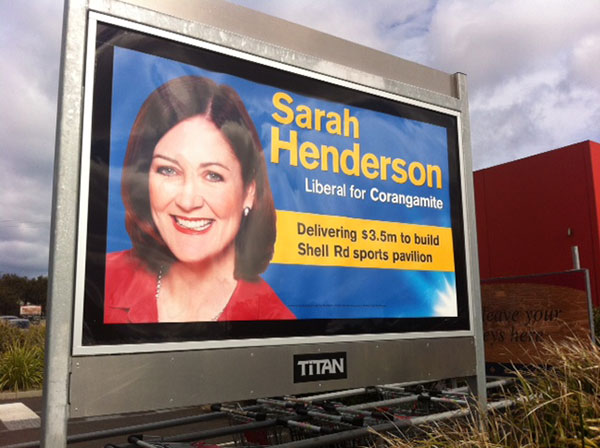 This is my final question and I ask it of all the candidates I have interviewed. Is there a politician, past or present who you admire?
Look there is Michelle. I am a bit biased but I was a great admirer of my mother Ann Henderson. She really was my mentor. She was the member for Geelong from 1992 to 1999 and she was the Minister for Housing and Aboriginal Affairs from 1996 – 1999 and she was just one of those women who just got on and got things done. So she was greatly loved by people from all sides of politics. She drove the revitalisation of Geelong waterfront. That certainly is her lasting legacy and we know how important that is to Geelong now. So I have to say she was my great mentor and someone obviously who I admire very much as a politician.
*I was incorrect in the amount quoted by Malcolm Turnbull. He has quoted the cost using the UK example and given a figure of up to $3000 for a connection to a premise from a node of 500 metres. link
More Corangamite reports here