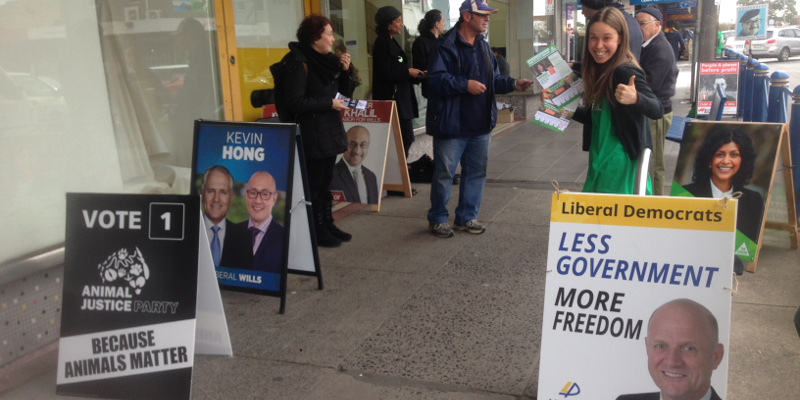 As we watch who might form a majority government, or whether we might have a hung parliament, here are the six seats to watch for the Greens on Saturday night: Melbourne, Batman, Wills, Higgins, Melbourne Ports, and Richmond.
Another 6 seats of interest where the Greens vote is substantial but may fall short includes: Gellibrand (Vic), Sydney (NSW), Grayndler (NSW), Fraser (ACT), Fremantle (WA), and Brisbane (Qld). Of course Greens preferences will be crucial in these contests for Labor.
Watching the Greens step up to the major league competing with the Coalition Parties and Labor has been interesting. But media coverage and inclusion in debates has only been begrudgingly conceded, if at all.
The Greens are throwing major funding resources into the 5 seats in Melbourne where they are polling well. We might see little increase in the total national Greens vote, with their vote further concentrating in seats where they spend the greater amount of campaign resources.
The two Labor seats in Melbourne's inner northern suburbs threatened by the Greens are Batman and Wills. Batman is the best chance of winning, while in Wills they may just fall short.
The Greens are also challenging in the blue ribbon Liberal seat of Higgins held by Assistant Treasurer Kelly O'Dwyer. It looks like a very tight race and has been compared by some on social media to the seat of Indi in 2013.
Greens leader Senator Richard Di Natale spent the last day of the campaign in the seats of Higgins and Melbourne, a sign that Higgins might well be in range of winning, but also that Melbourne needs to be supported to retain from the Labor challenge.
Two interesting three way contests are Melbourne Ports and Richmond.
In the seat of Melbourne Ports Labor's Michael Danby is in serious trouble and may lose the seat to the Liberals or possibly the Greens.
The NSW north coast country seat of Richmond may prove an interesting contest between Labor, The Greens and the Nationals.
Melbourne (VIC)
Adam Bandt's seat of Melbourne is already Green, but with Liberals preferencing Labor it still takes a high level of on the ground effort to maintain a high level of voter support to retain the seat.
He has been tipped by Roy Morgan Research to retain the seat.
Richmond (NSW)
The seat of Richmond on the North Coast might be the Greens first country electorate in a 3 way contest with the sitting Labor member and the Nationals.
The Greens won the state seat of Ballina in the NSW state election and ran close in Lismore.
The ABC asks: Can the Greens win Richmond and claim their first country seat at a federal election?. The Greens won 17.69% in Richmond in 2013. The electorate continues to have substantial demographic change, as well as a growing prominence to the Greens as the 3rd party in Australian politics.
Roy Morgan polling reported by the Tweed Daily News found that "Polling predicted ALP with 30.5 points, Greens with 29, LNP with 27, and others with 13.5, as at June, 2016. Two weeks out from the election, the results represent a 11 point swing to the Greens, who in 2013 had 17.69% of the primary vote."
It all depends on what order the 3 main candidates finish after preferences are distributed from minor parties.
Richmond is definitely a contest to watch on Saturday.
Melbourne Ports (VIC)
Higgins. Unbelievable. #ausvotes pic.twitter.com/JannkDwuUJ
— Mitchell Toy (@MitchellToy) July 1, 2016
3>
South of the city in the seat of Melbourne Ports, Labor MP Michael Danby has, against Labor head office directive, put out two How to Vote Cards: one that preferences the Liberals and one that preferences the Greens.
Danby might be in the fight of his political life and it is conceivable that in this 3 party contest, his publication and distribution of HTV card preferences to the Liberals may actually elect the Liberal candidate rather than the Greens.
Private polling by Lonergan Research for the Greens, according to The Age indicates that the Liberals are leading on 42 percent. Michael Danby has slipped to third place on 25 percent just behind the Greens candidate Ms Hodgins-May on 27 percent, which would make his preferences crucial for electing either a Greens MP or the Liberals. Minor party prefernces would also be crucial.
On Saturday night keep an eye on Melbourne Ports. It could be a Liberal upset, or a Greens win. It might be so close that it will take days to determine.
Higgins (VIC)
East of the city, Kelly O'Dwyer's seat of Higgins has turned into a line ball contest with commmissioned polling by the Greens indicating O'Dwyer's vote has slumped to 44 percent, according to The Guardian. The Greens candidate Jason Ball is 2nd at 24.5 percent. The Greens won the state seat of Prahran within the Federal electorate, so this may be a close race.
Your choice in #Higgins #auspol @VictorianGreens @Greens Kelly O'Dwyer or Jason Ball …. hmmm pic.twitter.com/1s8ZkxqAaj

— Dinesh (@DineshMathew) June 30, 2016
O'Dwyer has only made things worse when her campaign complained to Twitter to shut down a satirical account. Except they claimed ownership under the Digital Millenium Copyright Act the copyright of the photos being used on the account, when they were almost entirely Fairfax images. Twitter has now requested a please explain of the Liberal Party over fake account takedown​. In essence, they could be guilty of perjury.
In a further revelation, campaign photos of O'Dwyer talking to a family, representative of the suburb, have been shown to be a fake family with the adult male being a worker in the Liberal campaign office, according to The Age report.
As if life couldn't get more intersting, the Labor candidate is Carl Katter, the half brother to MP Bob Katter running for Kennedy. If his primary votes exceeds the Greens, Kelly is probably safe, but if he runs third, then the Greens Jason Ball may run very close to winning the seat on preferences. Minor party preferences may be crucial for the result.
Very proud to have the support of The Hon Michael Kirby AC CMG, an amazing contributor to our nation. #auspol2016 pic.twitter.com/h8mBME1OyK

— Carl R. Katter (@CarlKatter) June 26, 2016
According to this poll it is looking close in Higgins. Certainly giving Kelly O'Dwyer a big fright.
Poll in #Higgins puts @greensjason in with a real chance! https://t.co/dLKE0tySYa pic.twitter.com/7EOKhIS15Z

— Greg Barber (@GregMLC) June 30, 2016
And the bunting wars have started in Higgins with party supporters camping out overnight to protect their bunting.
Higgins. Unbelievable. #ausvotes pic.twitter.com/JannkDwuUJ

— Mitchell Toy (@MitchellToy) July 1, 2016
Nasty: @LiberalAus supporter bites @Greens supporter in #Higgins over Bunting fearing O'Dwyer is #toast #Ausvoteshttps://t.co/g7zJiNbdQg

— John Englart EAM (@takvera) July 2, 2016
2013: I supported Greens policy. 2016: Handing out how-to-vote cards for Jason Ball. First time ever for me https://t.co/OLbfRIdXQt

— Julian Burnside (@JulianBurnside) July 1, 2016
Human rights barrister @JulianBurnside in #Higgins supporting @greensjason for #compassion #Greens16 #ausvotes pic.twitter.com/y0aaSZhxBE

— Sally Newell (@ActOnClimate) July 1, 2016
#Higgins is the hot biting #Ausvotes story today.
Make Kelly O'Dwyer #Toast not the #climate #VoteClimate pic.twitter.com/6X6uhUuLrb

— John Englart EAM (@takvera) July 2, 2016
While O'Dwyer might still be odds on to win, Higgins looks like a close race and an interesting seat to watch on Saturday night.
Batman (VIC)
Probably the best chance for the Greens to double their representation in the House of Representatives is in the seat of Batman. The Labor candidate David Feeney was elected in 2013, but has proven to be a distant representative.
Although Feeney bought a house in the electorate he has continued to live in an apartment in Melbourne and rented the house.
Feeney has had a couple of big gaffs (David Speer interview) during the campaign, including his house not being on the register of assets and Feeney not being able to initially recollect whether it was negatively geared.
Even Feeney's tenants have deserted him, putting up a Greens billboard.
Samantha Castro met MP David Feeney at a pre-polling booth and asked basic questions (Facebook) about the TPP and ISDS and "confirmed our suspicions that the ALP will not commit in anyway to stop the #TPP or ban #ISDS Simple questions Dave and you still couldn't say yes."
the Lib also failed to attend. #climate #thisislabor #ausvotes #auspol #batmanvotes pic.twitter.com/oNdB2NnDT2

— Save the Planet (@STPPOL) June 21, 2016
The Greens candidate, Alex Bhathal has stood for the area over a number of elections so she has become quite well known. If the Liberals had of preferenced the Greens in 2013 she would have likely won the seat. She is likely to win the seat without Liberal How-to-Vote preferences this year, especially with the gaffs in Feeney's campaign.
The Age reported that a robocall poll of more than 1600 voters in Batman, shows The Greens serial candidate Alex Bhathal with a primary vote of 41 per cent, with Labor frontbencher David Feeney's primary vote dropping to just 28 per cent.
Darebin Climate Action Now and Vote Climate have distributed 50,000 VoteClimate How-To-Vote cards around Batman which favors Philip Sutton the climate independent, the Renewable Energy Party candidate and the Greens Alex Bhathal over Labor's Feeney.
Great juxtaposition: Medicare + Dental care in #Batmanvotes #ausvotes @MoonlitSanctuar @MarkPlackett1 @Boheme01 pic.twitter.com/3DK2PINSNg

— John Englart EAM (@takvera) June 21, 2016
On the eve of polling day a war of election posters at polling stations has broken out. The Greens plastered their material outside polling booths. Former State MP Peter Batchelor was later filmed tearing the Greens election posters down at one polling booth, reported the Age.
Greens get in early ensuring no space for any other parties posters at polling station in Batman. @abcnewsMelb pic.twitter.com/aQpnos1mdD

— Sarah Farnsworth (@sarahfarnsworth) July 1, 2016
This is disgraceful.@alexbhathal has Feeney worried. Vote 1 Green. https://t.co/vtzU3HUljJ #Greens16

— Christine Milne (@ChristineMilne) July 1, 2016
Dirty tricks in #Batmanvotes by Renewable Energy party. Promised Open ticket, instead prefs ALP https://t.co/4s9FOLYmSN

— John Englart EAM (@takvera) July 2, 2016
I am calling this seat a likely win for the Greens to watch out for on election night.
Wills (VIC)
Phil Cleary, the former Independent MP for Wills (1992-1996), has now come out to endorse Wills Greens candidate Samantha Ratnam.
This is my electorate, and I have saved my analysis for this seat to the last. The Greens have a lower starting vote from 2013 compared to Batman.
Labor MP Kelvin Thomson is reiring at this election. He was brought in to defeat Left Independent Phil Cleary in 1996. Although from the right wing from the Labor Party, Thomson had strong local connections having served on Coburg Council and then being the State MP for Pascoe Vale.
Wills was Bob Hawke's electorate, and while there was pride in being represented by the Prime Minister, electors also were subject to a certain amount of neglect. So when a factional candidate was appointed to take over from Hawke, the electors rebelled and elected Phil Cleary in a by-election in 1992 and again at the Federal election in 1993.
In a very public selection process early in 2016, Peter Khalil was appointed by ALP head office over a field of several local candidates. He doen't live in the electorate and with his foreign policy background including working for Prime Minister Rudd, he definitely appears to be a Labor "insider".
Some local ALP members were not too happy about his appointment by head office over local candidates. Rumours that I have heard say some local ALP members will put in time handing out for the ALP in other electorates rather than work for Khalil.
Khalil worked as part of the civil occupation forces in Iraq, although maintains he opposed the invasion. Buzzfeed's political editor Mark Di Stefano interviewed Khalil about his status as a protected source for the US government, feeding them information about Labor's asylum seeker policy, according to US cables published by Wikileaks.
Considering voting @AustralianLabor in WIlls? I STRONGLY suggest you read this first. Non local, right-wing nut job https://t.co/FWJ90AJFZE

— Catherine Deveny (@CatherineDeveny) June 20, 2016
The Greens appointed social worker and Moreland Councillor, Samantha Ratnam. A high profile candidate who was the Mayor of City of Moreland this year. Without Thomson's personal following Ratnam certainly has a chance of winning this seat, although it will be quite difficult without Liberal preferences. I covered Ratnam's campaign launch in March for Nofibs.
There have been 3 candidates forums in Wills this election. The first forum was organised by Climate Action Moreland at the Coburg Town Hall with 8 of the 10 Wills candidates present.
The second forum had six candidates represented and was organised by Fawkner Community House in the north of the electorate.
The last forum was held at the Brunswick Uniting church with candidates asked to answer three issues of concern raised by this church congregation on the Environment (climate change), indigenous rights, and asylum seeker and refugee rights policy.
Opinion polling shows Ratnam and Khalil both polling around 34.5 percent of the vote, Liberals on 22 percent, and minor party candidates on 9 percent. If such were recorded on polling day it would be a record vote for the Greens, with an increase of about 12.5 percent. While Ratnam will receive preferences from the Socialist Alliance and Animal Justice Party candidates, the Liberal Party and Sex Party preferences are going to Khalil. Ratnam is unlikey to win on these figures.
Roy Morgan poll: #Wills2016 ALP (34.5%); Greens (34.5%); L-NP (22%); Others (9%) #ausvotes Lib prefs are crucial pic.twitter.com/So86zThhcy

— John Englart EAM (@takvera) June 20, 2016
The Greens Samantha Ratnam, Socialist Alliance's Zane Alcorn and Animal Justice Party Camille Sydow all signed the Australian Conservation Foundation pledge. I acosted Khalil at all three candidates meetings asking him to sign. Late in the campaign via twitter I received notice that Peter Khalil wanted to sign, but he then failed to organise a photo opportunity. mmmm. Half hearted. A sign of things to come?
Wills candidates who signed #ACFpledge: @SamanthaRatnam, Camille Sydow, Zane Alcorn pic.twitter.com/kW7blWDubG

— ACF (@AusConservation) June 28, 2016
The contest has definitely increased the marginal nature of Wills. Around the streets of the northerm suburbs – the traditional Labor territory of Fawkner, Hadfield, Glenroy, Pascoe Vale – are Greens billboards and bus shelter adverts.
And in the last days there are reports of Greens campaign posters being torn down and billboards stolen.
The Battle For The Seat Of Wills Is Getting Nasty, via @workmanalice https://t.co/n9EePiXPTG pic.twitter.com/C1hfHZkFL3

— BuzzFeedOz Politics (@BuzzFeedOzPol) July 1, 2016
My tip: A seat to watch but a likely Labor win on preferences on Saturday night.
Happy voting and I hope you find enjoyment in the election night results. Let us hope it is not another example of Brexit regret.