By Tony The Geek
21 January 2013
Source: Storify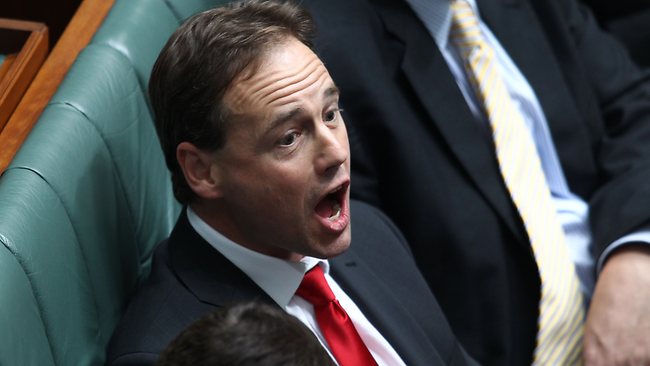 This story was published on Saturday on Storify and retweeted via Twitter on Sunday and Monday and now has over 3,300 views.
[View the full story "The Desperation of a Liberal MP? The Russian spambots." on Storify]
Greg Hunt has resorted or is at least is supported by an army of spambots who retweet his tweets. Could it be that he cannot find real people on twitter that like what he says? Who knows. We know the Libs or supporters do run other Spam Bots like LaborDirt. Here is a breakdown of just 1 LNP tweet.
Another 60 jobs to go in Adelaide from Penrice Soda. Carbon Tax named as part of the reason. A real blow #auspol

— Greg Hunt (@GregHuntMP) January 18, 2013


Update 1: Since publishing this story earlier, I have put together a growing list of LNP Bots here.
Also at last count 19 January 2013, there were about 40 genuine retweets out of 175 in total for this tweet. The Bots are tweeting via an app or platform called "The People's Voice". Has anyone heard of this? Contact me @geeksrulz on Twitter.
Update 2: I tweeted a link last night to my storify feature is.gd/3r9Xj1 to @GregHuntMP for comment. No response so far.
Update 3: Since shining a light on this single tweet by Greg Hunt, the retweets have jumped to 192. They are by real LNP supporters who are possibly coming to Greg Hunt's rescue to even up the ratio between spambots and real people.
Update 4: It appears that Twitter has finally acted and they have suspended the spambots that were identified.With friends like these, who needs enemies.
Update 5: Henk Luf is threatening to sue me for using his name in this feature. (Oops just did it again.) I have threatened to sue him back if he keeps using my name in his political tweets. Please go to the special Henk Luf section below if you can be bothered. See, spambots are missing out on all the fun that real people have :)
Update 6: Finally a response from Greg Hunt via @bennpackham. Greg Hunt says he hasn't got the technical skills to pull off such a ruse. Fair point. I wonder how he managed to get his website up and running.
Hunt denies Twitter spam bot claim. Says he hasn't the technical skills to pull off such a ruse

— Ben Packham (@bennpackham) January 20, 2013
Capital Circle is back for 2013. Rudd heads to Davos. Hunt accused of spambot retweets. Ben Myers' baby joy http://t.co/wA5GMjE9

— Ben Packham (@bennpackham) January 20, 2013
Politics 2.0: Opposition frontbencher Greg Hunt has been accusedof using foreign spam bots to retweet his Twitter missives far and wide. We couldn't raise Hunt to respond this morning.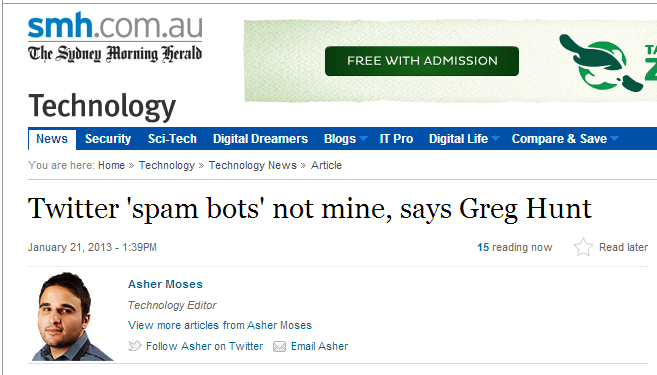 Asher Moses does a terrific job of summarising the issues of spambots infiltrating political debate in his story.
Tiphereth Gloria (@tiphereth), social media expert with VML Australia, said the bot evidence presented in the Storify post appeared to be accurate and she believes it pointed to a Liberal Party campaign. The fake accounts appeared to be part of a "propaganda war" effort to "increase share of voice of anti-Labor sentiment".
Separately, other spam bot accounts are more blatant. One suspected anti-Labor bot Twitter profile with over 88,000 tweets is @LaborDirt, which pumps out a constant stream of anti-Labor content. 
Ms Gloria however said the benefit of the bot retweets was that the original tweet goes to the top of the popular #auspol hashtag. "The entire thing relies on some programming skills and a deep understanding of how Twitter works," she said.
@GregHuntMP no specific knowledge #auspol

— Wadio Waheem (@HokkienOlajuwon) January 21, 2013

"Whoever you are, I've always depended on the kindness of strangers."
Imagine if spambots tweeted or retweeted false & malicious smears about Greg Hunt. Would he still just say 'spambots are part of twitter'.

— Tory Ruddy Nightmare (@geeksrulz) January 21, 2013
Below is a screenshot of the 170 or so mostly automated retweets received by the Honourable Greg Hunt MP. While I was putting this little feature together it jumped from 130 to 170.
These twitter spam bot accounts are usually set up and run with a script that generates the avatar, bio and first few tweets from random twitter accounts to make them seem legit with Twitter. Below is a good background article and primer on Twitter Spambots.
As explained by tweetsmarter

The most sophisticated spammers create hundreds or thousands of fake accounts through networks of servers usable for this purpose (typically proxies or bot networks/infected computers), each account tweeting human-like content that is fully or partially auto-generated. Instead of typical spam, these are fake accounts, created and run by bots (computer software) that appear to be real people—but are completely fake. http://blog.tweetsmarter.com/twitter-spam/how-the-spammers-are-taking-over-twitter/
Here is Mr Greg Hunt Nr 1 FAN in the World. Einiona tweeting as @munumihij from London.
He/She says they're a certified food junkie, and a Professional zombie fanatic. Account created on the 14th December 2012. Only 1 tweet. The tweet by Greg Hunt above.
It was retweeted by 170 or so other Spam Bot friends.

New Spam Bots created on or around the 15 December 2012
Characteristics of the Twitter accounts are: UK locations, zombie or student or Internet related bios. They have generally zero followers and follows and only 1-5 tweets. The spambots in question all have unique names (a requirement) but have unpronounceable handles following this pattern: @tebixepanon @ziwihaqu @kemidygogil @cohyrazyhet @xadotatic

Other than the Greg Hunt tweet that links all these bots together, they also retweeted the following LNP supporter tweets:
hahahaha RT "@henkluf: Well, bugger me, I spotted a Labor voter this morning. #auspol http://t.co/3bHczRzd"

— danielauhlig (@daniellauhlig) January 18, 2013

26 RETWEETS 12 Favourites from the usual spam bot suspects.
Gillard Promise #1: return budget to surplus. Gillard gets a big "F" for FAILURE #auspol

— GI_Gillard (@GI_Gillard) January 19, 2013

21 RETWEETS 11 Favourites by the same suspects of spam bots like @tebixepanon
@bibibabedream You'll like this. Abbott compared to Gillard RT @henkluf: So very accurate this is #auspol http://t.co/2ZAYk2Lt .

— Dot Matrix (@AyesHavit) January 16, 2013

47 RETWEETS 25 FAVORITES from some of the same suspect Spam bots with zero followers and a handful of tweets and retweets.
4 Bots with the same avatar.
A few more with similar avatars
Spam Bots that were prepared earlier.
Characteristics of these Twitter accounts are: They usually have 80 or so tweets, 100 or so followers and following. These were last used in September 2012 and now in January 2013.
The most famous LNP Spam Bot of all is of course @LaborDirt which seems to tweet links to mostly outdated stories at a rate of 1-2 per minute into the #auspol hashtag. If that is not spam, then I don't know what spam is. Twitter has taken no action so far.
#Auspol AWU Scandal – Interview Deputy Opposition leader, Julie Bishop about Gillard Honesty, Ethics etc http://t.co/803JBPys

— Labor Dirt (@LaborDirt) January 19, 2013
Joined Twitter: Thu 18 Oct 2012 11:46
@Labordirt also has a website called labordirt.com. Only go there if you must as I cannot vouch for the integrity of that site.
It appears to be registered to or by David Thiessen who tweets under@dotnetnoobie. The reverse IP lookup shows it is hosted in the same location as his other sites. He may of course only be the developer for labordirt.com. The client I suspect could be someone similar to Menzies House who have an active army of tweeters on Twitter.
As well as labordirt.com, the IP address also links to twittertrolls.com which at one point had a list of tweeps who were non LNP supporters. Again it may not be safe to visit this site.
A special mention needs to go to @locuguwedyr who joined Twitter on Mon 19 Nov 2012 from Liverpool and who tweets in Russian. Well occasionally, twice, he retweets LNP tweets.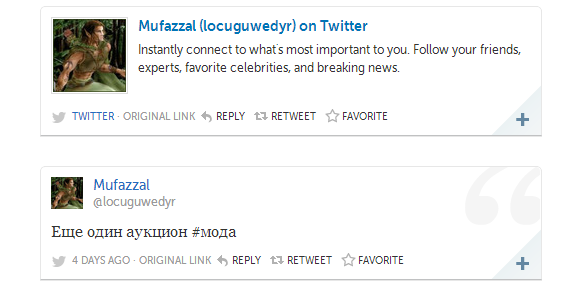 Hopefully this tweet is about Greg Hun's Uni Thesis: A Tax to Make the Polluter Pay
You can find Greg's Pro Carbon Tax Thesis here: http://www.petermartin.com.au/2011/03/why-we-need-carbon-tax-by-coalitions.html
Other prominent retweets by the spam bots:
Gillard Promise #1: return budget to surplus. Gillard gets a big "F" for FAILURE #auspol

— GI_Gillard (@GI_Gillard) January 21, 2013
Gillard Promise #2: Stop smugglers with stronger borders. Gillard gets a big "F" for FAILURE #auspol

— GI_Gillard (@GI_Gillard) January 21, 2013
Gillard Promise #3: there will be no carbon tax. Gillard gets a big "F" for FAILURE #auspol

— GI_Gillard (@GI_Gillard) January 21, 2013
Gillard Promise #4: #MRRT to produce billions. Gillard gets a big "F" for FAILURE #auspol

— GI_Gillard (@GI_Gillard) January 21, 2013
Gillard Promise #5: Company tax cut 1%. Gillard gets a big "F" for FAILURE #auspol

— GI_Gillard (@GI_Gillard) January 21, 2013
Here is another Russian Liberal Party friend. Did they arrive by that same submarine that Harold Holt disappeared from?
What does this all mean?
December 9, 2012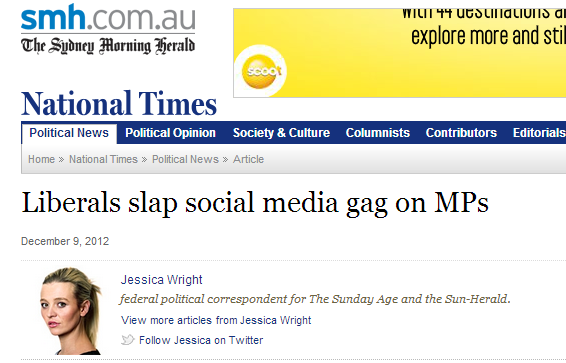 Liberals slap social media gag on MPs
Date: December 9, 2012
LIBERAL Party candidates have been gagged ahead of next year's federal election, with Coalition backbench MPs under pressure to close their Twitter and other social media accounts.
Full story. 
It is possible of course that the strategy behind the Liberals social media gag as reported on December 9, 2012 is totally unrelated to the creation of spam bots on and around the 15th of December of that same month. There is currently no proof to say the LNP or Geg Hunt or LNP supporters are running or responsible for these spam bots.
However it worth asking whether there is any connection between these spambots and the Liberal Party. From the above information we can deduce that the people that these spam bots were aimed to help are Greg Hunt, LNP, @GI_Gillard, @henkluf and @AyesHavit.
It is a fact that spam bots have been used before for tweeting and retweeting LNP talking points along the lines of the spam that @Labordirt dishes out on a daily basis at the rate of 2 per minute.
If they are indeed random spam bots, they seem to have a soft spot for the Tories :)
Some tweeps have asked why you would bother and what advantage there is to be gained by using spambot retweets. I would say none. There are more downsides than upsides. It reflects on the people who think it can be of benefit and who use it. One aspect is to fool some people that this person is influential and in touch with the twitter population and the twitter zeitgeist. An other aspect would be to try and get listed in the Top Tweets for that particular topic or hashtag. Maybe that is someone's job and they get paid for achieving this as their KPI.
Here are a few more reasons from blog.tweetsmarter.com :
But there are several ways spammers use fake accounts. Most important is to have hundreds of accounts that can be controlled as a group. Then you can have a large portion of them act to make something popular. For example:
These accounts can follow other accounts, making them seem "popular," and giving them a falsely positive "reputation."
They can retweet other accounts, another method by which a group of accounts can falsely increase the reputation of other accounts.
They can tweet links or hashtags or use retweets to influence trends. The trends influenced are not typically Twitter's tracking of trending topics, but third party sites (such as Twittersphere) that track the most popular links on any given day.These viral topic aggregators drive a lot of traffic to websites, because people visit them to find interesting links. Also, third-party sites sometimes link to one another, for example popurls.com uses Twittersphere in its column showing the most popular links on Twitter at any given time. So a group of fake accounts might all start tweeting about something at the same time to make that content "go viral" for a few hours.
They can send @ messages to Twitter users they have identified as "probably real," for example by tweeting only to users with a minimum Klout score who have written tweets on a particular topic before. A bot network of Twitter accounts might them promote a music event for an unsuspecting paying client, for example. Hundreds of fake accounts sending seemingly friendly messages about the event to thousands of real accounts is one way for spammers to sell advertising units to social media managers or individual clients.
There is also the disturbing potential for them to attack other accounts, reporting them as spam,say, or creating tweets designed to question their reputation for political or other purposes.
So on their own, or for paying clients, spammers can apply their network of bot Twitter accounts to a variety of purposes. Accounts that are built up in popularity can also sold or traded, in which case existing tweets can be deleted so the new owner can have 100% of their own content showing.
So in summary, spambot armies are the perfect vehicle for online astroturfing. This is already an offline technique perfected by the Tea Party backers known as the Koch Brothers, the Tobacco Companies, Climate Science Deniers etc. I wonder who would fit that bill in Australia?
If You Like Sarah Palin, You'll Absolutely Love Cory Bernardi
On the substance of the tweet, let me just point you to the words of Mr Greg Hunt and Mr Tony Abbott.
Why we need a carbon tax, by the Coalition's environment spokesman 
In 1990 Greg Hunt co-authored a university thesis entitled A Tax to Make the Polluter Pay.His conclusion: "Ultimately it is by harnessing the natural economic forces which drive society that the pollution tax offers us an opportunity to exert greater control over our environment."
Here it is:
A Tax to Make the Polluter Pay
and Mr Abbott himself:
Tony Abbott:"If you want to put a price on carbon why not just do it with a simple tax. Why not ask motorists to pay more?
Why not ask electricity consumers to pay more? And then at the end of the year, you can take your invoices to the tax office and get a rebate on the carbon tax you paid.
It would be burdensome, all taxes are burdensome, but it would certainly change the price on carbon, raise the price of carbon without increasing in any way the overall tax burden."
As Chris Murphy points out, Penrice Soda Holdings was already in trouble in 2010, well before the carbon price legislation came into effect.
Rubbish @GregHuntMP says CarbonTax 'real blow' 60 jobloss by Penrice Soda. It was in 'ashes' 2yrs pre Tax #auspol http://t.co/A2lhOUfk

— chris murphy (@chrismurphys) January 19, 2013
Penrice Soda Holdings' dreams turn to ashes
BY:CRITERION: TIM BOREHAM
From:The Australian
April 29, 2010 12:00AM
INVESTORS beware: with only two months until financial year's end, companies should know whether their full-year earnings will miss the mark and confessions will start to flow faster than those from a Stalin-era kangaroo court.

Special Section on Henk Luf
As mentioned in the update above, Henk Luf is making empty threats on social media to try and impress himself. Unfortunately it seems that he has not read or at least misunderstood what this storify feature was trying to highlight.
It was trying to highlight just one single tweeet from Greg Hunt. It then went about showing how a number of the retweets were from spambots. These spambots had a number of characteristics, one of which was that they retweeted a number of LNP supporters tweets. One of these tweets was by Henk Luf. I used his tweet to hightlight what these spambots had it common. It is a fact they have retweeted only LNP tweets. So it is a fair question to ask whether there is a link between the spambots and the LNP or LNP supporters.
Henk Luf seems to believe, probably because he had not read this, that he was being accused of being a spambot, on some sort of list  or of having retweeted Greg Hunt's tweet. None of which is true. You would think that if you make empty legal threats on social media, the least you could do is get your facts and accusations right.
Alas he seems not to have read it. A characteristic he seems to share with Mr Abbott on the Justice Rares Ashby Ruling and the BHP Press Release Statement.
More related stories:
Astroturfing corporate trolls are the new spam by Adam Turner
@independentausPart 1:  Deception is our product
@independentaus Part 2: A practical guide on how to spot an astroturfer or an online fake 

The need to protect the internet from 'astroturfing' grows ever more urgent by George Monbiot
Don't trust the web. by Hagar Cohen – ABC Radio National
Bernardi busy behind 'grassroots' anti-carbon tax movement – Deborah Gough / Fairax
If You Like Sarah Palin, You'll Absolutely Love Cory Bernardi – Mike Seccombe/ The Global Mail