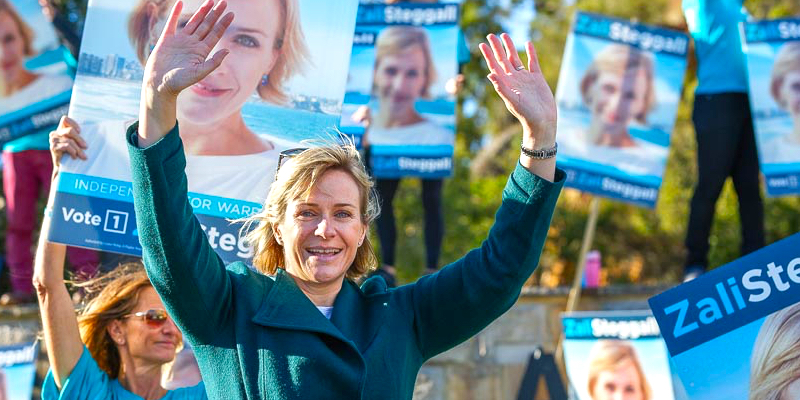 It's been an amazing couple of months working on Zali Steggall's election campaign. One week to go and there's still lots of positivity, enthusiasm and a desire for positive change within the community.
I have been with the campaign since just after Zali launched and I have been most impressed by her honesty, integrity, desire for change and most of all her ability to always go high!
There are 1300 registered volunteers and yesterday they held a thank you function. As is fitting of our grassroots campaign, Zali got up on a chair, supported by her husband Tim Irving, and spoke.  
I have tried to capture a few candid moments here, as well as Zali on the campaign trail.
Anna Josephson and Tas. Photo: Kate Zarifeh

Zali Steggall posing for a selfie. Photo: Kate Zarifeh

Helping the photographer. Photo: Kate Zarifeh

Thumbs up to supporters. Photo: Kate Zarifeh

Volunteers at Manly. Photo: Kate Zarifeh

Women Vote gathering. Photo: Kate Zarifeh

Candidates' forum. Photo: Kate Zarifeh

At Spit Bridge. Photo: Kate Zarifeh

Brookvale pre-poll. Photo: Kate Zarifeh

Zara Gatland and Zali. Photo: Kate Zarifeh

Lucas at the Gen Zali event. Photo: Kate Zarifeh

Zali and her husband Tim. Photo: Kate Zarifeh

Zali at campaign launch. Photo: Kate Zarifeh
Electric atmosphere
The volunteers are always smiling, happy and even socialise together. Even while packing up after a busy day at pre-poll, they have big smiles on their faces. We even have our very own unofficial campaign pooch, Tas, who has featured on the front cover of The Sydney Morning Herald!
There is a regular group who goes to the Spit Bridge. They bring smiles and corflute signs as they wave to traffic, and they have a massive speaker to play tunes the entire time they are there. When Zali rocked up on Wednesday, the atmosphere was electric.
Everyone chips in and helps each other out; even our media advisor Jack found himself being the WHS officer for a photographer up a ladder one day.
Zali has even put on a young peoples' event under her 'Gen Zali' banner. They partnered with mental health charity, Heart On My Sleeve, to raise funds for them. Lucas was DJ-ing yesterday and was also one of the organisers.
Zali also found time in her busy week to meet with local student Zara Gatland, who is now in Fiji for the third Climate Action Pacific Partnership. Zara is attending as part of the WeWill Campaign, which is partnering with Pacific Island communities to ignite and mobilise worldwide action in response to the imminent threats of climate change.
Women Vote was started by three women and aims to increase the likelihood of women voters having the information they need on the issues that matter to them, specifically they are evaluating policies in five key areas. They are cruising around in a hot pink bus and we met them in Manly. 
Big thumbs up
A highlight for me in the past week was an impromptu moment after Zali's Sky News debate. Due to space, there was only one pool photographer allowed in. There were several photographers as the candidates went in, including me.
When Zali emerged with her father and a few people from the campaign office, she was beaming. I was the only photographer there, with a couple of news crews.
As Zali came out and approached her ride, two runners came past and shouted out, "Go Zali," and she gave a big thumbs up. It was great to see such a candid and genuine moment, as Zali does ultra-marathon running. Sorry for the blinding flash Zali!
With less than a week to go until election day, it's all hands on deck. Everyone is putting in lots of hours and giving it their all.
I'll have one more photo essay just after the election, when hopefully history will be made and Warringah will be turned turquoise!