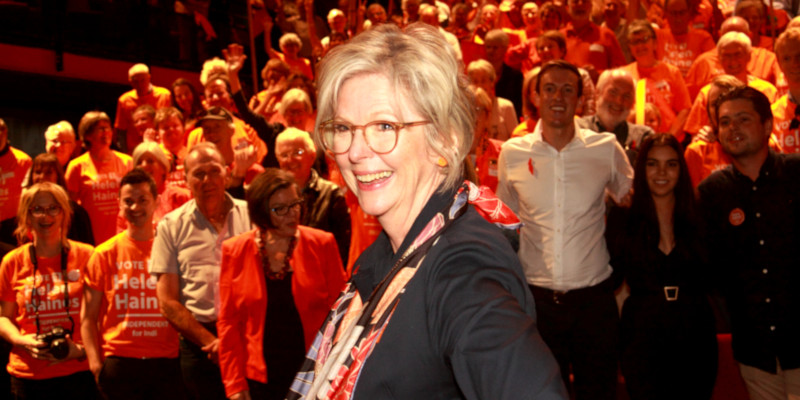 Something has changed this election. I've lived in the North East for 33 years and have a pretty good sense of the usual issues discussed on lunch breaks and at dinner tables in our communities.
As I've travelled around Indi these past few months, there's been a shift.
The issue people have raised with me far more than any other is climate change.
People are worried.
We just suffered through the hottest summer on record; for much of the past year rivers and dams have been dry across Indi as the drought continued to bite; and last November freak floods swept through Tarrawingee and outside Wangaratta, causing damage costing millions of dollars. These extreme weather events are the signs of a disrupted climate.
I have heard from farmers who are selling up and moving south, and grape growers who said the hotter, drier summers are damaging their harvests. Our ski fields and stone fruit farms are directly threatened by rising temperatures.
A Climate Council report released on Thursday warns that reduced agricultural and labour productivity due to climate change is projected to cost Australia $19 billion by 2030 and $211b by 2050.
The Murray-Darling is already in crisis, but by 2050 the irrigated output of the Basin is expected to halve if our climate continues to warm.
This doesn't just affect people on the land either: insurance is projected to become unaffordably high as insurers increase premiums to account for more floods, droughts and fires. These costs will affect us in the regions more than anywhere else. Two of the top 10 areas predicted to feel the biggest increases to insurance premiums are right here in our region: Benalla and Moira shires.
The part of the story few in government talk about is that action on climate change is also a huge opportunity for Indi.
Renewables boom
Indi is well positioned to benefit from the renewables boom. We have the sun, the hills, and the know-how to lead the nation in the production of clean, locally-generated renewable energy.
This will bring down our power bills and keep profits circulating locally rather than going to the shareholders of big energy companies.
And instead of waiting while the major parties have torn themselves apart fighting about what to do, communities in Indi are already racing ahead.
We can cement our position as national leaders. Indi has the highest density of community energy groups in Australia.
These groups like Renewable Albury-Wodonga, Totally Renewable Yackandandah and others, are making sure everyone can access the benefits that come from renewable energy.
That's why I am proposing $465m over the next decade to set up 50 community power hubs across the country — starting in Indi. These would support thousands of local community power initiatives to drive a faster and fairer transition to clean energy in the critical decade we have to act on climate.
I strongly support asset write-offs for small businesses installing solar to reduce their energy bills which cut so deep into their bottom lines, and interest-free loans to support battery storage.
I will advocate for a carbon fund to pay farmers for carbon stored on farmland. This fund would allow farmers to diversify their revenue — particularly important in times of drought — and play a leading role in being part of the climate solution.
Scratching the surface
Research shows that for every $1 the government spends on community energy, it unlocks $17 in community investment. This is government and community partnering to tackle climate change and speed the energy transition.
The potential is limitless. It will mean a raft of new opportunities for businesses in manufacturing and recycling of renewables hardware. It will mean ongoing jobs in installation and maintenance as the renewable energy boom takes off. We've only just begun to scratch the surface when it comes to storage: there are more than 4000 sites identified as suitable for pumped hydro in Victoria alone.
All of this will help provide cleaner, cheaper power and create jobs.
But business needs certainty to invest. Unfortunately, in the past decade, political games and infighting has left Australia adrift without a clear climate policy. Because of opposition from the likes of Tony Abbott and Peter Dutton the current Liberal-led federal government has scrapped any effective climate policy. So who could blame companies investing in overseas markets where there is more policy certainty?
When you cast your vote on May 18 your choice matters.
As an Independent I am dedicated to action without any party-political interests getting in the way. As an Independent, I answer only to you.
If you elect a candidate from a party as your MP you get one cog in a machine. The best of them will listen but ultimately what they can give you is their party line.
The best predictor of future performance is past performance.
If the future of our climate, of agriculture and of regional Australia matters to you in this election then look to the records of the parties.
This opinion piece was first published in The Border Mail. Reproduced with permission.