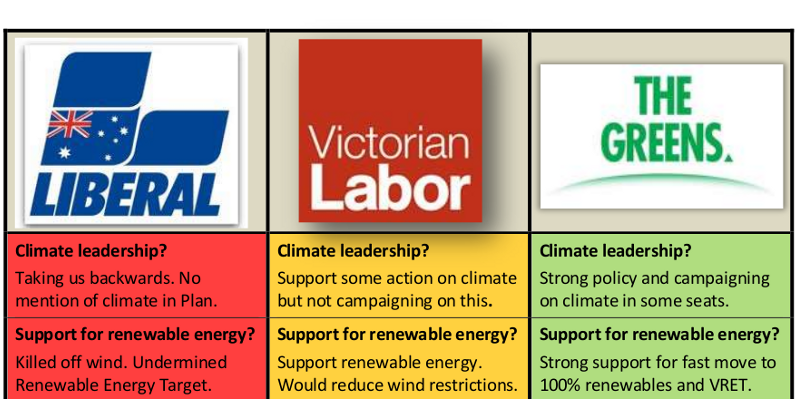 As we enter the final days of the Victorian election campaign the polls show Labor headed for Government with a possible majority of 8 seats.
But like all elections there will be expected wins and losses and some surprises. The result is never guaranteed. There is even a possibility of a hung parliament with the Greens having the balance of power in the Legislative Assembly.
Labor needs to win seats in south-eastern Melbourne and bayside suburbs such as Carrum, Frankston, Bentleigh and Mordialloc where transport and education are important. Also in play are marginal Liberal seats on the north-eastern fringe of Melbourne like Yan Yean and Monbulk where the Great Forest National Park may be an influential issue.
Retaining Labor's regional seats in Geelong, Bendigo and Ballarat is also crucial where regional infrastructure, transport, employment and education are all important issues.
Seat gains for Labor are important to offset potential losses of up to 4 seats in the inner city to the Greens, and potential losses to the Liberals in tight marginals such as Eltham and Albert Park where they are on less than 1 per cent margin.
Regional seats are important
Labor holds both Bendigo East and Bendigo West on margins slightly more than 3 per cent with school and TAFE education, unemployment, environment and regional infrastructure issues of importance.
Victoria election 2014: Inadequate school facilities key in Bendigo, Macedon electorates #vicvotes http://t.co/gvlvzOYpDl

— ABC News Melbourne (@abcnewsMelb) November 9, 2014
Andrew Eales in the Ballarat The Courier looks at the 3 marginal Labor held seats around Ballarat of Ripon, Wendouree and Buninyong and has called To make Ballarat a focus, the best outcome is change. Funding promises have already been made by both Liberal and Labor sides of politics for the vote in Ballarat. Just the fact that the electorates are marginal has ensured political attention.
Our politicians in #Ballarat cartoon just keeps being topical! #vicvotes #springst pic.twitter.com/wL1lAoLlgQ

— BallaRatCat Comedy (@BallaRatCat) November 18, 2014
Geelong is a marginal seat battleground with the seat of Geelong held by Labor, and South Barwon and Bellarine held by the Liberals on less than 5 pc margins. With the downturn in manufacturing, including closure of Point Henry Aluminium smelter and the Geelong Ford factory, employment is a key issue in the region.
@nat_forrest Must be election time!! I still can't understand why this stuff can't be promised at any other time!! I think it's all lies!!!!

— John Hantzopoulos (@J_Hantzopoulos) November 18, 2014
The continued operation of the Anglesea coal mine and power station despite the closure of the Alcoa aluminium smelter, with the enhanced bushfire risk and pollution health impact on local communities, will obviously play a part in this election motivated by local community group Surfcoast Air Action.
Wind is blowing more #Anglesea coal plant SO2 (significant respiratory irritant) into the #Geelong marginal seats today #vicvotes (1 of 2)

— SurfCoast Air Action (@SCAA3230) November 15, 2014
Taste of the fire season on the Surf Coast yesterday with hot, strong northerlys. Obsolete #Anglesea coal a disaster in the making #vicvotes

— Anglesea After Coal (@AngleseaAC) November 22, 2014
A picture tells a thousand words. Coal kills & #Anglesea coal mine & plant are right next to our community. #vicvotes pic.twitter.com/BKXHNWyLzW

— SurfCoast Air Action (@SCAA3230) November 23, 2014
Greens challenging Labor in the inner-city
Labor is under threat from the Greens in four inner city electorates of Melbourne, Richmond, Brunswick and Northcote. Party polling done for the Greens advises they are likely to win Melbourne and Richmond. The poll was not undertaken in Brunswick and Northcote. The Greens are also campaigning strongly in the Liberal marginal of Prahran in a three way contest, although have a lot of ground to cover to win.
The Brunswick battle of progressive values between ALP and Greens gives a good rundown of this election contest. I am tipping a Green win here because of the strength of the candidate, and an active door knocking campaign that has visited well over 10,000 houses.
Over in Northcote there is some nasty dirty politics and attempts to smear the Greens candidate Trent McCarthy (Unipollwatch profile), including a direct mail intervention by Federal Labor MP David Feeney possibly breaching his Federal communications allowance conditions. Nominally Labor have a 10.3 pc margin to the Greens based on the 2010 state election results, but based on the Northcote booth results from the Federal election in 2013 the margin has halved to about 5 per cent. Read more on this story at Crikey: Labor-Greens contest turns nasty in People's Republic of Northcote.
Climate guardians paid a visit to Fiona Richardson Mp for #Northcote atted the climate forum Fiona #vicvotes pic.twitter.com/HnGzcZWh1q

— John Englart EAM (@takvera) October 31, 2014
Both Labor and Liberal candidates did not attend a candidate climate forum for Northcote electorate.
The fact that former Labor Mayor of Darebin Gaetano Greco has come out and publicly supported McCarthy must really hurt the Labor campaign of Fiona Richardson MP (Unipollwatch profile). "In the interests of Darebin, I'm putting party politics aside. Labor has taken our area for granted for far too long. But now, the seat of Northcote is on the cusp of change. This is good for democracy and good for our community." Greco said in a statement on Trent McCarthy's website.
Safe seats: Morwell, East Gippsland and Broadmeadows
The safe National seat of Morwell in the La Trobe Valley occupied by Energy Minister Russell Northe, and previously held by Labor from 1970 to 2006, may be in the mix for a change with the Morwell open cut coalmine fire a simmering issue with local neighborhood house co-ordinator Tracie Lund standing as a community independent. She is being supported by community group Latrobe Valley 1st that has drawn inspiration from Cathy McGowan's grassroots Voice for Indi campaign. In this seat Labor has promised to reopen the Morwell mine fire enquiry if elected to Government.
Independent candidate in Morwell Tracie Lund will not allocate preferences #vicvotes

— Richard Willingham (@rwillingham) November 18, 2014
Of course there are many safe electorates where the contest is already a foregone conclusion. Scott Campbell-Smith gives us some insights into running as a Greens candidate in the safe seat of East Gippsland held by the Nationals where acceptance as part of the community is a long process and politics is often of a parochial nature.
Safe seats don't, as a rule, get a lot of funding promises at election time. And there is a tendency for the politicians to take them for granted. Broadmeadows is one of Labor's safest seats, but has unemployment growing to 26 pc, mortgage stress, food insecurity and poverty, with little in the way of funding promises by both major parties to address these long term structural problems. Politics in the city can also be parochial.
Transport issues
Transport generally is a big issue and the ABC Votecompass survey found that a 46 pc of people support the East – West Tollway project, but in the innercity such as in the City of Moreland there is substantial opposition to this project. Support for the project is also divided in regional areas.
Another Votecompass question revealed there is also substantial widespread support for upgrades to public transport, even if it means spending less on roads, but the opportunity cost dictates that many public transport upgrades would be substantially delayed or never built if the East West tollway proceeds. Academics have recently estimated the all up cost of East West Link may be in the region of $18 billion.
Labor probably has the advantage on this issue with it's promise to eliminate 50 level crossings across Melbourne, with it's less equivical stance on the East West project an attempt to placate it's inner city heartland from turning to the Greens. The Greens have put forward a plan to extend Melbourne's tram network an extra 56 kilometres in 17 tram extensions to increase tram network functionality by terminating at more appropriate intermodal locations such as shopping centres and train stations. I look at one of these proposals in detail: the extension of the Sydney Road Route 19 tram to Fawkner and perhaps Campbellfield.
The Baillieu Government was elected on a promise to plan and build the Doncaster rail line in 2010 with construction starting within 4 years. This rail line, first mooted in the 1890s, now may not be built for another 15 years according to the most recent study, unless there is the political will to make it happen.
Education Issues
Education too has become an important issue in this election with the Votecompass survey indicating Victorians support increase in TAFE funding. The results indicated that nearly 80 pc of people want more funding support for TAFE, with just 15 pc saying the same funding levels and 3 pc arguing for less funding.
The Coalition Government cut $300 million per year from the TAFE budget in 2012 which saw campus closures, reduction in courses and staff retrenchments across the TAFE sector, including in regional TAFEs which are a lifeblood for basic skills education in their local communities.
But the undermining of the TAFE sector started earlier with the Brumby Labor Government introduction of market contestability whereby private Registered Training Operators (RTOs) could compete for public funding for student enrolments. This resulted in a rapid expansion of private sector training who cherry-picked the profitable courses. It also allowed the entry of unscrupulous providers who ticked the required boxes but delivered very poor quality training to enrolled students, thus demeaning the qualification standards.
Along with this was the introduction of the training guarantee which restricted funding for those students already with qualifications, no matter the circumstances involved. This is particularly hard for those who may possess a Certificate or Diploma or even a Bachelor degree but are in need of retraining or wanting to add additional skillsets to become more employable.
The Liberals have pledged to add more money into the sector, but it is a pittance in comparison to the amount they cut and what Labor and the Greens are offering to do in this area.
Environment Issues
The Environment issue has been nearly entirely absent from mainstream coverage of the campaign and in announcements of both the Liberal and Labor Parties. This is despite the release of the IPCC synthesis report recommending the necessity for rapid action to reduce greenhouse gas emissions, and the G20 meeting in Brisbane in which climate change was front and centre on the agenda despite Prime Minister Tony Abbott's attempts to not to discuss it at all.
Coalition antagonistic. Labor cowardly. @theage editorial on the shameful lack of envionment policies in #vicvotes . http://t.co/nr20ylAc8s

— Tom Arup (@aruptom) November 17, 2014
The Age reported on a Climate Council report that detailed Victoria 'has worst renewable energy policy environment'. It is clear that Environment has failed to feature at the Victorian election. There has been a 'climate silence' and a lack of environmental policy released by both Labor and Liberal Parties.
The Labor Party did see fit to announce a rollback in the mandatory planning regulations for wind farms. A small start. Both major parties have refused to consider introduction of a Victorian Renewable Energy Target (VRET) similar to South Australia or the ACT.
Grassroot groups in Morwell and Anglesea also want to see rehabilitation of coal mines and even closure of polluting power stations such as Hazelwood and Anglesea which are now aging infrastructure surplus to the needs of the electricity grid. As the coal mine fire in Morwell showed us in 2014, they pose a major bushfire and health risk to local communities. It is estimated that 11 to 14 deaths were caused by pollution from the coal mine fire. The Greens announced a plan to shut down dirty coal plants if it wins balance of power, but both Labor and Liberal have been quiet on this issue.
Labor politicians have attempted to avoid the issue of climate change not attending climate focussed forums in Northcote and in Moreland. Eight minor political parties delivered presentations (on video) on their climate policies at the Moreland Climate Forum.
The issue of Are we mitigating the health risk of worsening heatwaves due to climate change? hasn't even arisen in the campaign, as we head into a long hot summer.
Over the last year there has been growing momentum for the establishment of a Great Forest National Park in the Central Highlands just north of Melbourne to protect the last mountain ash forests and ecosystems of Victoria's endangered faunal emblem, the Leadbeaters Possum. The forestry policies of the Napthine Liberal Government are knowingly driving Leadbeater's Possum to extinction say scientists.
Even David Attenborough and Jane Goodall have lent their support for the creation of the Great Forest National Park. But the Labor Party has dumped plans to create this National Park due to the influence of the CFMEU. This may result in a backlash against Labor and boost support for Greens candidates in marginal electorates.
David Attenborough supports creation of the Great Forest National Park, to save Leadbeater's Possum. #GFNP #VoteGFNP pic.twitter.com/7pksaVT0Uv

— Mark Whalan (@MWhalan) November 11, 2014
Political donations reform
Another issue that neither major political party will discuss or consider implementing is political donations reform for increased political transparency and prevention of corruption. At the moment both major parties receive substantial funding from corporations and developers. Political donations are not revealed until 7 months after the end of financial year the donation was made. Often donations are given just below the limit for public scrutiny – $12,400 in a single jurisdiction – as well as through fund raising dinners.
Vic cleaner political culture than NSW? 'Bullshit' says Hewson. LibLab unity ticket on secret donations http://t.co/RMcsAPWdW8 #vicvotes

— Margo Kingston (@margokingston1) November 19, 2014
Former federal Liberal leader John Hewson lambasted the Victorian political culture and inferences that it is cleaner than other states, calling it "bullshit" in a report in The Age: Parties fail on donation reform.
"The system in Victoria is corruptible just like elsewhere," said Hewson. "Indeed, as the formal rules in Victoria, in relation to both donations and lobbying, are generally lagging well behind the other states, the scope and risks are that much greater." he was reported as saying.
"Both major parties are increasingly on the nose. The issue of money, lobbyists, and possible corruption is important in that we have to clean up this area of donations and lobbying to help resurrect trust in government, and raise the standing of politicians." said Hewson.
A story by Amanda Hines in The Age: Libs boosted by pub cash, reveals the Australian Hotels Association (AHA) donated $440,520.00 to political parties in 2012/2013 financial year with the Victorian Liberal party receiving $306,250.00 and a further $104,000.00 to the Liberal Party national branch. The ALP, in comparison, received just $22,700 from the AHA.
That must buy a high level of influence.
By coincidence James Packer's Crown Casino just received a new extension of its gambling contract to 2050, with very favourable terms, including substantial penalties if any Government changes smoking or gambling regulations that reduce profits. No wonder Napthine rushed this contract through before the election. Daniel Andrews was silent in parliament in the passage of this legislation. Peter Martin from the Age has the story: Political gamble: Victorian government power sold to Crown Casino.
Upper House candidate for Northern metro Region Peter Allan has made political donation reform one of his central policy planks issuing a challenge to all other parties. While the Greens have signed on, neither Liberal or Labor Parties have chosen to support the initiative, an indication of how corrupt our Victorian political system has become.
With latest political donations scandal http://t.co/XSierGXShh @Allan4Northern challenges all parties #vicvotes http://t.co/Xy3Ivqwgjx

— John Englart EAM (@takvera) November 6, 2014
Rating the party policies with Election Scorecards
Before you vote also check out these election scorecards on rating the parties on specific issues:
Preference deals likely to see minor parties in Legislative Council
In the State's upper house, Victoria's Legislative Council, it is almost certain that neither Labor or Liberal will have a majority with a cross-bench made up of 3 or more Greens MPs and a number of micro-party or independent MPs.
In Victoria there are 3 country and 5 city regions each electing 5 MPs through proportional representation. If you vote above the line for a party, it's registered preference ticket comes into play. Voters may mark below the line and may choose to number a minimum of 5 candidates or more. Below the line is optional preferential and is a much simpler arrangement than Senate voting where every box needs to be numbered.
Preference deals have been done, between major and minor parties, and especially between minor parties, the only way they have a chance for one of them to succeed in being elected. There is a range of right-wing and christian parties tightly cross preferencing and a range of more progressive micro-parties and independents also cross preferencing and some interchange between left and right.
The ABC's election analyst Antony Green predicts the Greens will retain their 3 MPs and perhaps win more. "Realistically, the minor parties can only win one seat in every region, though in Northern Metropolitan there would be the chance of both a Green and a minor party [candidate] getting elected," he said.
The Greens have a preference deal with Palmer United Party which may help them to a quota in four contests, and they preference PUP candidates in another four regions. The Cyclists party is targeting the Southern metro region enhancing its preference flows in this region and doing deals for its preferences with other micro parties in other regions. The conservative Country Alliance may achieve success in Northern electorate based on Labor and minor party preferences, but is vying for support against the Fishers and Shooters Party.
Napthine announced that the Liberals would put the Greens last, even after the radical rightwing and anti-multicultural party Rise Up Australia. Labor are preferencing Country Alliance candidates above the Greens in country regions which may help elect up to 2 Country Alliance people.
In Northern Metro region – a traditional Labor stronghold, the numbers are such that 2 Labor, 1 Liberal, 1 Green and an independent or minor party may be elected in last position – an unusual outcome. It is a real possibility that Australian Sex Party founder Fiona Pattern may be elected. I think this is the most likely result.
Using http://t.co/om8lxIYvlL @aussexparty may win 5th spot Northern Metro defeating Family First #vicvotes pic.twitter.com/yWME59iHej

— John Englart EAM (@takvera) November 22, 2014
But also vying for that last position is former Wills Independent MP Phil Cleary standing for Voice for the West, community independent Peter Allen, and Family First's Brendan Fenn.
I have done some preference scenarios, and it seems if progressive independent Peter Allan is able to harvest enough small party preferences and finishes second to Family First above Labor and the Sex Party in the count, Sex Party preferences will flow to him, then Labor preferences will flow to Family First electing Brendan Fenn. Another Labor deja vu moment with Family First similar to the election of Steve Fielding is eminently possible.
@beezageeza @toolangi3777 Labor prefs may elect Family First in Northern Metro at expense of progressive independent pic.twitter.com/6snMM6CcMm

— John Englart EAM (@takvera) November 22, 2014
Here is my tip for a possible outcome in the Legislative Council: the 40 seat chamber may result in Liberal 17, Labor 15, Greens 5, Sex Party 1, Country Alliance 2. But Family First, Voice of the West and Fishers and Shooters are also possible to achieve success in one or more contests.
The preference deals can be avoided if people choose to vote below the line by numbering at least 5 or more candidates.
As Tim Read, the Greens candidate for Brunswick, said at the Moreland Climate forum about Upper House Preferences:
"No political party has covered itself in glory. I strongly recommend, and most of the Greens strongly recommend, you choose your own preferences. Number the boxes in order and take complete control of your vote. On the Upper House ballot paper [below the line] you only need to number the first five in order. That should be all within our capabilities."
In #vicvotes to vote below the line (upper house) you only need to number at least 5 squares correctly http://t.co/SSVYMaVXhI #yourchoice

— John Englart EAM (@takvera) November 20, 2014
Feature image from Voteclimate.net.au Victorian election scorecard, used with permission.