15 August 2013
Young people: politically disengaged, apathetic and un-enrolled. This seems to be the portrayal of Gen Y as the 2013 election approaches.
As a 20-year-old election virgin I know this is not always the case. Future Politicians is a website and radio show I run with fellow reporter and election first-timer Broede Carmody. Every week we meet aspiring politicians and get their take on the issues of today.
Our guests are all under 30, articulate and politically engaged in both policy and politics. If you have doubts, listen to Victorian Young Liberal Lev Cherkasski and his Young Labor counterpart Xavier Smith speak on the Gonski reforms. Or the Greens' Tim Baxter discuss same-sex marriage and asylum seekers with Joshua Gilligan from Victorian Young Labor.
I do not deny many young Australians are disengaged. Around half-a-million 18 to 24 year olds were still missing from the electoral role in early August. Others plan to vote informally.
While this may be displeasing, it should not come as a surprise. During my 12 years of schooling- in the public, private and catholic education systems- I never learnt about Australian democracy. Didn't learn about the three levels of Government. Didn't learn about the history of our parliamentary system. Didn't learn about the basic tenets of democracy.
Associate Professor Haydon Manning from Flinders University thinks this may be part of the problem. In an interview with Future Politicians he says we need to know where we've come from, to know what we have.
"We've never really had civics and citizenship taught in schools, and for most people they don't have any real background apart from what they see on the news," he says.
For Prof Manning, understanding our political history and the benefits of democracy is "empowering".
A Lowy Institute poll from earlier this year revealed that less than half of 18 to 29-year-olds prefer democracy to any other kind of government. I'm not sure which alternatives they thought would be equally appropriate. Anarchy? Blanket socialism maybe?
Better political education may change how many young Aussies think and feel about the merits of our democratic system.
Prof Manning certainly believes so. He says embedding civics and citizenship in the school curriculum is a key part of the solution to the politically apathetic youth many mourn and criticise.
"That's where I'm quite hopeful that in future generations we will have a better educated voter," Prof Manning says.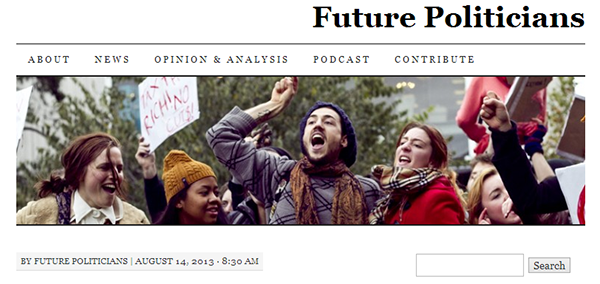 While changes to the school curriculum won't help my generation, I believe we are capable of educating each other. Through our website and weekly broadcast on SYN Future Politicians is working towards this goal.
Each week we explain key political concepts in Jargon Defined. We also profile Federal Electorates and interview a range of political figures and organisations, about the benefits of getting involved in politics.
Future Politicians knows democracy works best when everyone has a say. Even if young people are not interested in politics per say, they are interested in policy even if they don't realise it. Ask any Melburnian student if they want better public transport, or if they think rental prices are unaffordable in our major cities. They care about these issues and more, and these type of issues are affected by government.
If like me it's your first time voting, Future Politicians is here to help. Melbourne University's Dr Aaron Martin shares his top four tips for your first election date. If you're in Melbourne we interviewed the Labor candidate Cath Bowtell, and Greens incumbent Adam Bandt about issues affecting you.
On September 7 the youth vote will be an important force in deciding who forms government. The problem is many young Australians don't realise their vote will be important in their everyday lives as well.