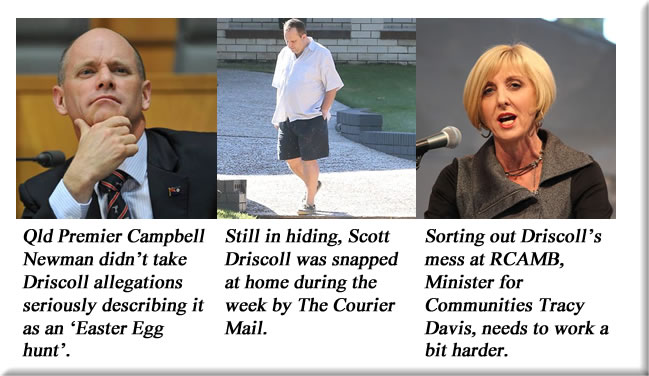 By David Marler
April 21, 2013
Source:
BRISBANE, Queensland Premier Campbell Newman lost another seat in parliament this week with the resignation of Scott Driscoll from the LNP.
The tally of MP's quiting the LNP now stands at four with  Newman's 78 seat majority falling to 74. In addition, 3 Ministers have resigned over nepotism and incorrect ministerial record keeping.
Driscoll had been suspended from the party several weeks ago but will now serve as an Independent for his seat of Redcliffe.
He is also facing seven investigations over financial  mismanagement with community group Regional Community Association Morton Bay (RCAMB) and retailers union Queensland Retail Traders and Shopkeepers Association (QRTSA).
On Friday 12th April, the Queensland Industrial Relations Commission (QIRC) heard multiple irregularities in the way Driscoll had presided over QRTSA.
Alarmingly, it was alleged he deliberately excluded many key executive committee members to meetings where elections were held. One of those excluded was John Hockings, who had brought the official complaint to the QIRC.
Documents had been lodged with the QIRC stating that Hockings had resigned his position from QRTSA. He confirmed through his lawyers that this was not the case. The legal team requested access to all documents lodged with QIRC as it was likely other executive members had been struck off also. It now raised serious fraud questions.
The QIRC was also told that Driscoll had wrongly disposed of QRTSA assets and property. Requests from Hockings to Driscoll for the receipts of sales were repeatedly ignored.
The Industrial Registrar also noted a discrepancy between the 835 QRTSA members officially lodged with QIRC and the 164 members that had been supplied to Electoral Commission Queensland (ECQ). These irregularities pointed to a gross mishandling of elections.
With the beginning of a sitting week in the Queensland Parliament, Driscoll did not attend, stating he needed to care for wife Emma who was home with an undisclosed illness.
In his absence, the Government removed him in his position on the 'Parliamentary Health and Community Services Committee'. His replacement was the failed former Arts Minister, Ros Bates who was embroiled in nepotism claims.
Led by LNP President Bruce McIver, the party executive was also done with him. They scheduled him to appear at a Saturday meeting to 'show cause' as to why he shouldn't be expelled from the party.
As this news broke, The Courier Mail released February text messages in which Driscoll vowed to an associate that he would never be pushed out the back door but to go out 'guns blazing' and that he would release a book of 'where the bodies were buried'.
However, for all his bravado, he remained a political coward and resigned the night before the meeting.
His resignation letter was bizarre and he blamed Labor for the whole smear campaign against him.
"Now all Labor seem to want to do is throw mud and attack people on a personal and family level. Smear and slander based on gossip and rumour is not a valid alternative to having a good policy platform and having an honourable intent to serve the Queensland community. I don't think they quite get that concept yet."
He made odd references to movies in order to absolve himself of any wrongdoing.
"We've heard various utter rubbish allegations that I've basically exercised some sort of special "Jedi Mind Control" over people on private Boards that I've never even sat on myself or had a razoo of power over, just so they would give my wife a job, or offer her company a contract to provide services, even before I was elected to Parliament. I mean fair dinkum, it's pretty insulting stuff against a woman like my wife who is more than able to get herself a job on her own merits and has run her own successful businesses long before she ever met me."
"And we've been fed lines about some sort of secret "Bat Cave" type set up apparently operating in a secret wall cavity of my Redcliffe office with massive rivers of gold and diamonds basically flowing through to companies my family is linked to. And I supposedly sit their like Dr Evil and get confused between how many millions, billions or trillions are being made while stroking some hairless cat."
At the end of his political life with the LNP, he'd failed on all fronts to serve the people of his electorate. His electronic footprint showed that he placed himself first.
He had lied to Parliament about phone lines installed in his office to serve as a 'community hub' and had subsequently been referred to the Ethics Committee. The Clerk of Parliament was now also investigating this matter to see if parliamentary resources had been misused. One of the first things new Attorney-General Jarrod Bleijie had done was to introduce laws that made lying to Parliament a criminal offence.
It was left to Minister for Communities, Tracy Davis to fix Driscoll's other mess at RCAMB. Or so Parliament thought.
On 20th March 2013, she had informed the house that 'our department is working hard with the community centre to ensure its viability.'
Not nearly hard enough it seemed as RCAMB was declared insolvent 8 days later and 23 staff lost their jobs. Staff were surprised to hear Minister Davis' 'working hard' statement as no one from the Government had been in contact at all.
It raised many questions of Davis which the Opposition was happy to challenge her on when Parliament resumed. Why had she left it to the eleventh hour to act? Why cut off funding, when it had been obvious all along that funding was the main problem in keeping RCAMB alive? Had she mislead Parliament?
A nervous Davis was peppered with five questions during the one hour question time. As Brisbane Times press gallery reporter, Amy Remeikis noted, 'at times she appeared to struggle to find answers'.
She told the house that the Opposition should direct their questions to the minister for health, rather than herself, over the PriceWaterhouse Coopers audit into RCAMB. To which the Opposition claimed she had misled everyone in her media release as it was implied that her department was performing a forensic audit.
Davis denied this and began a rant, blaming Labor of not caring about the people of Redcliffe and accused the Labor party of using the situation as a tool to hold onto the Federal seat of Petrie.
She informed the house, "Their (Labor) interest in Redcliffe is only Yvette D'Ath staring down the barrel of defeat at the upcoming state election. They do not care about the people of Redcliffe. They do not care about the workers of the Redcliffe community association. We are about ensuring that services continue to be delivered in the area, and that is exactly what we are doing."
Whilst services had been redirected to another community group in the Redcliffe area, Davis herself had done nothing throughout the whole saga.
In a statement, Opposition Leader Annastacia Palaszczuk called for Davis to shape up or stand down.
"She had the power to order a forensic audit of the association but when everyone else could hear the alarm bells ringing she did nothing."
"Either the Minister shapes up and starts to take a hands-on approach to this problem or she should go and make way for someone who is willing to do that."
"When the RCAMB and Mr Driscoll have been so closely linked the Minister needs to give priority to sorting out the association's financial problems and looking after its staff and clients."
Premier Newman returned from his COAG meeting in Canberra and told reporters that he was happy the whole Driscoll saga was over. He'd failed to take direct action over his MP and ridiculed the saga as a 'Easter egg' hunt driven by the Labor party.
Now he denied that he had ever supported Driscoll. When challenged on this, The Courier Mail reported that his responses were terse.
"You have to go back and look at the record," the Premier said.
"Mr Driscoll is no longer a member of the LNP. He has not been a member of my government for some weeks.  He now stands accountable to the people of Redcliffe."
As to the Premier accepting Driscoll's vote in the house he said, "We don't need his vote. He can vote anyway he likes."
Newman had washed his hands of Driscoll weeks ago and now he wiped them on Queensland.
The Driscoll affair currently involves seven investigations: