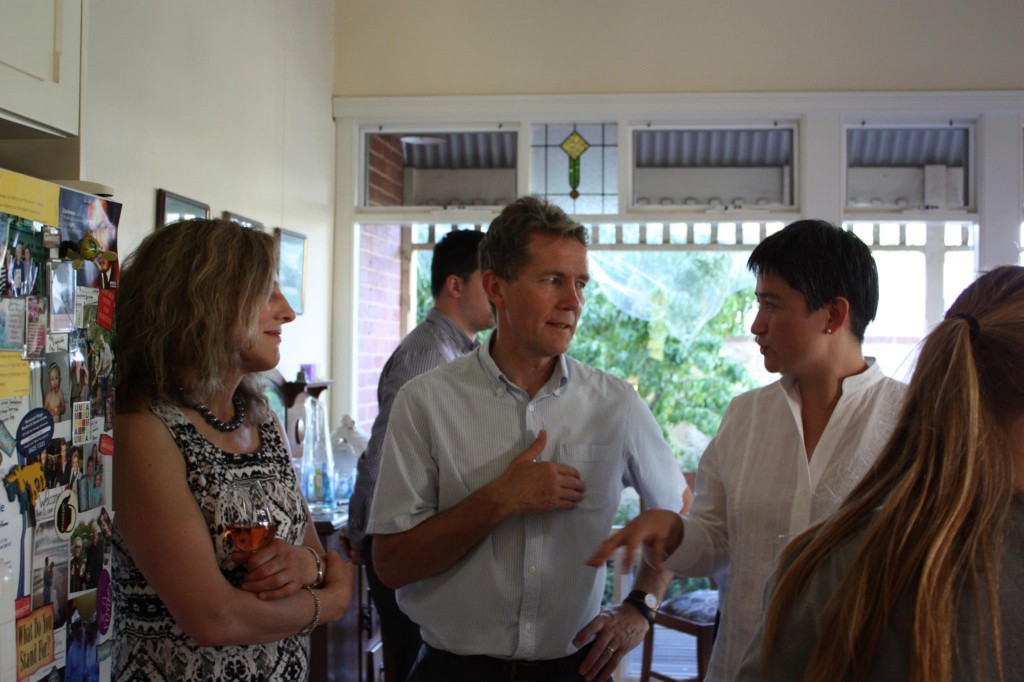 7 July 2013
Shane Willsmore first report: Reporting democracy in the seat where I live: @willsmore298 in Sturt
Rick Sarre is the ALP Candidate for the federal seat of Sturt, in the east/north east of the glorious city of Adelaide. The current sitting member is the ever smiling Mr Christopher Pyne, and has been for the last 20 years. Sturt needs slightly less than a 4% swing towards Labor to welcome in its first ALP politician in 40 years. Rick is the first ALP candidate to come back for a second go since 1972. Labor recognition polling has shown that around 10% of people recognise him as the federal ALP candidate for Sturt. This doesn't sound too good until you compare the fact that only 15% of people recognise Christopher Pyne!
On the 14th of June I met with Rick for an hour and a half at his home, discussing all manner of things. Ah, June, I remember June, our Prime Minister was still Julia Gillard, and Howard Sattler had just asked her if her life partner Tim, was gay. (Not that it should matter. Unless they're your life partner, and the opposite sex to you, and you're the PRIME MINISTER.)
So, anyway, what is my honest impression of Dr Rick Sarre? Rick presents as an absolutely pleasant, polite, good mannered bloke living a rewarding middle class life as a Law Professor, with a beautiful family, wonderful sandstone home with a pool, in a beautiful suburb. He has lived his whole life of 57 years in the seat of Sturt, and shows a genuine desire to provide a Labor voice to its people.
My impression is of a man whose politics reflect the small l liberal values of the progressive elements of his baby boomer generation. His are the values of inclusion for those less fortunate, and he has lived his values as a pro bono lawyer – in the 80s and 90s supporting asylum seekers to log their claims, and as a volunteer at Norwood Legal Service, supporting the powerless to access their rights and a fair go.
I don't see the stereotype of the working class boy made good, because I don't see the working class boy. This is not a criticism, as an affinity with the 'middle class' is going to be needed to steal some of these votes from Christopher Pyne. Rick and Christopher mix in similar circles within the southern and affluent end of the seat of Sturt. They know each other, and Chris Pyne attended a Community Aid Abroad meeting in Rick's home 15 years ago to discuss foreign aid. Rick and Christopher could be friends, but with some different values about the world. Many of Rick's friends have said to him, "Love to vote for you Rick, but you're standing for the wrong party".
Despair is a word Rick uses to reflect on life under a Tony Abbott lead Liberal government. He makes a comparison between the LNP Fibre to the Node NBN and our eclectic Southern Expressway (which takes traffic north in the mornings and south in the afternoons, except on weekends), noting that the cost to make the expressway two-way is now three times what it would have been if it had been done properly in the first place. He despairs at the effect on education if the Gonski reforms are shut down, and the international laughing stock we will be if we move away from our initiatives around a carbon price and carbon trading. The simple slogans of "Stop the Boats" etc, are indicative of the "frightening scenario of having these people in charge of the country".
Under an Abbott government Rick feels South Australia will become a desert, with the only Minister being Christopher Pyne (if elected). He is very nervous about pressure from Western Australia and other states to change the distribution of GST revenue to suit themselves. Barnaby Joyce having influence over decisions around water usage in the upper reaches of the Murray Darling basin is also a concern.
Rick will say nothing disparaging about Chris Pyne, even though someone from within the Liberal Party is likely to have leaked highly damaging information to the media at the last election about an unfortunate reference Rick gave for a man charged with serious offences against children. Even though I'm raising it again here, I don't imagine it will be raised by Chris Pyne this year, seeing that his boss Tony Abbott seems to have found himself in the same sort of situation, with a reference for a particular priest. Rick's explanation of this situation did not reflect badly on him, to the contrary it reflected the noble willingness to say the truth even when it's hard. However, it did indicate the sort of values system that could be sorely tested in the grubby world of politics.
Rick Sarre is a long time member of the Norwood sub-branch of the ALP. He joined after returning from a student trip to the former Soviet Union, where he was influenced by the highly educated Soviet students who could not believe a young person with an interest in politics was not involved in a party where they could wield some influence. He believes he can give to Sturt a "backbencher who does nothing but work for the electorate".
Although he sees Chris Pyne as a hard working local member who attends the opening of a shoe box (my words not his), he feels Christopher's commitment to the politics of Canberra, and the "Machiavellian planning and plotting" leaves him less time to attend to the needs of the electorate of Sturt. Neither he, nor I, could think of a big legacy project Christopher Pyne had negotiated for the seat of Sturt, over his 20 years as local member.
A strong supporter of our former Prime Minister Julia Gillard, who he describes as "formidable and fantastic", "a wonderful orator", and "forthright and smart", he was amazed at the general vilification of her. To be fair to our current Prime Minister Kevin Rudd, his name did not come up in our conversation, as he was still on the backbench at the time.
Rick is keen to get involved in Social Media to spread his message in the weeks leading up to the election. He's thinking Facebook, Twitter and perhaps some Youtube videos. At the last election he door-knocked close to 1000 homes, and made hundreds of phone calls. These are strategies he will employ again this year. He's focussed on connecting with the 5000 new voters to have come of age since 2010, as well as continuing to build his recognition within the wider electorate. Rick's budget is small, and he is facing a foe with a reported $500,000 kitty for electioneering. In the financial stakes it is clearly David against Goliath. He will need to aim his rocks very carefully.
To conclude, I think Rick Sarre would be a calm, considered voice of reason, with a strong social conscience, and a love for the seat of Sturt, its people and places. I think he is genuine, and has integrity. He values the great benefits of multicultural Australia, and takes a common sense but compassionate approach to difficult issues such as asylum seekers. It was a pleasure to talk at length with him, and I wish him the absolute best in his campaign.
Read More:
Rick Sarre Facebook page
More Citizen Reports on Seats