The independent MP for Indi, Helen Haines, has accused the Prime Minister of "pulling the wool over our eyes" on a Federal Integrity Commission (FIC) by proposing an MP "protection commission", and pledged to force Coalition MPs to vote on her bill during parliamentary sittings beginning next week.
She also linked climate policy with the need for a FIC in a #transitzone interview to be published soon: "Integrity and climate are so inextricably linked because what we don't know – because there is no transparency – we don't know who is currying favor with our elected officials when it comes to policy on climate," Haines said.
"It's why the crossbench, I think, have led the nation on the debate on integrity and on climate, because they sit together.
"The government is not for real. That's patently clear," she said, citing "the delays, the misinformation, the egregious activities alleged that have happened over the last year and the complete stalling of any federal government legislation". She added that the government's draft legislation, still not introduced to parliament nearly a year after its release, "is a complete and utter sham".
According to Haines, the government's draft bill established a strong FIC for police and the border force law and an almost meaningless one for politicians and senior public servants, including a ban on whistleblowers reporting wrongdoing, no investigation of political corruption not a criminal offence, no public hearings, no public report and a ban on even implied criticism of a politician or staffer.
"This is a very special design by Mr Morrison and his team to absolutely and utterly set up a protection commission for MPs and senior departmental staff. It's a complete and utter nonsense. If I was them I'd be embarrassed to step out in public to say this. The hubris of this, if it wasn't so serious it would be hilarious.
"This is a broken promise that I think is of such proportion that any person out there trying to make a decision on who they might vote for would do well to think about what it says about a government who tried to pull the wool over our eyes about something as fundamental as integrity. It's extraordinary."
In October last year, after the government failed to introduce legislation despite an 2019 election pledge to enact a FIC within 12 months, Ms Haines introduced her FIC bill and won the support of Labor, the Greens and every cross-bencher in the House of Representatives and the Senate to debate it in parliament. She planned to move a motion to suspend standing orders to debate the bill, but the Prime Minister brought wavering Coalition MPs into line by releasing draft legislation for a weak FIT for yet more consultation.
Ms Haines said she'd agreed to requests by sympathetic Coalition MPs for time to see how consultations played out, but nearly a year later, with no progress she'd had enough.
"I've been doing considerable work with my colleagues to find a way to bring back my bill and to debate that. There are several parliamentary tools at my disposal," she said. They include reintroducing her bill to the House of Representatives and moving a motion for immediate debate or the Senate passing her bill. Both would force Coalition MPs to vote against debate or crossing the floor, putting them on record before the election.
"Watch this space. I won't be silent on this, I refuse to be silent on this," she said, and predicted the government could counter by introducing its proposed sham FIC and sending it to a committee to avoid any parliamentary debate or vote before the election.
Classic Obfuscation
According to Haines, this would be the latest Morrison tactic to make it easier "for Coalition MPs considering exercising their right to make a conscience vote and not vote with their party" to close ranks, she said, but every knowledgeable person had "trashed (the government's) bill as completely unworkable."
She warned Coalition MPs that "the Opposition could be quite happy" if that Morrison tactic worked. "It's a tremendously strong argument going into an election that Morrison broke the most fundamental promise of his election campaign on integrity. The irony of that is breathtaking."
Ms Haines said the government's attempt this month to set up a "false dichotomy' between the NSW ICAC (Independent Commission Against Corruption) or nothing was "mischievous" and "classic obfuscation", as was Sunday's confirmation by communications Minister Paul Fletcher that the government would not countenance public hearings.
"We cannot have the public blind to the findings of a body set up to ensure we have a pro-integrity government. It's look over here politics… it's so clear they do not wish to do this," she said.
The Centre for Public Integrity's comparison of the State FICs, Haines' bill and the Government's draft bill.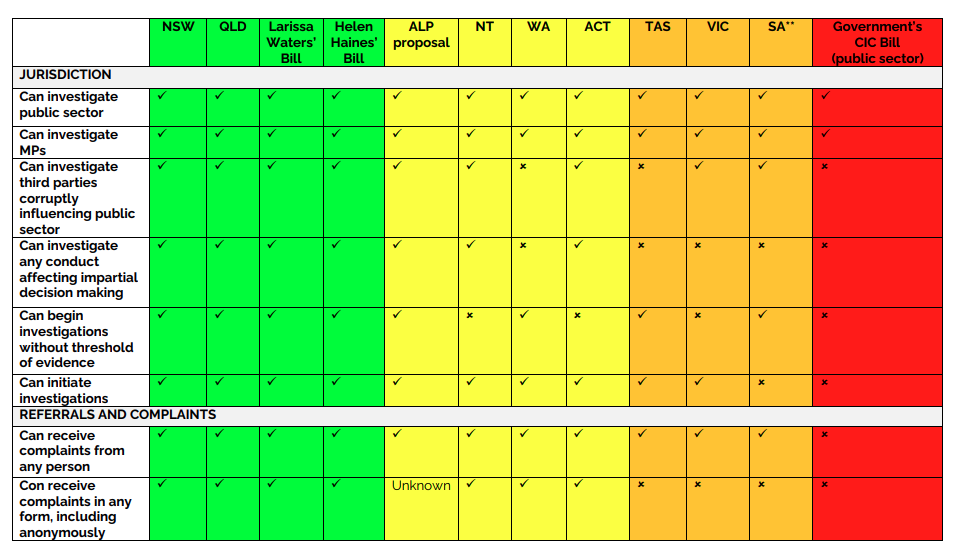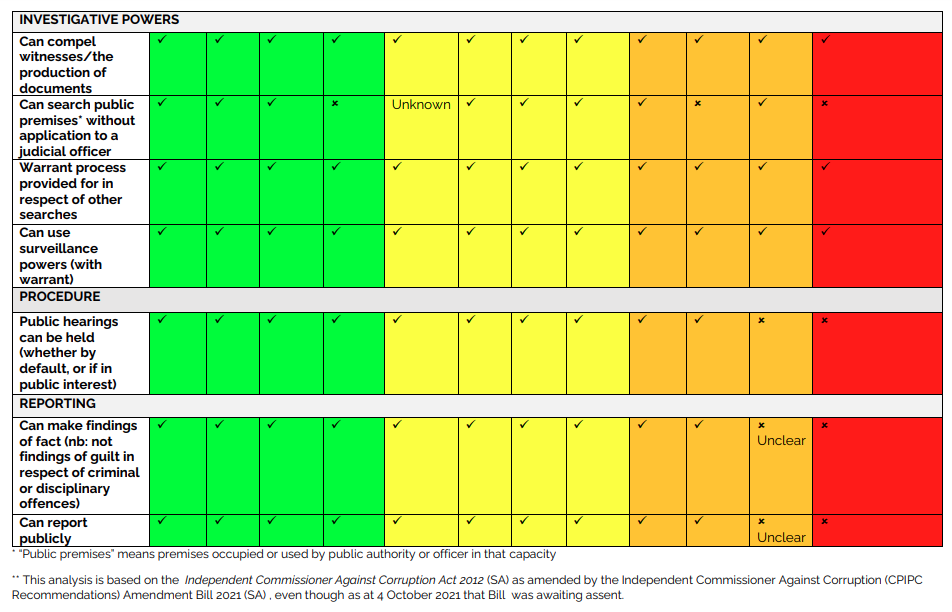 Summary of Government inaction on a FIT
Despite all states and territories enacting anti-corruption bodies, Labor first committed to a Federal Integrity Commission in January 2018 and pledged at the 2019 election to enact one a within 12 months of taking office.
The Coalition remained adamantly opposed – Morrison called it "a fringe issue" – until his hand was forced by a crossbench push after Kerryn Phelps won the Wentworth by-election saw Cathy McGowan introduce a bill in November 2018 and attract support from a National Party backbencher.
Cornered, Morrison stalled momentum by reversing his opposition to any FIT and releasing an outline of an extremely weak bill – no whistleblower referrals, no public hearings, no public findings, only criminal offences investigated – with a request for submissions by mid February 2019. At the May 2019 election, he matched Labor's pledge to establish a FIT within a year.
In August 2019, Attorney-General Christian Porter told parliament he was finalising legislation to present to the house by the end of the year.
But the following month, the Senate passed the Greens version of the McGowan bill backed by Labor, the Centre Alliance and Jacqui Lambie; and after a Coalition backbencher said the government's draft bill was too weak and he could cross the floor, Porter abandoned his pledge and sat on his hands.
Nothing happened until October 2020, when Helen Haines introduced a modified version of McGowan's bill to parliament and won the support of Labor, the Greens and every House of Representatives crossbencher to debate it. She needed just two Coalition backbenchers to cross the floor, and momentum seemed unstoppable. Again, Morrison stalled it when Porter released draft legislation at last but delayed its passage with yet more consultation.
Nothing happened, again, until carpark rorting revelations saw new Attorney-General Michaelia Cash promise Parliament in July she would introduce legislation by the end of the year.
This month, however, Deputy Prime Minister Barnaby Joyce questioned the need for any Federal Integrity Commission after the resignation of Gladys Berejiklian, and assistant minister Amanda Stoker said she merely "hoped" to introduce the government's legislation this year.
A detailed Australia Institute timeline can be accessed here.
Transit Zone podcast: Bird's eye view of #MackellarVotes for #transitzone.