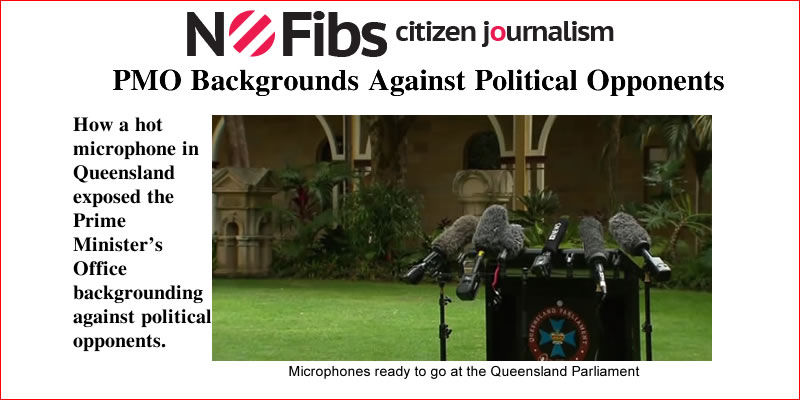 Backgrounding against the Palaszczuk Government prior to the state election
A hot microphone at a press conference in Queensland on Friday, September 4, 2020 exposed just how the Prime Minister's Office (PMO) attempts to influence journalists against their political enemies.
Nine News Queensland journalist, Lane Calcutt, confirmed he was not relaying the PMO questions they wanted him to ask the Queensland Premier Annastacia Palaszczuk. They became highly critical of him over text messages of the questions he was asking.
PMO backgrounding against Victoria Premier Daniel Andrews
Journalist Malcolm Farr's told ABC's The Drum in August 2020 that the PMO was "filthy" with Victorian Premier Daniel Andrews over his covid-19 response. He revealed a system where senior figures in the federal government were "encouraging journalists to criticise Premier Andrews".
Peter van Onselen backed away from backgrounding allegations
Political commentator Peter van Onselen also alleged that the PMO had texted ABC journalist Fran Kelly while the two were on-air. He has since deleted the tweet but a trace text message exists.
Interesting moment with @frankelly08 on ABC radio. Discussing Vic belt & road deal I noted federal ministers offered support for it early on. PMO texted in to refute that, Fran put it to me, I pointed out I had transcripts, Fran read them out shortly after. Thanks for playing…— Peter van Onselen (@vanOnselenP) August 27, 2020
Van Onselen threatened to name names but nothing ever came of it and the tweet has since been deleted.
PMO backgrounding against David Sharaz and Brittany Higgins
Brittany Higgins, who alleges she was raped by a fellow Liberal staffer, challenged Peter Van Onselen later in May about his backgrounding allegations.
"The Prime Minister's Office has been backgrounding that her partner, her now partner has a vendetta or a gripe might be the better way to put it, against the government because of him being a former public servant." The Political Editor for Channel Ten and columnist for The Australian Peter Van Onselen joins RN Breakfast to discuss the latest developments in federal politics.
During a short exchange, he backed away from any knowledge of the people involved in the 'cowards castle'. The Tweet has also been deleted.
Last week I revealed the PMO was backgrounding against Brittany Higgins partner. Labor asked about it in the Senate. Simon Birmingham reported back the PM isn't aware of anyone doing that. I've asked the PMO if the PM bothered to look into it or is just happily unaware 🤷‍♂️
— Peter van Onselen (@vanOnselenP) February 24, 2021
David Sharaz no choice but to resign
Brittany Higgins' partner has been forced to abandon his job over fears he will be frozen out by ministers as payback for the crisis now engulfing the government. Brittany Higgins' partner abandons Canberra job due to fears of payback.
PMO backgrounds against vaccination incentives
During a recent covid-19 vaccination push in Queensland, the government worked with the National Rugby League (NRL) to offer free tickets to the grand final in Brisbane. The PMO found something wrong in the Therapeutic Goods Administration guidelines which were supposed to have been updated on July 16, 2021.
Less than an our later, things started to change.
Queensland Deputy Premier Steven Miles was able to ascertain that there had been no problem from the TGA side. It was the guidelines that were out of date.