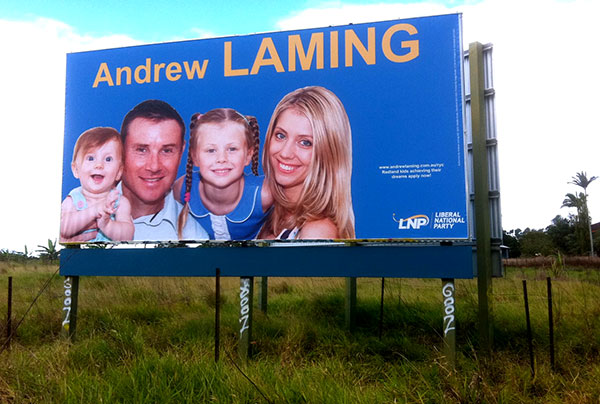 It's been an interesting year for voters in the Redlands, the federal division of Bowman in south-east Queensland. A few key incidents have put this region on the political map, but unfortunately none of these was a result of good political representation for residents.
First and foremost were the infamous tweets from our sitting federal member for the LNP, Andrew Laming MP, the first of which defined a family dispute in a suburb outside this electorate as "Mobs tearing up Logan".
Mobs tearing up Logan tonight. Did any of them do a day's work today, or was it business as usual and welfare on tap?

— Andrew Laming (@AndrewLamingMP) January 14, 2013
Another exhorted Prime Minister Gillard to declare her whereabouts when opposition leader Tony Abbott was on the ground witnessing Queensland's flood crisis. It would have been a fair call, had the PM not been seeing to bushfire-ravaged Tasmanians at the time.
Tony Abbott at a Brisbane SES depot today. Where's the PM?

— Andrew Laming (@AndrewLamingMP) January 28, 2013
Nice work, for the man described on his website as: "Australia's most innovative user of social media in politics".
On both occasions, Laming was quick with his thumbs on follow-up tweets, but at this end of the election campaign he seems to be keeping a relatively low profile.
I've respectfully requested an interview and submitted questions (none of them about his tweets), but Mr Laming offered the excuse of needing an election date in order to book me in, and then reneged after the election had been called. I got the hint.
More recently Redlanders have endured the fallout in State parliament after an LNP member's member was decanted into a wineglass and photographed, then texted to a woman state MP Peter Dowling (the man attached to the member) was conducting a long term extra-marital affair with.
Again, this wouldn't really matter had Dowling not been chairman of Queensland's parliamentary ethics committee at the time.
I overheard locals on my ferry discussing the local media's line that Dowling had seen fit to apologise to everyone affected by his behaviour, apart from the people he represents. Fair call.
These men only have themselves to blame if many Redlanders' minds are not on their ideas and achievements. Add to this the fact that the first is a sitting member in opposition, the second is a backbencher, and while they represent Redlanders in federal and state parliament neither has a blinding political track record to counter these self-inflicted scandals.
Nevertheless, I wanted to meet the people hoping to represent me to hear their stories and ascertain their visions for the Redlands. Margo Kingston, the journalist behind this project, said she was interested in ascertaining what kind of democracy-in-action exists in the electorates of Australia. As a newcomer, I had little baggage to bring on this search.
While the other candidates were generous with their time and their plans, I can safely say there is very little democracy-in-action here in Bowman.
It depends how we define democracy, of course, but if we were to say that a democratic election allowed the most voters to meet, hear and question the candidates vying to represent them, Bowman is failing voters miserably.
It seems democracy is really on the road in the Redlands, which must be why the most experienced candidate – Darryl Briskey for the ALP – hit the tarmac in a brightly-emblazoned borrowed caravan for a campaign office.
Having represented this region in state politics for 17 years, he's willing and able to meet with Redlanders without us stepping out of our cars. When we spoke I detected a hint of the party post-Rudd-redux line in some of his answers, but I could not fault his commitment or his track record. Neither could plenty of passers-by who tooted him in recognition.
Savvier candidates like Penny Allman-Payne for the Greens bring more of a future-sense to the campaign, but also the bare-faced truth.
It was Penny who gave me an honest answer about the limited meet-the-candidates opportunities in Bowman, and the hard work smaller parties face in establishing a foothold in the Redlands.
Considering he has a mining magnate for a political boss, John Wayne of the Palmer United Party took me by surprise with his understanding of environmental principles.
Since he's an oyster farmer (amongst other things), he relies on clean waterways, and Bowman is replete with waterways, clean or otherwise. John also had a keener understanding of Bowman's island population, being resident on North Stradbroke for a large part of every year.
After meeting them, I would trust any of these people with the reins of Bowman.
They're all excellent communicators, all refreshingly self-effacing, all identified a clear vision for the region to prosper, and they all left me with strong impressions.
Darryl Briskey started campaigning on the road more than six months ago at a time when the ALP would have written the seat off under Julia Gillard as Prime Minister.
Penny Allman-Payne said, "I won't be preferencing. People decide preferences, not parties."
And John Wayne of the PUP was the only candidate who used the word 'Masterplan' for the Redlands when envisaging what the region needs in its evolution.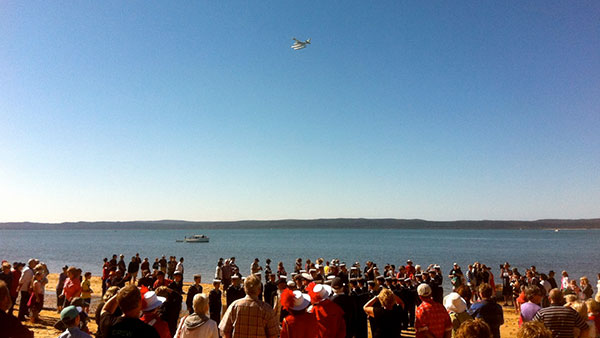 Whatever happens on September 7, I hope democracy gets the stretch it sorely needs in Bowman. Even a little one would do.
Former candidate for the 21st Century Australia Party, Fernando Alba, has decided not to stand for election after the AEC prevented his party from appearing on ballot forms.
A fifth candidate, Andrew O'Shea of the Family First Party, has also nominated for Bowman.
More Bowman Reports