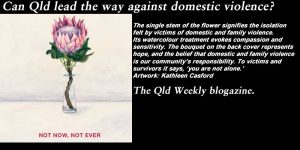 Highlights
Blog the week
Check back with us as we blog the week in Queensland politics. Former Queensland Governor Quentin Bryce's report into domestic violence in Queensland, the Queensland LNP hosts International Women's Day at male only members club and Premier Annastcia Palaszczuk takes up the charge against Prime Minister Tony Abbott ahead of the 2016 federal election campaign.
Not now, Not ever
"Let us together send a message to Queenslanders. Not now, not ever. We must eliminate domestic and family violence," wrote former Australian Governor-General and former Queensland Governor Quentin Bryce in her report into domestic violence in Queensland. The report was handed by her to Premier Annastcia Palaszczuk on Saturday, February 28, 2015.
On the following Monday night, another suspected murder-suicide was reported at Biddeston, 25 kilometres west of Toowoomba, taking the lives of a 7-year old boy and his pregnant Mum. His Grandfather was also found deceased in their home of suspected self-inflicted gunshot wounds.
Governments don't seem as effective in responding to the problem as they do to an act of terrorism. Even though domestic violence is happening all around Australia, perhaps it's because the community can't see a domestic violence incident happening in the same way they witness a terrorist siege being played out on live television or on the front pages of newspapers.
From the report, "in 2013-2014 there were 66,016 occurrences, a 2.7% increase on the previous year. This means, on average, 181 incidents of domestic and family violence were reported to police every day in Queensland in 2013-2014. Tragically, 17 domestic and family violence related homicides occurred in Queensland in 2012–2013, a significant proportion of the total 49 homicides in the state in the same period."
Bryce's task group made 140 recommendations, ranging from a community prevention strategy, modifications to the court system, establishing more crisis shelters and greater training for police officers. All recommendations should culminate in amendments to the "Queensland Domestic and Family Violence Protection Act".
The Queensland Government will now take time to research the report and respond. The trick for Palaszczuk will be to get all parties of the 55th Queensland Government to put politics aside and work together in consultation with the community to implement the recommendations. If not, it will be just another document on top of the growing pile of reports.
The full document is available for public comment here, "Not now, not ever – Putting an end to domestic and family violence in Queensland".
(March 7, 2015) – Get out of jail free
The Courier Mail has sensationalised the piece by its own reporter Jason Tin resulting in a misleading front page, "Get out of jail free". The "revelation"suggests Premier Annastacia Palaszczuk will let criminals out of jail, a far fetched claim. This misinformation provides no intelligent debate on the issue of overcrowding in Queensland jails. As indicated by ABC's Matt Wordsworth this week, the number of indigenous prisoners since Campbell Newman came to power in 2012 has surged. Early in his administration, the decision was taken by former Attorney-General Jarrod Bleijie to close the indigenous Murri Court system which allowed offenders to be sentenced but serve time in the community under indigenous elder supervision.
With funding cut to Murri, founding member Uncle Albert Holt warned the Newman Government in 2012 that it would need to build more jails.
"It is absolutely disgraceful for the elders who participated in the Murri Court," he told The Satellite. "It's unacceptable the over representation of Aboriginal people in the criminal justice system. We've got a lost generation just in our jails. The government didn't even have the decency to address the issue with the elders and I think that's abysmal."
However, Bleijie dismissed the 11 year old system saying, "The Murri Court was not delivering consistent results and did not justify the amount being spent to keep it operating. The program was not reducing imprisonment rates for indigenous offenders and has not stopped recidivism in the short term."
As Tin pointed out in his article, with there currently being 7192 prisoners in custody, the options for the government are to continue to double up prisoners in cells, have some serve community service for misdemeanors or spend the $1 billion necessary to build new prisons. The latter would take a considerable amount of time to implement.
The graph that should keep new Police/Prisons Minister @JoAnnMillerMP awake at night #qldpol pic.twitter.com/qX9pmsBhYY

— Matt Wordsworth (@MattWordsworth) March 5, 2015
First bionic heart
Hells Angels ride out for first time since VLAD
(March 6, 2015) – International Women's Day
LNP's International Women's Day at Tattersalls men's only club
'Go home, Get a life' – one Tattersals Member dismissing protesters @NewsTalk4BC #qldpol pic.twitter.com/KtZw1xFPLX

— Nick Wiggins (@nick__w) March 6, 2015
This group hopes to become members at Tattersals Club 'Tony Abbott says the glass ceiling's broken' #qldpol #auspol pic.twitter.com/vu7ZGObj5x

— Nick Wiggins (@nick__w) March 6, 2015
Protest against LNP holding its Int Women's day lunch at men's only club Tattersall's @tennewsqld #qldpol pic.twitter.com/lSSCGoXlxf

— Tegan George (@tegangeorge) March 6, 2015
The women who helped form Qld's Paliament
New research helping women with breast cancer history
One of Qld's greatest female leaders retires
Premier Palaszczuk rallies Labor NSW ahead of state election
Qld Premier Annastacia Palaszczuk rallying Labor party faithful in nthn NSW w tales of her David v Goliath victory. pic.twitter.com/X9LkCimXO1

— Sarah Gerathy (@sarahgerathy) March 6, 2015
Hells Angels ride against Newman's VLAD laws
Queensland Health waiting lists
Qld health minister says 114,000 patients waiting longer than clinically reccmded on hospital list. @7NewsBrisbane pic.twitter.com/gw3xwelmoj

— Katrina Blowers (@katrinablowers) March 6, 2015
TC Marcia – Counting the cost
Newman Government's BaT tunnel scrapped
Qld developments
(March 5, 2015) – Selling non strategic assets
Asset sales on agenda
#Qld Deputy Premier @jackietrad has confirmed minor #assets like unused land and vacant buildings will go under the hammer #qldpol

— Marty Silk (@MartySilkHack) March 5, 2015
#Qld deputy premeir @jackietrad has hinted some #asset sales may have to go ahead because the @LNPQLD govt already signed contracts #qldpol

— Marty Silk (@MartySilkHack) March 5, 2015
"We said that we would not sell assets that deliver the dividend to the Queensland state budget," Deputy Premier @jackietrad says #qldpol

— Marty Silk (@MartySilkHack) March 5, 2015
The ETU should dust off anti-asset sale signs against @QLDLabor following latest backflip by @jackietrad #qldpol pic.twitter.com/ul4ouMIuG8

— Lawrence Springborg (@SpringborgMP) March 5, 2015
Eastern Busway project back in favour under Labor
Demolition of old Myer Coorparoo to start in a few weeks says @jackietrad @abcnews #qldpol pic.twitter.com/YLH0dR2Q7m

— Chris O'Brien (@COBrienBris) March 5, 2015
#Qld Deputy Premier @jackietrad and Greenslopes MP Joe Kelly look over plans for new #Coorparoo development #qldpol pic.twitter.com/Lq7Q4HSD0I

— Marty Silk (@MartySilkHack) March 5, 2015
MP pay rise will not be implemented
Weapons in schools
TC Marcia triggers green river bloom
TC Marcia – Federal Government called on to do more
AIDS Council funding restoration
Autumn heatwave
(March 4, 2015) – March 4 march
Sexual assaults in schools on the rise
Charges dropped for 'Not Campbell Newman'
LNP to celebrate International Women's Day at men only membership club
#qldpol @LNPQLD to hold International Women's Day event at men only membership club. pic.twitter.com/qwzsxMVPwK

— David Marler (@Qldaah) March 4, 2015
To the gates – Protesting the Abbott Government
#SolidaritySelfie was very popular at the #March4 rally in #Brisbane today against changes to penalty rates. #qldpol pic.twitter.com/MmqKDD91bX

— AnnastaciaPalaszczuk (@AnnastaciaMP) March 4, 2015
Addressing the #March4 rally for workers rights in Brisbane with thousands of Queensland workers. #qldpol pic.twitter.com/O8YJVHNNa2

— AnnastaciaPalaszczuk (@AnnastaciaMP) March 4, 2015
Premier @AnnastaciaMP addresses Union rally @NewsTalk4BC #qldpol pic.twitter.com/0gy81HGap8

— Nick Wiggins (@nick__w) March 4, 2015
Blunt message. Brisbane Union rally #9News #qldpol pic.twitter.com/x2RiA1cmYR

— Shane Doherty (@ShaneDoherty9) March 4, 2015
Parliamentary visitors get a lesson in democracy #union rally #9News #qldpol pic.twitter.com/hEihIOns8J

— Shane Doherty (@ShaneDoherty9) March 4, 2015
Queensland research into Ebola vaccine
(March 3, 2015) – Hear and say
'Not now, Not ever' – Breaking down male stereotypes
Premier holds promise to oppose Wavebreak Island development
Year of the goat
Chinese New Year is being celebrated tonight at Parliament House to welcome the Year of the Goat. #qldpol pic.twitter.com/LK8NARcUYD

— AnnastaciaPalaszczuk (@AnnastaciaMP) March 3, 2015
Racism condemned by top cop
New Hear and Say centre for Ashgrove
Premier with @QldGovernor, @katejonesqld & Dr Dimity Dornan AO at the opening of the Ashgrove @HearAndSay centre. pic.twitter.com/Ci4vkmUD04

— AnnastaciaPalaszczuk (@AnnastaciaMP) March 3, 2015
Welcome @katejonesqld to the Official Opening of our Brisbane Centre with Ambassador Jamie-Lee Lewis pic.twitter.com/XaFpvCv6HA

— Hear and Say (@HearAndSay) March 3, 2015
Miss Zia Dredge & @HearAndSay Patron the Governor unveil a plaque at the new Ashgrove #HearnandSay Centre pic.twitter.com/N7AE7sLZrK

— Queensland Governor (@QldGovernor) March 3, 2015
Lunch with the LNP
LS joined key tourism leaders for lunch at Port Douglas with @JPLangbroek @CostoMP & David Kempton #qldpol pic.twitter.com/oZnkFo50dM

— Lawrence Springborg (@SpringborgMP) March 3, 2015
In Cairns today, LS and @CostoMP chats to John Mackenzie @Radio4CA about jobs and economy #qldpol pic.twitter.com/Asnjm6vm1p

— Lawrence Springborg (@SpringborgMP) March 2, 2015
Dr Ken Levy
On Ken Levy remaining head of CCC 'we're getting some advice there' #9News #qldpol pic.twitter.com/qjChlEkaWn

— Shane Doherty (@ShaneDoherty9) March 3, 2015
Farewell to Qld Health staff from D-G
Queen's Wharf casino concerns
Saving Queensland's Green Sea turtles
(March 2, 2015) – Terror guards
Fear of underground fire
Palaszczuk's warning for Abbott
The hot interior
No specific threat to schools
#qldpol Abbott Govt told CM about school security measures but not the community or Qld Govt: http://t.co/tiOiJbvojG pic.twitter.com/Xc3PW33YED

— David Marler (@Qldaah) March 2, 2015
 Greyhound racing
Review into greyhound racing in Qld has to 'tourniquet the problem' says Racing Min @BillByrneMP #7NewsQ #qldpol pic.twitter.com/abtgVCLNCl

— Geoff Breusch (@gbreusch) March 2, 2015
(March 1, 2015) – Scorched earth
Chinchilla underground fire
Brisbane council election 2016
TC Marcia – Food vouchers