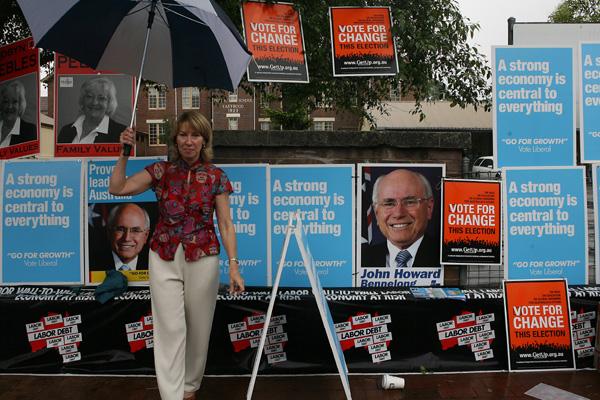 By Andrew Elder
22 July 2013
The federal electorate of Bennelong is used to a representative with real clout, someone of national significance rather than someone who means well and is content to do their best. Labor's endorsement of Jason Yat-Sen Li as their candidate for the electorate is in line with that record. Too early to say whether or not he'll win, but he is the right sort of candidate.
Bennelong was created in 1949 and held by Sir John Cramer until 1974, when he handed over to John Howard. Howard's rapid rise under Malcolm Fraser assuaged local concerns about his youth and inexperience.
In the 1990's Howard's political stature and experience came through for the locals. The Keating government proposed a "Bennelong funnel", whereby aircraft noise over the electorate would increase so that there would be less noise over the inner-west electorate of Grayndler. Howard, as MP for Bennelong, went toe-to-toe with Keating over the issue and outmanoeuvred the then new MP for Grayndler, Anthony Albanese, whose electorate continues to bear the brunt of Sydney's aircraft noise.
As a result, the inner-west suburb of Sydenham has been all but evacuated: a wasteland of pointless parks, half-hearted public art installations, and factory outlets without factories. There but for John Howard might have gone West Ryde or Gladesville.
During Howard's Prime Ministership (1996-2007) the electorate underwent significant demographic change. The once-quiet suburb of North Ryde became a major centre for IT and pharmaceutical businesses, and with it knowledge workers employed in those industries (and at nearby Macquarie University) became a critical mass in the electorate. Knowledge workers tend to resist party identification.
Immigration of Chinese, Korean and South Asian people to the area overwhelmed smaller communities controlled by local patriarchs who promised and delivered their community's votes to Howard; busy with his Prime Ministerial responsibilities, Howard kept dealing with increasingly irrelevant local patriarchs long after they stopped being politically crucial.
The voters of Bennelong did not dump a sitting Prime Minister lightly. Maxine McKew was a leading press gallery journalist (another knowledge profession) when Labor chose her to run for the seat. Her candidacy seemed like a judgment on a politician everyone knew was fading. She was close to Rudd and seemed like she could get things done in the electorate …
… if only she'd spent time there, and if only Rudd hadn't been removed as PM. The Liberals campaigned hard in Bennelong in 2010. John Alexander, who seemed nice enough, got points for turning up and won Bennelong by 3.1%. He said he'd move into the electorate if he won; McKew moved out.
Alexander isn't a mover and shaker locally, nor within the Liberal Party, nor on the national stage. He's diffident when you approach him and uses his height to look past you unless you flatter him. He just doesn't seem to enjoy dealing with great masses of indifferent people, and he can't deal with hecklers at all. His big selling point, his tennis career, is neither here nor there to most of the electorate. Albo would cream him in a "Bennelong funnel" rematch. During the monkey-house antics in Parliament you could see Alexander over Tony Abbott's shoulder, looking disappointed.
Jason Yat-Sen Li grew up outside the electorate, like the current MP for Bennelong and the two before (Howard's home in Wollstonecraft was redistributed out of Bennelong years ago). His Chinese given names come from the great Chinese leader Sun Yat-sen. He has degrees in Arts and Law from the Universities of Sydney and New York. He worked for the UN and in 2009 was named a Young Global Leader by the World Economic Forum in Davos.
He was prominent in 1990's campaigns for the republic and against Pauline Hanson. Had he entered parliament then he would be just another politician; the fact that he took the chance in business, and has made it, works in his favour. Since 2005 he has been helping Australian businesses trade with China.
Li is of Chinese ethnic origin, and 30,000 people in the electorate had both parents born in China. He will also appeal to people not of Chinese background – someone who worked their way up through the local Chinese community would not be nearly so appealing across the community as Li is. Most important is the stellar resume, the kind that ambitious parents of Chinese and other backgrounds within the electorate hope – no, expect! – for their children.
Rudd's endorsement was important to McKew in 2007 and it will be important to Li now. Li is personable, with the ability to work well with powerful people and to make ordinary people feel important.  It will not be hard for him to persuade the people of Bennelong that he can get things done, knowing that a vote for Li will be a vote for the re-election of the Rudd government.
The federal electorate of Bennelong is covered by three NSW state electorates, all represented by ministers in the O'Farrell government. The area does not want pork-barrelling, nor does it get lavish government services, but it does expect its MPs to act when the community calls on them to do so.
Current Bennelong MP John Alexander won't be prominent in an Abbott government. If Labor won with a clear majority, what good would he do? Alexander would have beaten the former Labor candidate, lacklustre local councillor Jeff Silvestro-Martin, currently under investigation by ICAC – in a battle of mediocrities the incumbent has the advantage. It is too early to declare Alexander will lose but history is against him.
Jason Yat-Sen Li is a capable man whose capacities would be well tested by being Member for Bennelong. With those capacities local people would hope – no, expect! – him to go far. In that sense, Li is in line with Bennelong's tradition of prominent local members, who receive strong support from the local community provided they can exercise real clout beyond the electorate.
More Bennelong Reports by @NoFibs Bennelong reporter @preciouspress