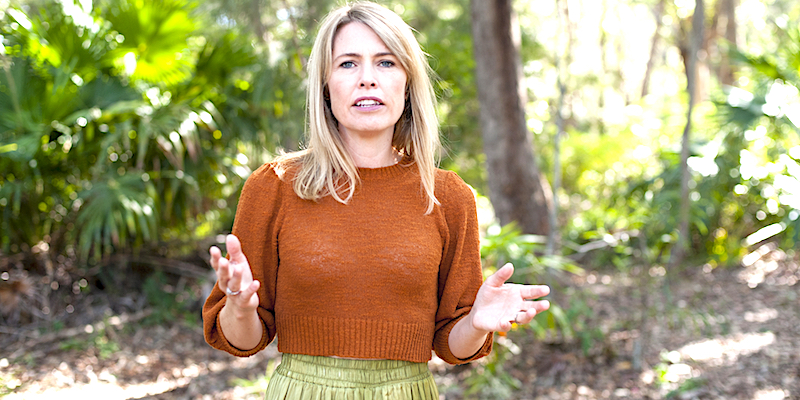 A transcript of Independent candidate Alice Thompson's (@Indy_Ally) speech during her campaign launch at Mona Vale in Sydney's northern beaches electorate of Mackellar on Wednesday, May 1.
---
This is a sobering moment. An idea that built gradually over the years, became a decision my family felt we had to act on only a few months ago.
It's amazing to see that it has now come to this.
There are people from across the political spectrum here tonight, responding so positively to my decision to stand as an Independent.
The only Independent candidate out of seven in this electorate.
People who have volunteered their time and resources to support my campaign who have in the past supported the Liberal Party, Labor or the Greens.
Some of you have been active members of political parties for years.
And there are those of us who have never been active in electoral politics but have decided to get involved this time — to put on a yellow T-shirt, to give up their time, to put up signs and agree to stand at polling booths, to hand out leaflets to people reluctant to take them.
It's hard, I know…
And I really appreciate your commitment.
What unites us here this evening is a common concern that the way we are represented is simply not good enough.
And we agree on what needs to change:
Decency, honesty and integrity in politics and government. Because without that we won't be able to navigate the difficult decisions we must make as a nation
Urgent action on climate change and getting on with a sensible plan to decarbonise our economy — because without that we're facing a future of catastrophic consequences and unbearable costs for our children not just future generations
And better local representation that is active, accessible, concerned – working on behalf of the whole community — not a political party, their factions and vested interests
Many of us are losing trust in government
And if it continues, we will lose our faith in the very democracy in which we are supposed to participate.
We want change, and we want to have a voice in this change, because we don't right now.
I know we don't because I've seen it from the inside, where nepotism and cronyism are just the way that business is done, where blatant lies replace fact and science, where ideology trumps good policy.
Where billions of dollars of public funding is determined by the margin of a seat rather than need.
Where you can get a seat in parliament because you went to the right school and were propelled through your loyalty and service to a party machine rather than public interest.
Where you can buy influence and favours, the unacceptable way some parliamentarians conduct themselves when they are meant to be demonstrating the very highest of standards.
And most concerning of all, where whoever has the deepest pockets, or access to the most sophisticated software, could win elections.
This is not what we want for our country
This is not the right way. Our system of government has stopped working for us.
I don't think the system is completely broken. But it does need much better people sitting in many of those seats in parliament.
And through the ballot box, that's something that is in our power to change.
I've been inspired by Cathy McGowan…
… Andrew Wilkie and Rebekha Sharkie. Independents who have conducted themselves with integrity, dignity and been fierce advocates for their electorates.
These Independents were able to cut through politics, work constructively across parliament and get things done for their communities.
They carefully built capital and used this judiciously with strength when necessary. Government listened to Independents like Cathy McGowan.
You see, Independents aren't bound by entrenched party hierarchies, factions and infighting and so have freedom to vote on their conscience and the will of their community.
Liberated from internal party politics, they have much more time to spend working with the community and creating better policy.
Independent MPs get a seat at the table…
… where decisions are made. I know this because I've sat on the other side of the negotiating table.
They are in a position to break political deadlocks and navigate a path of compromise when the two major parties don't agree.
Most importantly they have the power to introduce legislation without the permission of a party room.
We are seeing a trend across Australia where voters are deserting the major parties.
There is a vacuum
An appetite for a different kind of representative.
If people like me don't stand up this will be filled by others more extreme than the hard right of the Liberal Party who seek to divide us — and we will never move forward.
I'd like to be part of changing the way we do politics in this country.
I have changed government priorities and policies from within, and I am equipped to do this for Mackellar once more.
And, yes, maybe it does take more women being elected into parliament to change the culture.
This was always going to be a tall order — to stand as a new Independent in what the experts call a "very safe" seat for the Liberal Party.
I'm under no illusions as to how hard it will be to change the electoral equation here.
That's why I'm appealing to people to put aside the political party they have voted for in the past, and vote for a representative who has a willingness and ability to create the change we all want.
This is about all of us — standing up, demanding better government; focus on the urgent challenges we face as a nation, and working together to make a difference.
It feels like we are at a tipping point. That's why I'm here, and why I need your help to see how close we can get to the edge. There's no time to lose.