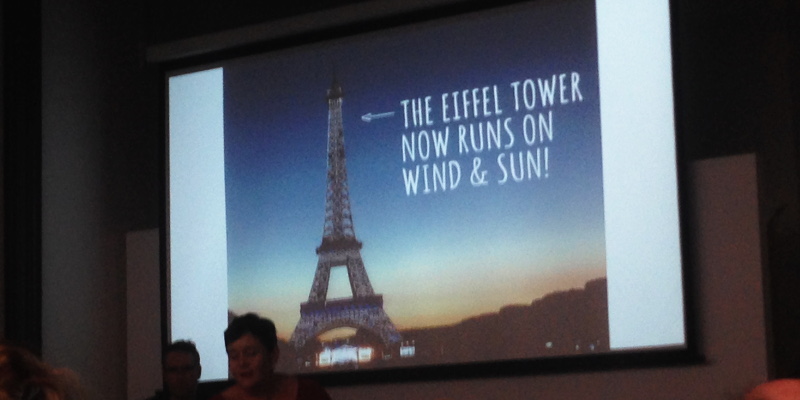 There is much momentum for a binding climate change agreement in Paris, but success is by no means assured. In less than 4 weeks time leaders, ministers and diplomats will sit down to try and again thrash out an agreement over two weeks. This was supposed to happen six years ago in Copenhagen but the negotiations fell apart leaving us with a voluntary accord that was stitched together at the last moment in back room negotiations to save some face.
The UN Framework Convention on Climate Change (UNFCCC) conference in Paris, the 21st Conference of the Parties more usually called COP21, is expecting 80 world leaders to attend a summit on the first day to give a boost to negotiations. There will be some 160 national delegations in attendance over the two weeks of negotiations.
After the Heads of State summit, the diplomats will continue finalising details of the draft climate treaty. The subsequent two weeks will see Ministers lead their negotiating teams.
Australia will be represented at the leaders summit by our Prime Minister, Malcolm Turnbull. Environment Minister Greg Hunt will then lead negotiations through the first week, followed by Foreign Minister Julie Bishop leading negotiations in the second week.
Greg Hunt, attending the Bloomberg New Energy Finance conference in Shangai, let it be known that new Australian Prime Minister Malcolm Turnbull may make significant announcements at the leaders summit. "The Prime Minister will attend day one which is the leaders' summit, and may have some very prospective and constructive things to propose on the day," Hunt said, according to this Reneweconomy report.
The Australian climate targets of 5 per cent on 2000 levels by 2020, and 26 to 28 per cent on 2005 levels by 2030 (equivalent of 19 per cent below 2000 levels) are seen widely by scientists and the international community as inadequate and near the bottom of developed country targets. (See assessment on Australia (PDF) by the Climate Action Tracker)
Indeed, the Climate Change Authority recommended pre 2020 target could be lifted to 19 per cent on 2000 levels to place us doing our comparable share of action internationally. The Climate Change Authority also recommended post 2020 targets of between 40 and 60 per cent by 2030. The Government's own modelling suggested that the economic impact of increasing the target to a 44 per cent scenario only marginally reduced GDP growth.
Australia at the sustainability Crossroads
The latest academic study published November 5 in Nature with 17 contributors, argues that under the right circumstances, economic and environmental outcomes can be decoupled from carbon emissions so that Australia can cut greenhouse gas emissions and achieve economic growth without jeopardising living standards. The study is titled Australia is 'free to choose' economic growth and falling environmental pressures.
"We find that decoupling economic growth from environmental pressure before 2050 would not require a change in societal values, but is not automatic" the study says. It requires conscious policy choices by government, "collective choices to increase global and national abatement efforts."
The researchers found that Economic activity (GDP) and national income (GNI) continue to rise strongly in all scenarios: whether no abatement of greenhouse gases is taken, moderate action, strong action, or very strong action. GDP and GNI are only impacted very slightly by decoupling greenhouse gas emissions from economic activity.
To move to a sustainable level of society requires the simultaneous rebalancing of economics, energy, agriculture and behaviour. The researchers used a complex multi-model framework to incorporate aspects of climate, water, food, energy and biodiversity for Australia.
The economic analysis found that while climate change mitigation involves costs in the near-term, it can also yield substantial net benefits. These benefits include improved air quality and human health in the near-term as well as avoided climate impacts in the long term. As ecosystem services are developed it also provides a comparative economic advantage and opens up further economic benefits of new sources of economic opportunity and growth, while protecting natural assets that are essential to long-term well-being.
The researchers also identified a threshold effect whereby moderate global action to reduce greenhouse gas emissions reduces Australia's comparative competitive advantage, while stronger global action would provide new areas of advantage creating new opportunities – a win-win result of both economic and environmental benefits.
"While Australia could dramatically reduce environmental pressures across a wide range of global contexts, the economic costs of doing so will be smaller (and benefits larger) in global settings that support the stable functioning of key Earth systems, including through promoting clean energy. As these global circumstances emerge, Australia's opportunities will multiply….. Sustainable prosperity is possible, but not predestined. Australia is free to choose."
And it seems bold action is more likely to produce the goods in both environmental and economic benefits.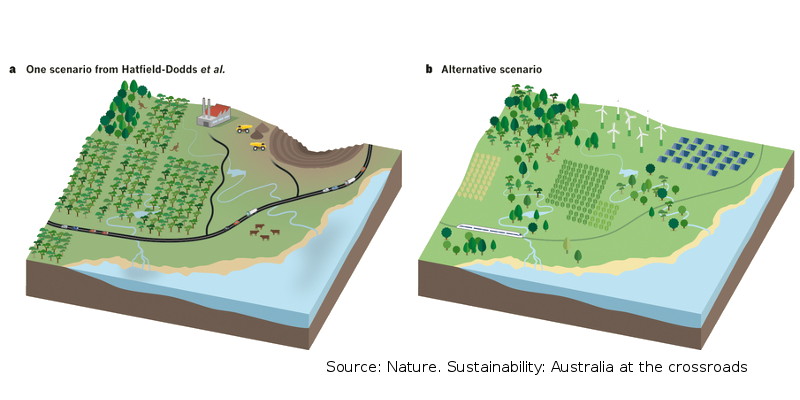 Expectations still on Australia
The problem for our new Prime Minister Malcolm Turnbull is that he has had to appease some from the hard right in the Liberal Party on climate policy to overthrow Abbott for the top job. If you read Greg Hunt's speech in Shanghai there is a changing emphasis to a greater role for renewables in government policy. But the limited change in support for renewables, with the current Direct Action Policy Program and Emissions Reduction Fund by themselves will be unable to achieve the more ambitious emissions reduction needed.
The Emissions Reduction Fund (ERF) in particular picks the low hanging fruit of carbon abatement, with many of the projects in the first round involving soil carbon farming. But the latest research study published in Nature advises that Carbon farming CO2 emissions savings may be over-estimated by up to 17 per cent per century due to erosion, reports the Sydney Morning Herald.
Reputex, a part of the Standard and Poor Rating agency, detailed in their latest report that although the second ERF auction may buy a substantial amount of carbon abatement, it will do little to slow Australia's emissions growth. "While the ERF has been successful in contracting abatement, the inability of the entire policy (including safeguards) to curb emissions growth remains of concern," the Reputex report said according to RenewEconomy.
"We continue to project a net increase in national emissions through to 2020 and 2030, accounting for the ERF. This indicates that the rate of Australian emissions growth is significantly outpacing abatement contracted. Subsequently, if the success of the Direct Action Plan is equal to the sum of its parts, the government has work to do to return Australia to a downward emissions trend." said the Reputex report.
Australia could be an important diplomatic player at climate talks
While the major emitters and players in these climate talks are Europe, USA and China, Australia is seen as an important middle country that often punches above it's weight diplomatically. While we may produce about 1.3 per cent of global emissions, our export coal and Liquified Natural Gas when burnt boosts our global contribution to nearly 5 per cent of global emissions, according to Professor Peter Christoff. Add to this we have one of the highest per capita rate of emissions for a developed country, and other nations, both developed and developing, look to Australia to take a lead.
This is particularly so for our neighbours in the South Pacific. Countries such as Tuvalu and the Marshall Islands are already feeling the impacts from rising seas, more intense cyclones, storm surge and salt water contamination, and changing precipitation patterns. In September 2015 the Pacific Islands Development Forum adopted the Suva Declaration on Climate Change which argues strongly for reducing emissions rapidly in line with a 1.5 degree target.
Josaia V. Bainimarama, Prime Minister of Fiji, said, "Our disappointment and frustration at the world's failure to act runs through this entire document. We in the Pacific tend to speak softly. It is in our nature. But on this issue, we needed to cry out with one voice, enough is enough. And we have."
Just a few days ago Marshall Islands Foreign Minister Tony DeBrum met with Opposition leader Bill Shorten and other members of the parliamentary ALP and called for Australia to at least bring the target year forward to 2025 in line with the US target.
De Brum also stressed the importance of Australia's climate leadership, "It is our long-held belief that Australia should play a leading role in the Pacific, and specifically climate change issues," he said. "Australia is a Pacific island, a big Pacific island, but a Pacific island." reported the Sydney Morning Herald.
Back in May 2015 the French ambassador urged Australia to take more climate leadership. Christophe Lecourtier said at the time, very diplomatically, "We had the feeling the Australian government is working on the issue. There is momentum, even here, and I hope [Australia] will join the club, join the coalition of countries."
The French President François Hollande and Chinese President Xi Jinping have just concluded talks in Peking in which both nations reaffirmed their strong conviction for climate change action and a binding agreement in Paris. The statement emphasises the need for progressively transitioning towards clean energy systems, comprehensive reviews of national plans every 5 years, enhanced transparency system for monitoring national plans to promote effective implementation, to have carbon cutting strategies in place out to 2050 in 5 years, and increasing climate finance to developing countries after 2020.
In June 2015 Australian climate targets came under diplomatic questioning at the Bonn multilateral assessment where Australia was asked more questions on ourpolicies and targets than any other country. Many of the questions, including from China, were very probing about how we would meet present targets, and whether the conditional target range committed to in Copenhagen still applied.
Even though national plans (INDCs) as currently formulated are insufficient to keep temperatures under 2 degrees, there is a lot of diplomatic momentum for a binding agreement in Paris, and Australia will continue to be under pressure by other nations, both developed and developing, to contribute.
Civil society will be watching how Australia negotiates. At each UN climate conference civil society groups do an award ceremony each day – Fossil of the Day (and Ray of the day) – for countries that hinder or progress the talks. In the past Australia has accumulated an abundance of Fossil of the Day awards. Watch the Climate Action Network Fossil of the Day page, and on Facebook, for news of the award during the conference.
Peoples Climate – Momentum for change
There is also substantial grassroots momentum for political and diplomatic action both in Australia and internationally.
Last week activists occupied Greg Hunt's electoral office in Hastings and renamed him as the Minister for Coal in response to his second approval of the Adani Carmichael coal mine. Last week also, the Annual Mining Awards night was disrupted and hijacked on twitter by some dressed up penguins and Greenpeace.
Coal has rapidly lost it's social licence. It's economic value has also declined as renewables have expanded, with wind power now cheaper than coal fired electricity, and solar not to far behind as solar PV efficiencies increase.
Climate activist groups are organising a weekend of #peoplesclimate protest on the 28-29 November, just before the UN climate conference starts, which is likely to pull many hundreds of thousands of people into the streets from Paris to New York, London to Melbourne, Buenos Aires to Brisbane, San Fransisco to Sydney and a mass of other cities and towns. The action will actually kick off in Melbourne on Friday evening 27 November. In Paris people will march on Sunday November 29.
Save the dates: 27 November, Melbourne. 29 November, Sydney. #auspol #climate @ClimateGuardia @camoreland @SCAA3230 pic.twitter.com/yS9cp9YCL8

— U Bet I'm Gone❗️ (@johndory49) September 4, 2015
Throughout the fortnight of the conference activists are organising the Climate Games: 'The world's largest Disobedient Action Adventure Game': "where action-adventure meets actual change. Anyone can play this real-time, real-world game and turn Paris and the world into a giant, direct action playing field for climate justice. We have everything to play for – but time is running out."
You can read The Ecologist magazine run down on Paris events in a Guide to Paris mobilisations.
A further mobilisation is being organised in Paris for December 12, after the conference finishes. After 21 years of negotiations activists know the results are not going to be enough.
This mobilisation is a call to grassroots action with citizen demands for a just and liveable planet and continuing mobilisations into 2016. It carries the voice of ordinary people forward with momentum for action in the new year. Paris is just the start.
As Naomi Klein identified and articulated at the Festival of Dangerous Ideas in Sydney: we need systemic change, everything needs to change.
Watch out for my live tweets as @takvera from the conference and Paris mobilisations.
L'agenda des mobilisations pour le #climat. À partager largement ! pic.twitter.com/yumUZNTMAD

— Réseau Action Climat (@RACFrance) November 1, 2015
---
Sources:
Steve Hatfield-Dodds et al (2015) Australia is 'free to choose' economic growth and falling environmental pressures. Nature 527, 49–53 (05 November 2015) doi:10.1038/nature16065 (Full paper)