30 August 2013
STOP PRESS: The Coalition is looking increasingly shaky from rural Australia as former National Party MP Ken Jasper publicly pledges his support for Independent candidate for Indi Cathy McGowan. Jasper was recently seen showing McGowan around at a local football match.McGowan placed an advertisement in the Border Mail today, a letter with a list of local prominent supporters including former Wangaratta mayors Roberto Paino and Don Joyc, former Indigo mayor Ali Pockley and Wodonga's Liberal identity Glen Nicholls. There are rumours other high profile members of the Coalition parties are also supporting McGowan's campaign. No Fibs recently asked McGowan if she had been talking with former Deputy Prime Minister Tim Fischer about her campaign. Her reply: "Not this week."
*
The Victorian Farmers Federation hosted a candidates forum in the CWA hall at Wangaratta last night. Arriving late due to a storm that had thrown tree branches across the road at various points on the way in, I was surprised to see the crowd spilling out the door. On a cold storming night I was expecting most to stay away.
Candidate forums are becoming popular in Indi because there's a real contest in this election. Many people were live tweeting the event, including the VFF.
A notable absence of the night was 'the train guy' Hayes, who proved a popular figure at the last forum in Wodonga. The night kicked off with a welcome to country.
Uncle Wally performing a welcome to country at Wangaratta #indivotes forum

— Tom Anderson (@TomAnderson62) August 29, 2013
Each candidate got three minutes to make their case to the voters. The Greens' Jenny O'Connor started off the evening by telling the crowd that the Greens and farmers are closer than many think, with both seeking a sustainable agriculture sector and healthy environment.
Bob Murphy was up next with the quote of the night, "no frog shit".
Bob Murphy says Clive Palmer is a good man and business man, despite the "frog shit" you may have heard about him. #indivotes

— Wangaratta Chronicle (@wangchronicle) August 29, 2013
Cathy McGowan stepped up to the mic to loud cheers. "I have a vision for agriculture. I know the people of Indi.'
@Indigocathy lays down her vision- a big picture approach to AG – and regenerating our youth #agchatoz #indivotes

— Vic Farmers Fed (@VicFarmers) August 29, 2013
Phil Rourke (KAP) was openly hostile to Jenny O'Connor: "Our vision is to get the Greens out of the Senate." I've only seen Rourke at two forums, but both times he seemed a little on the angry side.
Robyn Walsh (ALP)
Robin Walsh lays down value of Indi to her and the passion to embrace change. "We need to embrace foreign ownership" #indivotes #agchatoz

— Vic Farmers Fed (@VicFarmers) August 29, 2013
Sophie Mirabella (Lib) was late to the forum, which wasn't appreciated by those live tweeting the event. Given the storms about it's understandable, but judging from the tweets there was no apology offered. Sophie went straight on the attack.
Can't believe mirabella gave no apology for her lateness for tonight's forum #indivotes

— Lauren McCully (@McCully81L) August 29, 2013
Wow mirabella begins by bagging out @TonyHWindsor… Ummmm not good #indivotes

— Lauren McCully (@McCully81L) August 29, 2013
Bob Dudley from Rise Up Australia said his party wants more people to stay and live in rural communities.
Again McGowan was asked to state her position on the Woolworths-Coles duopoly: When are you going to admit that you support the duopoly of the supermarkets? She replied:
@Indigocathy "I'm a great supporter of Independent Grocers. I'm sorry that is not my position. #indivotes "

— Vic Farmers Fed (@VicFarmers) August 29, 2013
The next question was about young people, social issues and farmer health. Dudley (RUA) said there was great concern about the disconnect from farm to city and something needed to be done about well being. Jenny O'Connor(G): "We will commit $550M to mental health…cutting funds to young people and single parents is disgusting". Robyn Walsh (ALP) lamented the high suicide rate in regional areas. Mirabella (Lib) stressed the need for economic security and investment. McGowan: "A three-pronged approach – stop the hurt, address the problem, get the resources."
On foreign ownership of farms Mirabella said the Coalition would lower thresholds for Foreign Investment Review Board approval to $15 million.
Mirabella was asked about her comments regarding the VFF and NFF not representing farmers. "We're not going to be dictated to by a single lobby group….I do not believe the repository of all wisdom rests with those who hold positions."
To a question about parents who lost money from cuts and grandparents who are raising grandchildren, Jenny O'Connor told a very personal story about being a single mum and raising children alone. Greens will reverse cuts to single parents pension. She received loud applause from the floor. Mirabella again talked about a solution through growing the economic pie to a few jeers from the crowd.
On the Coalition's paid parental leave scheme, Walsh called it an abomination. Mirabella, in her own Jaymes Diaz moment, said, "We deal with three things – participation, population….participation…it'll come to me." After another pause she moved on to insist that it's a workplace right, just like superannuation and sick leave.
Rourke, Mirabella and Dudley are against same sex marriage. Mirabella went on to talk about her traditional family and how she feels passionate about being a role model for young women. Walsh said she would not exclude 10% of the population.
In another personal moment from O'Connor she introduced her daughter Claire to make the point she has mostly been a single mother, part of a non-traditional family, and she is proud of the great person Claire has become. She asked the candidates a question – do you thing it is right to discriminate against somebody on their sexual preference? To loud applause O'Connor stated she does not think it's right, so she supports same sex marriage. Murphy of PUP Palmers gave a non-answer. McGowan supported gay marriage.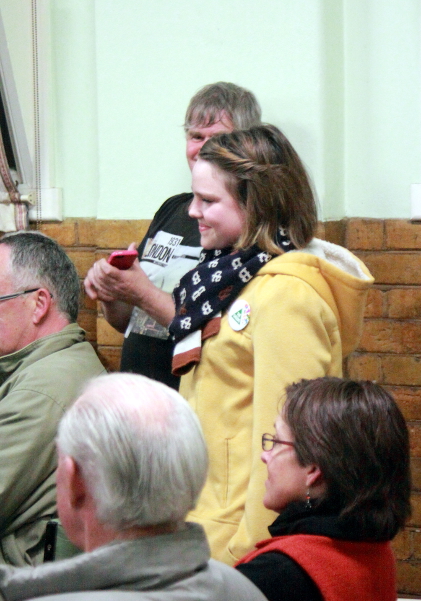 When asked for a show of hands for and against alpine cattle grazing, McGowan did not commit either way.
Jenny O'Connor explained why The Greens were against alpine grazing. In Indi alpine cattle grazing is a divisive issue with both jeers and cheers for O'Connor. Walsh pointed out only a few grazing familes get to take advantage of it anyway and the park is there for everyone, not for the profit of a few.
A local Bangarang elder (see top image) asked the candidates if they would stand up for truth and justice, complaining their land had been hijacked by the Yorta Yorta. All candidates agreed. There is a long running dispute over native title here.
O'Connor confirmed The Greens commitment to a price on carbon and said we should not be importing food.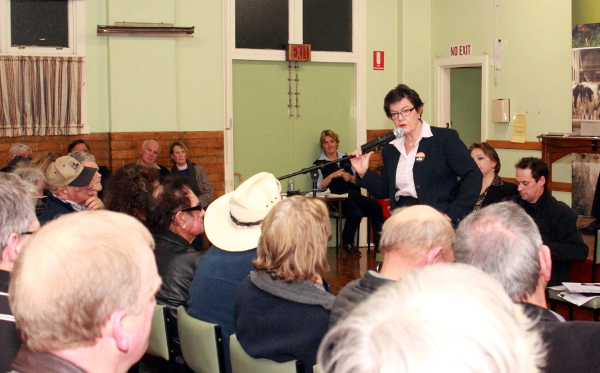 McGowan was in favour of live export but also wanted to support the Indonesians to improve animal welfare. She pointed out she is a great supporter of the MLA and wants to find better ways of building export markets.
On free trade agreements currently being negotiated, Walsh said they would be completed  as soon as possible.